Content Marketing Resume Samples
Content Marketing Resume Samples
4.5
(
46
votes) for
Content Marketing Resume Samples
The Guide To Resume Tailoring
Guide the recruiter to the conclusion that you are the best candidate for the content marketing job. It's actually very simple. Tailor your resume by picking relevant responsibilities from the examples below and then add your accomplishments. This way, you can position yourself in the best way to get hired.
Craft your perfect resume by picking job responsibilities written by professional recruiters
Pick from the thousands of curated job responsibilities used by the leading companies
Tailor your resume by selecting wording that best fits for each job you apply
Resume Builder
Create a Resume in Minutes with Professional Resume Templates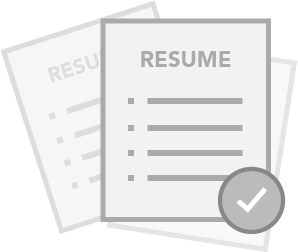 CHOOSE THE BEST TEMPLATE - Choose from 15 Leading Templates. No need to think about design details.
USE PRE-WRITTEN BULLET POINTS - Select from thousands of pre-written bullet points.
SAVE YOUR DOCUMENTS IN PDF FILES - Instantly download in PDF format or share a custom link.
59029 Jordy Meadows
Philadelphia
PA
59029 Jordy Meadows
Philadelphia
PA
Phone
p
+1 (555) 730 7819
Director, Content Marketing
Director, Content Marketing
Director, Content Marketing
Establishing workflow for requesting, creating, editing, publishing, and retiring content
Participating in the recruiting, hiring, supervising, and professional development of content creators/storytellers
Measuring and reporting on the effectiveness of content messaging and delivery, determining which methods work for the brand and why
Supervising writers and editors; be an arbiter of best practices in grammar, messaging, writing, and style
Leading the appraisal of asset storage tools, workflows and best practice asset management
Leveraging data to gauge content themes, topics and effectiveness. Defining and tracking key metrics and make recommendations based on those results
Developing approaches for consistent development and deployment of content to key persona groups
Content Marketing Associate
Content Marketing Associate
Content Marketing Associate
Pitching stories and ideas to tell the Facebook for Business narrative across content platforms, including blogs, videos and ads
Working alongside EMEA Sales teams to produce best-in-class case studies
Optimizing content for search engines and lead generation
Using analytics to improve content strategies/tactics
Writing content for the web, plus some traditional channels, with deep-rooted expertise in crafting the post for the platform
Providing feedback to other contributors, and editing other writers' content
Collaborating with the broader marketing team to ensure Facebook's creative assets are best-in-class
Content Marketing Coordinator
Content Marketing Coordinator
Content Marketing Coordinator
Providing recaps and insights into the performance of content marketing campaigns that tell the story and provide insights into future performance
Work with and manage external resources and vendors to develop, write, edit, and distribute content
Provide weekly analytics reports on email marketing and blog performance
Compile campaign launch recaps and assist in the development of various marketing presentations
Help develop and execute content strategies for clients that drive awareness, thought leadership, and demand for their products, services and solutions
Create original content and drive compelling storytelling to improve engagement with our prospects, partners and customers
Content development and management including: topic brainstorming, editing and researching
Bachelor's Degree in Marketing
Bachelor's Degree in Marketing
Bachelor's Degree in Marketing
Approachable
Strong team player; and
Excellent presentation skills
Excellent interpersonal and communication (both oral and written) skills
Strong customer orientation
The ability to organize and manage multiple priorities
Priority setting
Creativity
Graphic design
Integrity and trust
Create a Resume

in Minutes
Read our complete resume writing guides
---
Content Marketing Analysis Manager Resume Examples & Samples
Data and content analysis and measurement (including competitor)
Framework and process development
Crisis-communication trend analysis
Internal education and socialization
Data analytics with proven experience in combining open source inputs (Twitter, social graph) with proprietary (website traffic, etc.) to optimize content
Analysis of Franklin content as well as competitor pieces/themes (mainly via Twitter)
Experience delivering data analytics reports in a financial, marketing or social media environment
Web Analytics, Conversion Rate Optimization, Pay per Click/display ad optimization, and/or SEO experience
Demonstrated ability to provide digital and social media content analytics reports based on short- and long-term content monitoring
Experience extracting and providing social media channel-based analytics, specifically using Google Analytics and channel-based tools (Twitter, Facebook, etc.)
Experience using social media monitoring tools
Understanding of digital content marketing as a tool to build awareness, engagement and action
Understanding of how and why social media can support marketing goals
Demonstrated management experience over at least one direct report
Global marketing background
Understanding of and interest in financial industry
Knowledge of Tableau or equivalent data analysis presentation tool
Previous experience with social media monitoring platforms and analytics platforms (i.e., Google Analytics)
Ability to learn quickly and adapt to changes in responsibilities
Ability to work well with others, including long-distance team members
Ability to provide highest standard of data accuracy
Skill in translating complicated concepts into action steps
Excellent communication skills in English – verbal and written
Desire to learn new skills to enhance contribution to team
Director, Editorial & Content Marketing Resume Examples & Samples
Lead the planning, development and execution of the organization's content strategy
Develop an editorial calendar for each brand, determining budget allocation, outlining story themes and determining content distribution across website, blog, social, app and other digital touchpoints
Work collaboratively with key internal stakeholders, including Social Media, Online Merchandising, Creative, Brand Copy, Stores, and PR to support digital content and video shoots
Identify content needs for live events, providing asset lists, guiding content creation, and supporting distribution of that content
Develop content briefs for third party agencies. Work with both internal and external teams to execute against briefs as appropriate
Conduct measurement and analysis on the return on content investment; take corrective action as necessary
Deliver innovation and creativity within a fixed budget
Analyze the competitive marketplace and follow content marketing trends
Bachelor's degree in Journalism, Marketing, Advertising or related field required
Minimum 6+ years of editorial/content experience in a fast paced, multi-channel, environment
Minimum 3+ years directly managing a team
Must have the ability to influence across multiple levels in a large-scale business organization
Must have strong leadership ability, communication skills, and creativity
Content Marketing Associate Resume Examples & Samples
Serve as the Photo Editor managing all photo content on the FaithGateway website, including finding stock photography to accompany articles, resizing images, uploading images, and overseeing the overall look of the homepage
Create promotional and editorial graphics to accompany blogs and newsletters
Create the blog content for FaithGateway editorial on WordPress, uploading the blogs from start to finish, which includes writing headlines and doing the back-end work on the blog for search-engine optimization
Create the content and work with the eCommerce division to present the sales offers within FaithGateway's 5 main content newsletters: Devotionals Daily, Family, Women, Bible Study, and Pastor to Pastor
Content Marketing Intern Resume Examples & Samples
Write copy
Photo edit
Work with platform and custom content management systems
Proactively communicate status of projects to supervisors and key stakeholders as needed
Previous experience with blog writing, copy editing, AP style
Attention to detail, ability to learn and adapt quickly
Willingness to take initiative on projects
Director of Content Marketing Resume Examples & Samples
Responsible for leading a Content Services group that will develop the content necessary to resonate with our customers and prospects at their stage of the buying cycle, pulling them through the sales funnel to the point of conversion. This group will leverage freelancers and agencies, as needed
Responsible for leading a team of content marketing managers who will then promote that content across the most relevant channels to each customer type, repurposing and repackaging content as needed for various customer types and lifecycle stages. Develop, facilitate and lead an executive content editorial board comprised of SVPs of Marketing and Corporate Communications, as well as other marketing & PR senior leaders
Work with the divisional PR and brand managers to develop line of business content strategies, as well as robust strategies for marketing that content
Oversee the production of content that is relevant to each customer/prospect at their stage of the buying cycle, and distribute/promote that content in the channels most relevant to the customer. Content must be on-brand, and drive acquisition, engagement, conversion and retention
Leverage market and customer data to develop content themes/topics and execute a plan to develop the assets that support a point of view and educate customers that leads to critical behavioral metrics
Hire, train, coach and develop team, inclusive of leadership development, technical skills development. Also responsible for educating the broader departments about technical aspects of content marketing
Conduct ongoing usability tests to gauge the effectiveness of content, and analyze performance metrics delivered by the demand generation team to develop meaningful insights and recommendations
Conduct periodic audits of competitors' content strategies
Develop a centralized library of all externally facing content produced by the company, ensure it is easily accessible to the teams for repurposing and reusing content themes
Develop standards, systems and best practices (both human and technological) for content creation, distribution, maintenance, content retrieval and content repurposing, including the real time implementation of content strategies
Partner with Marketing Technology team to explore and leverage all capabilities in the CMS system
Collaborate with our international marketing and PR team to ensure a two way flow of content ideas and best practices
Master's/Bachelor's degree in Advertising, Marketing, Journalism or related field
10+ years' of digital marketing, or content marketing experience, preferably in a B2B setting
Basic technical understanding of HTML, XHTML, CSS, Java, web publishing, Flash, etc. and strong SEO skill sets, including the ability to train staff and ensure all content is optimized
Experience with Content Management Systems, such as Drupal
Excellent verbal and written communications skills, and exceptional editorial skills
Proven experience developing and continually evolving content strategies, both short and long term, as well as with creating compelling messages for different target demographics
Proven experience with producing on-brand content for every customer persona that is optimized for search and user experience, including online, social media, email, mobile, video, print and in-person
Experience with telling stories using words, images, video and audio, with a knack for creating content that draws the audience in
Skill at both long-form content creation and real-time (immediate) content creation and distribution strategies and tactics
Proven ability to establish KPI goals, measure content performance analytics and develop meaningful insights, recommendations and strategies based on ROI
Thrives in an accountable, metrics-driven environment
The ability to think like an educator, intuitively understanding what the audience needs to know and how they want to consume it. Also can clearly articulate the business goal behind the creation of a piece (or series) of content
Creative, big picture thinker and leader with the ability to deliver an excellent product under tight deadlines
Proven ability to collaborate across teams and departments, and manage a team as well as multiple projects. Must have the ability to lead and inspire large teams of creative personnel and content creators to achieve company's stated goals
Experience with developing audience personas and subscription strategies is a plus
Experience creating a resource or library of content organized indicating SEO, translations and version control
Great powers of persuasion – and presentation
Must be an excellent negotiator and mediator, with exceptional interpersonal skills
Project management skills to manage editorial schedules and deadlines within corporate and ongoing campaigns. Ability to work in a 24 hour project cycle-utilizing teams or contractors in other countries
International experience is a plus, but not required
Audi Brand Content & Marketing Innovation Manager Resume Examples & Samples
Working with Audi's lead agency Venables Bell & Partners to develop brand content that accompanies the core advertising campaigns
Collaborating with multiple agencies to bring innovation to Audi's marketing programs
Briefing and inspiring agencies and Audi's marketing team to think out of the box and to bring leading edge ideas
Overseeing the campaign development process from ideation to execution, including, but not limited to stunts and video content
While digital production, social media, experiential and media do not fall under the Brand Manager's responsibility, the Brand Manager will be expected to liaise closely with all of these disciplines and understand these disciplines well
Ensuring campaigns deliver upon the business objectives of Audi of America
Manage the CI compliance process across the organization
Work collaboratively with internal and external/agency partners to insure brand campaign consistency in strategic foundation, tone, feature priorities, Corporate Identity guidelines, look/feel, etc
Champion new ideas and push for innovation in advertising programs
Liaison with legal team and understand all legal implications of ad message. Represent legal interests on shoots to insure adherence to legal's production requirements
Management of Venables Bell & Partners and oversee budget and scope
7-10 years of experience in brand management or advertising agency experience in automotive or other comparable brand / technology / luxury sectors
Campaign development expertise working with automotive, high profile luxury or technology brands
Experience in overseeing the creative development of innovative marketing programs and branded content
Challenger mindset and a hunger for innovation
A passion for idea generation and an ability to turn ideas into action
Strong leadership skills, managing and inspiring external agency partners and direct reports
Exemplary presentation and communication skills
A collaborative mindset that welcomes input and challenges
Deep experience in advertising production and management for 360 communication programs
Analytical and conceptual thinking for logic and reason while bringing creative and strategic ideas
Computer savvy – skilled in the use of budget and presentation software
Integration – joining both people and processes
Resource management
Experience managing a production budget and managing reporting details
Attention to detail and accuracy
Experience working in a diverse, team environment
Prioritization skills
Demonstrated ability to multi-task
Prior experience working on automotive accounts or similar categories (telecom, retail, luxury goods) with both national and regional/retail campaigns
Bachelor Degree in Marketing, Advertising or related field or equivalent experience
Writer, Content Marketing Resume Examples & Samples
Ensure quality and timely delivery of written content to support key initiatives to enhance sales force capability and support clients in all of RBC GAM's retail content properties, including Sales tools and collateral
Campaign and event-related collateral
Advisor-facing performance magazines
Client-facing newsletters and publications
Thought leadership pieces
Investment commentary
Advertising and promotional copy
Web and social media content
Contribute editorial ideas for ongoing and pro-active content marketing deliverables
Engage in self-editing and peer editing of copy
Effectively manage relationships with key stakeholders
Completion of CSC/IFIC
University undergraduate degree or equivalent
Industry-related sales or support experience
Good working knowledge of using Word, Excel, PowerPoint, and Adobe Acrobat writer
Content Marketing Associate Resume Examples & Samples
Create engaging and innovative B2B marketing communications for EMEA that will enable Instagram sales teams to generate new business, educate clients or drive product adoption
Marketing communication responsibilities will include copy writing for blogs, ads, product comms, seasonal insights and campaigns, as well as localising global collateral for EMEA markets
Dedicated focus on telling Instagram success stories in a scaled way and uncovering new ways to tell the Instagram for Business story more broadly
Support new Instagram ad launches across EMEA with market-specific content and collateral
Develop industry-leading thought leadership on behalf of Instagram in EMEA
Work with the Instagram Marketing Manager to prioritize projects and allocate budget accordingly
Develop and manage a content calendar/roadmap
Senior Director Content Marketing Resume Examples & Samples
Design and manage the Content strategy (i.e. non-product related marketing) for Columbia Management, to support the goals of the marketing department and the firm. Lead team and work with internal and external partners on all aspects of Content management from planning to creation and distribution/syndication. Establish or enhance existing processes, and develop metrics to assess effectiveness
Oversee Content creation: work closely with Portfolio Managers, Product Managers, Marketing Managers and others to articulate Marketing objectives, determine relevant content, and coordinate resources to write, design and produce material. Ensure quality material produced in a timely and accurate fashion. Importantly, also decide what should not be produced, and manage processes and expectations accordingly
Lead Content distribution and promotion through internal and external channels - website, social media, publishers, aggregators, syndicators, etc. Partner with others within and outside Marketing team to ensure that we are supporting each other's objectives (e.g. External Communications, Sales/Distribution, etc.)
Establish and drive Content vision, strategy and team (Thought Leadership, Value Add and Social Media marketing teams). Assess our capabilities and needs with respect to our Content and the means by which it is distributed, including social and digital channels; understand competitive backdrop and client needs; clarify goals for Content Marketing and identify appropriate metrics; develop strategy for most effective delivery that optimizes organizational structure, processes and technology, within budget
Implement / improve processes to support Content strategy, including: development of editorial calendar, communication with internal partners, and Compliance routines, among others
Provide direct leadership to Content team, including coaching, development and performance management
Series 24 License required
Experience with content management, publishing and/or financial services marketing
Demonstrated ability to conceive and implement a strategy, and to influence others across a matrix organization
Excellent verbal, written and presentation communication skills
Ability to speak to complicated investment topics
Knowledge of and experience with digital and social channels
Ability to work successfully in a fast-pace environment. Excellent leadership skills
Content Marketing Distribution Sector & Customer Centric Solutions Resume Examples & Samples
Manage all content for given industries and/or solutions by maintaining a content inventory, defining and executing a content strategy
Understands and contributes to the definition of target buyers and relevant cohorts (personas) for each target role with the Industry Marketing Manager. Applies persona-based buyer insights to design client engagement experiences
Orchestrates cross functional content development, delivery and discovery activities
Curates content, managing global re-purposing and sales/marketing enablement
Creates and maintains the 'digital property map' to understand each digital site (ours and 3rd party). Overlays the buyer's journey onto that digital experience, as well as the content required for each 'property'. Works with performance marketing to ensure content is published to all sites and that it is continually maintained
Creates derivative messaging and content from the core messages delivered by industry and solution marketers. Examples of derivative messaging include: web copy, ebooks, slideshares, presentations, Search Engine Optimization terms and web copy, social media blogs, tweets, and other content to be used in social media tactics
Works with performance marketing to understand the effectiveness of marketing campaigns, assets, and messages, and modifies the strategy based upon that feedback
Manages the budget for content creation for their given industry and/or solution, and works with industry markers and marketing agencies to ensure on-time project delivery
Executes social media tactics, including writing and publishing blogs, tweets, identifying target social venues to place content, and ,works with performance marketing to push out pre-built content to a thought-leader distribution list
At least 2 years experience in apply marketing & communications principles
At least 2 years experience in apply marketing concepts & methods
Director Content Marketing Resume Examples & Samples
Content marketing approach and consumer editorial planning that positions the brand and aligns strategic initiatives with consumer needs and expectations
Consumer research needed to deliver insights about consumer needs, priorities and timely topics to address along with creative testing and modification
Leadership on content best practices and trends, including consumer consumption in digital channels, making recommendations for how to best leverage for Ameriprise channels
Management of content development process for social media and email marketing program, including concepting, sourcing, writing, editing, design, reviews and production
Team leadership, including coaching, development and performance management
FINRA Series 7 license or ability to obtain within 90 days
10+ years related experience in content development, marketing communications, PR, advertising and project management
Experience managing outside agencies
Work as part of high-performing team, manage and prioritize multiple projects and meet deadlines
Familiarity with wealth management and asset management, Ameriprise target audiences including affluent segments, and competitor activities
Experience in B2B and B2C, including franchise business models
Director, Content Marketing Resume Examples & Samples
Primary liaison to teams on global creative and content initiatives for APAC
Develop strategies for the APAC region that fits the APAC consumer
Identify opportunities for brands to cross promote, share and change creative and content
Provide content and insights through analyzing social media channels and develop strategies to use other forms of social channels such as WeChat across APAC
Train stakeholders on content practices and meet the needs of relevant stakeholders
Create content across different channels including, digital, social media, TV, film, print, etc
Content Marketing Ninja Resume Examples & Samples
Take marketing for the AU Program up, up, up and away. You'll be rounding up registrations for AU Las Vegas, our premier annual conference with close to 10,000 attendees, and our 12 international events. Plus you'll inspire customers through AU's online learning component, which is available to anyone, all year long
Sniff out the best opportunities in everything from sales to social media, and then figure out the best way to seize them
Go for those goals, making adjustments when needed, and incorporate new opportunities on the fly as you cook up and carry out both sales and marketing programs
Work with the broader AU team to build cross-promotional opportunities, and make the AU experience better around the world and online
You're a mover and a shaker. You know how to reach your target audience through crafting strong content, understanding and using available data, and harnessing the power of automation wherever you can. You're agile, like the market
You're a doer. You do whatever it takes to get the job done, whether that means taking control or standing to attention. You follow through, and you're not afraid to make yourself heard
You're a collaborator. Whether it's with customers, internal teams, or external stakeholders, you build bridges, bringing out the best in your partners to create the ultimate campaigns and strategies
You're comfortable in the strategy room. You take the long view and keep the big picture in mind. Innovating new programs and energizing existing ones is your thing
You see the forest through the trees. Long-range planning comes naturally to you, but you also have a keen eye for what has to happen on the ground to effectively execute your strategy. You know how to crunch the numbers too
You know your customers. You're constantly on the hunt to improve and personalize their experience. You're a social media maestro
Content Marketing Coordinator Resume Examples & Samples
Manage production of written and visual long-form content (e.g. blog posts & infographics)
Define and manage the editorial calendar of postings to social media platforms, syndication partners, and owned sites
Author and design posts on all content and social channels
Integrate business-line marketing programs, public relations, event marketing and other channels
Aggregate data from primary platform metrics and interpret data into macro dashboards
Monitor social media channels, reviews, blog and content posts for sentiment and user interactions
Utilize manual and aggregate methods for monitoring and responding to user interactions
Be the online brand evangelist and ensure engagement of the brand users 24/7
SEO Content Marketing Intern Resume Examples & Samples
Write and strategize SEO-friendly content
Researching and sharing insights amongst current live event fan trends
Update and manage Wordpress content
Research keywords and content avenues using Google and internal tools
Serve as the 'what's trending' guru
Must be enrolled in a Bachelor's/Masters program at an accredited college or university majoring in Information Science, Advertising, Business, Computer Science, Math, MIS, English, Journalism or Communications or related field
Must have strong knowledge and understanding of social media platforms, such as Facebook, Pinterest, Twitter, YouTube) with experience developing content for such platforms
Understanding of SEO and keywords related to content writing is a plus
Interest in improving fan discovery and knowledge of the fan experience at live events
Able to effectively collaborate with a team
Experience writing for Web-based audiences
Must be 18 years or older and have sophomore standing or above
Must be able to commit to a minimum work schedule of 2 days per week on a part-time basis
Must be able to show eligibility to work in the United States
Must be able to receive academic credit from their college or university prior to starting assignment
Senior Manager, Partner Content Marketing Resume Examples & Samples
Translate our value proposition into content themes and assets that drive awareness and increase revenue
Developing new types of content to address problems or gaps in our content strategy
Content development, management, and execution of global partner communication vehicles across all VMware partner segments
Ensure content provides clear benefits to the target audience and conveys the VMware brand
Manage the content strategy, as well as editorial and copywriting functions
Create compelling content in easily consumable formats to increase engagement
Define and manage effective workflow processes for creating and publishing content that balance self-service enablement with quality and consistency requirements
Define and manage localization and translation strategy/processes
Manage an editorial calendar based on strategic goals, business priorities, product launches and other events
Implement best practices for content creation, reuse and optimization
Understand the dynamics of the digital marketing ecosystem and extract key trends, topics and content themes that will help us engage our target audience
Partner with or manage a team of in-house/outsourced content editors, marketers and copywriters
10+ years editorial, content writing, or other relevant experience, preferably e-Commerce
Demonstrable track record of defining and executing highly effective content marketing programs
Metrics-driven, with a relentless focus on increasing ROI. Experience with developing KPIs, dashboards and benchmark reports to measure content engagement success
Proven ability to translate brand personality and product capabilities into content assets that engage partners
Strong understanding of localization strategies, translation processes, etc
Excellent storyteller, with outstanding written and verbal communication skills
Creative thinker and leader, with the ability to work under tight deadlines
Ability to operate at both strategic and tactical levels
Strong management, leadership, and mentoring skills. Ability to collaborate and manage a team as well as multiple projects
Content Marketing Intern Resume Examples & Samples
Must be a current student, enrolled in a Bachelor's/Master's program at an accredited college or university
Must be eligible to receive academic credit from their college or university
Must have an avid interest in music, knowledgeable about artists and genres, and an overall interest in learning about the music industry
Working knowledge of Google Drive & Microsoft Office programs, particularly Excel
General knowledge of Photoshop is a plus
Must be committed to being in-office 20-40 hours/week
Demonstrate technical, creative and professional expertise
VP, Content Marketing Resume Examples & Samples
Create, maintain and execute against annual marketing initiatives for new and existing channels, including priorities, launches, seasonal opportunities, and promo flights, as well as the throughout-the-year things
None at this time
15+ years of partnership and content marketing and brand management experience, specifically in a media and/or entertainment company
Good public speaking and presentation skills; strong ability to work cross-department with multiple people
Well-developed interpersonal skills and influence skills; ability to interact and work with staff at all levels
Strong time management and prioritization skills
Commitment to internal and external clients and customer service principles
Strong organizational skills and meticulous attention to details
Excellent time management skills, with the ability to prioritize and multi-task, and work under shifting deadlines in a fast paced environment
Content Marketing Coordinator Resume Examples & Samples
Work closely with the SMS Project Managers to determine the scope of needs for an individual project, and follow the pieces through every aspect of production, asset distribution, and archiving
Help determine project scope, organization, creative treatment, transactional requirements, and potential customer support issues
Participate in content creation projects, quality management, and proofing of print and digital content (advertorials, newsletters, articles, landing pages, email campaigns, direct mail, social media, etc.)
Track various assets through production
Help to maintain a regular, scheduled communication program with clients, which include emails, phone calls, sponsor information packets, etc
Assist with the processing of all invoices promptly and correctly and maintaining accurate records
Confirm contracts and contract requirements making sure that accounting, sales and marketing are informed of new contracts and new requirements
Bachelor degree or equivalent, preferably specializing in marketing, communication, or a similar field
Content Marketing Associate Resume Examples & Samples
Content development and management including: writing, editing and researching
Collaborate with account management leads to develop strategic briefs
Serve as a creative representative with clients as required
Conduct business analysis and monitor work product completion
Participation content creation projects, quality management, and editing of print and digital content
Track marketing assets through production
Work closely with the SMS Directors to determine the scope of needs for an individual project, and follow the pieces through every aspect of production, asset distribution, and archiving
Maintain a regular, scheduled communication program with clients to include emails, phone calls, sponsor information packets, etc
Bachelor's degree or equivalent, specializing in English, Journalism, or similar field of study
3-5 years of experience in publishing/journalism, marketing, communications or web media
Excellent interpersonal, organizational and attention to detail skills
Ability to manage multiple priorities effortlessly with tact and professionalism
Proficiency in MS Word, Excel, InDesign, HTML and other web applications
Proficiency in document processing and spreadsheets
Some familiarity with budgeting and invoicing processes
Content Marketing Analyst Resume Examples & Samples
The set-up and maintenance of all product attribute information in IBM Management Center
Ensure that product and pricing changes as well as category / style-level navigation changes are executed accurately and on schedule to support promotional activities
Manage periodic updates to site, coordinating with all functional areas such as IT, Merchandising, Online Marketing and Creative
Strong organizational and planning skills are a must as well as attention to detail
Bachelor's Degree required or equivalent combination of education and experience defined as 3 to 5 years
IBM Management Center experience preferred
Must be proficient in Microsoft Excel
Must be able to work in a fast-paced team environment and meet deadlines while managing multiple projects
Growth Lead, Content Marketing Resume Examples & Samples
At least 2 years experience in content marketing, growth hacking, growth marketing
At least 1 year experience in statistics and analytics tools (e.g. Google analytics)
At least 1 year experience in data gathering and tools for marketing effectiveness
At least 1 year experience in finding patterns and hacks for growth
At least 1 year experience in understanding the customer, buying behaviours, channels
At least 1 year experience in tracking and presenting results to senior executives
At least 1 year experience in working across and with many teams in marketing
At least 1 year experience in marketing techniques, channels and full stack marketing
At least 1 year experience in project management
Content Marketing Coordinator Resume Examples & Samples
Creating marketing campaigns on social media platforms including Facebook, Twitter, and YouTube
Optimizing marketing campaigns on a daily basis by conducting analysis and research into content performance
Understanding and reporting on the latest trends in customer acquisition
Providing recaps and insights into the performance of content marketing campaigns that tell the story and provide insights into future performance
Director of Content Marketing Resume Examples & Samples
Leading a highly effective results orientated team focused on content marketing, audience acquisition, and campaign fulfillment
Develop and innovate first to market programs on social and emerging platforms that drive results for clients and help close deals
Manage and communicate best practices for all advertiser content and audience programs
Join sales calls and be subject matter expert for all content marketing and audience acquisition campaigns and programs
Create, implement and measure success of all acquisition marketing programs and identify opportunities for growth
Create processes for effective and efficient workflow and help develop and manage systems and tools to grow the business
Develop strategic partnerships with key influencers, new platforms and brand partners
Lead all paid marketing campaigns
Manage audience acquisition budget and report on spend and efficiency
Content Marketing Editor Resume Examples & Samples
Researches current and prospective customer requirements to ensure products meet needs. Researches and analyzes competitor products and services to determine company product competitiveness in market. Analyzes data and communicates information to sales force to ensure marketing strategies correspond to market demands
Develops and maintains market research databases. Disseminates information to appropriate parties, as needed, to build stakeholder awareness of market trends and to develop strategies that enhance company market competitiveness
Analyzes current market research and statistical techniques to develop market research methods. Uses appropriate research methods such as surveys, opinion polls or questionnaires; designs means to collect market data
Develops market surveys and conducts focus groups to analyze customer purchasing pattern, preferences, view of organization's image and organization's marketing effectiveness. Conducts analyses, investigations and evaluations
Supports and ensures maintenance of consistent corporate image throughout product lines, promotional materials and events
Supports negotiating of contract terms with outside agencies and suppliers for commercial products and services
Communicates with outside advertising agencies on aspects of ongoing organizational campaigns such as marketing strategies and marketing initiatives; ensures campaigns adapt to changing market trends. Participates in discussions involving changes to campaigns or development of new marketing campaigns
Plans, promotes and executes promotional meetings and community and goodwill events to enhance corporate image
Partners with marketing research management in developing complex market research objectives to help meet strategic goals
Provides leadership and work guidance to less experienced personnel. May assist in the formal training of less experienced personnel
Bachelor's degree in marketing, business administration or related field preferred
Nine or more years of marketing experience
Experience working with marketing research methodology
Experience working with the technology industry
Experience working with business processes
Good analytical and problem solving skills
Good interpersonal and presentation skills for interacting with team members and clients
Leadership skills to train, guide and mentor the work of less experienced personnel
Good personal computer, statistical software, and business solution software skills
Ability to create and maintain informal networks
Ability to lead and work in a team environment
Watson Health Content Marketing Lead Resume Examples & Samples
Thought leadership campaigns - This begins at the start of a project – advising on the target audience and building a high-level asset strategy – including budget and schedule. The person in this role will be responsible for building and owning the campaign/deployment plan and executing all Watson Health tasks for the duration of the project
Thought leadership asset development - The person in this role is responsible and accountable for asset development – this will include brainstorming on asset types and storylines, working with and managing vendors to create the assets, proofing and posting assets (e.g., papers, videos, podcasts, etc.) and, at times, actually creating the copy and assets as well
Watson Health communications platform development - This component includes providing input on the overall communications strategy, supporting Watson Health channels, taking on special projects to improve the communications platform and advising others in the market research team on communications best practices
Content Marketing Strategist Resume Examples & Samples
Develop content strategies and plans, aligned to buyers journeys with assets that bring key value props and messages to life
Identify and enhance key external and internal communities as vehicles to evangelize key messages, assets and cohort-based activities
Creating content in support of social media strategies
Manage editorial calendar in support of content team goals
Develop an extended team of content contributors, writers, and consultants and help our internal experts publish their experience
Content Marketing Editor, Bicycling Resume Examples & Samples
Work closely with Digital Director to write, assign, produce, edit, and promote content related to syndication, SEO-driven topics, and sales of Bicycling-branded products and services or those of the brand's affiliates
Working with our analytics team, identify, create, and embed the most efficient and successful contextual links for promoting copy, products, services, and other revenue-generating initiatives
Develop relationships with industry representatives to stay ahead of trends and news
Work with social media editor to coordinate promotion of content-marketing initiatives across Bicycling's Facebook, Twitter, Instagram, and other social media platforms
At least one year of experience at a national consumer magazine, web site, or similar enterprise, preferably related to cycling or an active lifestyle
Outstanding writing and editing skills
Relentless attention to detail
Senior Director of Content Marketing Resume Examples & Samples
Strategy development aligning business goals, target audience insights and creative approach
Deep understanding of what's needed to move prospects and clients through the sales process, including consumer needs, priorities and timely topics to address along with creative testing and modification across touchpoints and channels
Performance analysis: monitoring KPIs, collaborating with business partners to determine adjustments required, shifting approach as needed to drive business results
New content launches and implementation, working with field communications, local marketing, call center operations and training partners
Leadership on content best practices and trends, making recommendations for how to best leverage for Ameriprise channels
Management of content development process for email marketing programs, seminars, sales collateral and social media, including concepting, sourcing, writing, editing, design, reviews and production
Budget management and forecasting
Compliance with industry regulations and company policies and procedures
10+ years related experience in content development, marketing communications, PR, advertising or publishing
Skilled at adjusting plans to capitalize on changing circumstances and opportunities; ability to adapt content based on audience and channel
Strong creative acumen and proven experience managing writing, design and production of digital and print content
Proven experience effectively managing people and building a team
Ability to develop content within a set of brand guidelines and aligned with strategic objectives
Strong Microsoft Office skills, particularly PowerPoint decks
Experience with editorial calendars for distribution of branded content through multiple channels including email marketing and social media
Skilled at developing content in a multitude of formats (digital, print, video, interactive, etc)
Coordinator, Events Content & Marketing Resume Examples & Samples
Serve as the main point of contact for select event content development projects, working closely with the larger event project teams to develop written summaries, event overviews and marketing copy as needed
Actively contribute as a member of the audience marketing team, creating and executing compelling audience recruitment campaigns via email marketing, social media engagement, personalized outreach and more
Possess an entrepreneurial spirit with a track record of initiative, high quality and service standard, and ownership of work
Apply outstanding organizational skills, excellent time management and judgment, and the ability to manage complex operations in a fast-paced environment
Content Marketing Intern Resume Examples & Samples
Write clean, concise, well-polished copy to contribute to the company social media platform and other marketing channels
Distribute content through various channels including social media
Stay up-to-date with the latest industry trends and viewer challenges in order to build a more effective marketing strategy
Assist in research, development, and curation of content ideas and research as needed
Identify opportunities for content promotion and content partnerships with various partners and brands
Prepare analytical reports to understand effectiveness of various marketing campaigns
Aid in developing and maintaining a database of industry resources, sites, organizations and viewers
Attend new partner kick-off sessions and provide business intelligence
Research and stay up-to-date with competitors and industry trends
Lead strategic projects to address specific needs for certain products, customer segments or geographic regions
Work across functional teams to achieve outcomes
Complete daily administrative duties such as updating contacts database, research and analysis of industry trends, e-mailing of daily e-newsletters
Create and upload copy and images for both CNBC's and the Marketing Team's websites
Write and dispatch email marketing campaigns
Using web analytics software to monitor performance of the Marketing Team's website and make recommendations for improvement
Partake in and support all c2c related events including playing an active role in the company's diversity and inclusion initiatives
Any other duties dependent upon varying work requirements
Currently majoring in English, Communications, Marketing, or a related field
Advanced skills using MS Office Word, Powerpoint and Excel
An exceptional ability to convey messages both in writing and in person
Be prepared to show us some of your best writing samples demonstrating a variety of writing styles
Understand digital media channels and content distribution
Understand basic design principals
Possess knowledge of web writing tactics and how to optimize for SEO
Be detail oriented and organized, with exceptional prioritization skills
Be able to work under pressure and tight deadlines
Ability to take initiative and work independently
News/reporting/editing experience for a publication, is an advantage
Great team player who is hands-on, proactive and enthusiastic
Analyst, Affiliate & Content Marketing Resume Examples & Samples
Work closely with the Affiliate Manager and Sr. Analyst on a successful migration of WSI's affiliate programs from agency to in-house team, including IT implementation, publisher communication, internal documents/ reporting, and processes development
Re-launch international affiliate programs in both AU & UK
Issue IO's via in-house affiliate platform, with negotiated rates, cookie windows and budget caps. Communicate WSI expectations and program changes with publisher base. Ensure monthly budgets are not exceeded and revenue goal is achieved. Collaborate with eMarketing team on budgets and pacing
Monitor affiliate placements ensuring WSI guidelines are followed and brands are represented to WSI expectations
Conduct ongoing reporting and analysis of affiliate performance, including identifying key business drivers and opportunities for improvement
Prioritize and track projects and coordinate with affiliate publishers on timelines and deliverables
Foster affiliate relationships, meeting regularly to ensure campaigns are performing within target ROI goals, and that WSI is featured in brand-enhancing ways
Work with internal cross functional teams to identify promotions, refresh creative, and ensure Brand messaging is updated across affiliate partner sites
Execute creative and promotional link trafficking through in-house affiliate platform
Communicate promotions to top affiliate partners, negotiate placements, and determine appropriate payouts for large scale promotions using platform tools to adjust commission rates on promo codes usage as appropriate
Ensure return files are processed on a regular cadence; coordinate with IT to automate process
Ensure product catalogs are uploaded and processed correctly
Work with Manager to determine KPI goals by campaign, coordinate with internal attribution teams for cross-channel de-duped results, communicate expectations with affiliates
Manage monthly invoices and accrual processes across affiliate programs for all Brands
Ensure proper tracking is in place, working closely with IT for pixel implementation
Coordinate with Sr. Analyst to on-board content collaborators to in-house platform, ensuring IO's are properly sent and accepted and that affiliate links are correctly created
Analyze competition and follow Affiliate Industry trends
Support ad-hoc projects and analyses, as needed across Digital channels
Help develop & update Affiliate presentations on an ongoing basis
Bachelor's Degree or equivalent work experience
1-2 years minimum experience in online marketing preferred
Strong analytical ability a must for accurate forecasting and KPI assessment
Well-organized, high attention to detail, and ability to drive results quickly
Strong MS Excel skills
Web Content & Marketing Intern Resume Examples & Samples
Help analyze other sites in this space
Recommend and help create specific content to meet needs identified through market analysis as well as internal needs
Write and publish using our tools (Episerver CMS and Hubspot blog)
Day-to-day updates and tweaks on the website
Track, analyze and report on performance of published content using Google Analytics, Hubspot and a custom dashboard
Excellent writing skills, preferably with technical writing/technical marketing experience
Comfortable with complex technology and willing to learn, though not necessarily doing a technical degree
Brand knowledge and skills (Ericsson brand platform knowledge – training is available)
Proficient in Microsoft Office Suite (Word, Excel, PowerPoint, Outlook)
Proficient English skills
Good to have: still photography and/or graphics and visual design skills
Experience or interest in inbound marketing methodology
Enrolled in an accredited program with a minimum of 3 credits working towards a bachelor in business administration, master of science, or similar
Availability for a full-time work (min 20 hours/week) during a traditional school semester, quarter, or trimester
Student must sign a non-disclosure agreement / adhere to guidelines on information release for co-ops
Student and University must agree to accept Ericsson's standardized student performance evaluation form for any requirements to complete course credit
Must have a minimum cumulative GPA of 3.0
Assistant, Content Marketing Resume Examples & Samples
Answer phones, arrange calendar, and coordinate day-to-day activities of the Senior Vice President
Schedule meetings, request drive-on access for guests, and set up conference rooms for meetings
Arrange travel, prepare expense reports, schedule meetings, calendar
Processing and management of department invoices, expense authorizations, and submissions to Accounts Payable
Assist the larger content marketing team with logistics, travel, and set-up for any related activities
Interact with internal departments, business partners and vendors coordinating content marketing activities and logistics as needed
Will work on Content Marketing initiatives and projects as directed by the SVP
Content Marketing Intern Resume Examples & Samples
Collaborate with the Content Marketing team and Editor for title launches, ensuring all information live on site are on the CMS
Research on licensed TV shows/movies & artists to (i) fill the gaps for metadata fields and (ii) provide/check for accurate metadata on the CMS
Provide appropriate content list and assets for various departments upon request
Effective communicator in both Korean and English. Mandarin or Japanese is a plus
Photoshop skills desirable
Highly resourceful and responsible in delivering results
Product Content Marketing Executive Resume Examples & Samples
Marketing Director - GQ & SLS
Other marketing functions
Driving Marketing success from customer insights
Have a marketing background with some experience in a similar role
B2B marketing, and knowledge of B2B marketing techniques (cross-channel lifecycle comms management, inbound marketing, marketing automation, etc.)
Some Digital Marketing experience and proficiency in the most popular channels and tools (eg Twitter, Facebook, email Marketing, Google Analytics, etc.)
Experience of producing engaging content in multiple forms, both for offline and digital channels
Passion for customer experience – analysing product USP's, customers and market dynamics to develop compelling product messaging
Experience producing content calendars and consistent communication plans across multiple channelsExperience of cross-functional content management and tone of voice initiatives
A desire to work with a Content Management System (CMS) and learning various tools and techniques
A desire to learn SEO techniques and web analytics
Implementation of A/B testing and optimizing Marketing copy to drive results
Collaboration skills with an ability to deal with and handle feedback from multiple stakeholders
Competitor messaging and content analysis
Working with agencies
Content Marketing Strategist Resume Examples & Samples
Bachelor's degree in marketing, business administration, English, communications, or a related field
5 to 7 years of experience in marketing services or other creative marketing and communications capacity; agency experience a plus
Solid grasp of online marketing strategy and solutions with knowledge and proficiency in creative online media trends and practices
Ability to think strategically and formulate critical discovery questions when scoping new SMS business opportunities
Strong initiative and ability to work in high intensity situations with tight deadlines
Dynamic interpersonal, communication, and customer service skills—both written and verbal—for engaging with internal teams and external clients of varying sizes, technical abilities, and levels of authority
Strong writing and editing skills with a high level of attention to detail
Demonstrated experience writing for diverse audiences in a variety of voices and styles
Ability to manage multiple tasks in a fast-paced, deadline-driven production work environment
Attention to detail, organization, and time management with ability to effectively multitask; the individual will work on multiple simultaneous projects at various stages with varying levels of complexity
Proficiency using Microsoft Office Suite, particularly Outlook, Word, and Excel is required
Experience with construction, architect, or building trades customers is preferred but not required
Director, Content Marketing Resume Examples & Samples
Develop and manage a content marketing strategy that drives organizational goals from the top to the bottom of the marketing/acquisition funnel
Create content that is compelling to audiences, and consistent in terms of style, quality and tone of voice. Optimize content and user experience for all channels and formats including social media, search, email, onsite, mobile, video
Leverage insights into customer and data to develop content themes/topics that align with brand
Develop a content calendar and integrate content with other marketing campaigns
Constantly track performance and user feedback. Take a analytical lens to the work to continuously improve and reach goals
Develop and implement best practices for content creation, distribution, and analysis; consistently measuring the business goal behind the creation of content
Become immediately immersed into the Rent the Runway business, understanding the customer, how to reach her, think like her, and intuitively understanding what would resonate with her
Manage content team including editors, videographers, social media managers
BS/BA and 7-10 years of experience required (digital marketing, e-commerce, or publishing experience preferred)
Outstanding editorial skills – in words, images, and video
Adept at social content creation and distribution
Obsession with mobile and video. Social media maven
A passion for bringing technology and data into content creation
Fluency in web analytics tools, social media marketing applications, and social platforms
Background in content management and SEO a plus
Passionate team player with strong presentation, team building, and project management skills
Resourceful, adaptive, and a master at triage; willing to relentlessly iterate and improve
No drama, get-things-done attitude
Director Content Marketing Resume Examples & Samples
Understand brand team's creative briefs to develop campaign/content solutions and adjust throughout marketing campaigns to execute targeted marketing efforts to meet the needs of the business
Manage the content creation and publishing process from beginning to end, including creating and enforcing content guidelines
Ensure that website content request are completed according to agreed-upon plan, goals and information provided
Responsible for maintaining consistent strategic messaging in all promotional activity utilizing content across all channels, primarily in TV, digital & social
Responsible for managing the TV Production Budget
Bachelor's Degree in Marketing, Advertising, Business Public Relations, or related field; MBA Preferred
Minimum of 5 - 7 years of experience in leadership role with primary responsibility for Marketing Communications, Production, Marketing Programs. Working knowledge of different formats and production for Facebook, Instagram, Web & Email. Proven experience in digital, mobile and social channels
Proven track record of recommending creative solutions to business challenges resulting in successful marketing campaigns with demonstrated proficiency in the following
Leading the team in concept development of new marketing ideas to promote brand / customer / sales growth
Taking marketing / consumer insights and translating into actionable recommendations to include exciting promotions, innovative products, alternative pricing strategies, fresh advertising, and/or new packaging
Developing strategies to expand competitive relevance in new products and collections which appeal to larger customer segments while meeting financial profitability targets
Driving promotional and communication strategies
Strong ability and knowledge of general marketing, advertising, finance/budgets, use of social media tools, etc
Ability to set and achieve priorities and meet tight deadlines within a fast-paced, ever-changing retail environment
Proficiency with Word, Excel, PowerPoint, and graphical applications
Effective oral and written communication and presentation skills (including visual presentation development)
Strong interpersonal skills with the ability to work with all levels of management and outside agencies Ability to establish positive working relationships across the organization
Must be a motivated self-starter with excellent organizational, multi-tasking, and project management skills
Content Marketing Professional Resume Examples & Samples
Responsible for marketing activities in Norway, internal and external
Chose methods to support the market strategy – in all channels
Develop a content calendar
Cooperate with internal and external experts in developing campaigns
Monitor activities in the company to secure consistent communication in the market
Bachelor in marketing / journalism / communication
Journalism/ communication background
Minimum three years experience in relevant field
Excellent skills in Norwegian and English language, oral and written
Huffpost Content Marketing Fellow Resume Examples & Samples
Working specifically on how to improve paid media and content distribution processes
Developing hypothesis­ driven strategic analysis for key operational initiatives while managing the
Experience (academically, or professionally) in quantitative and qualitative analytics such as
Content Marketing Strategist Resume Examples & Samples
Write and edit copy as needed on a wide range of projects including but not limited to social media efforts, ads, proposals, brochures, signage, direct mail and miscellaneous communications
Strategize content campaigns and see them through to execution and measurement
Work with Marketing team and sometimes lead cross-functional teams with professionals throughout the firm to establish creative consistency across marketing mediums
Participate and lead brainstorming sessions to develop innovative solutions to creative challenges and develop ways to communicate unique messages
Collaborate with team members in the creative process
Bachelors Degree or higher in Marketing, English, Advertising or related field required
4+ years of applied copywriting / communications experience (accounting/finance industry experience a plus)
Excellent interpersonal, oral and written communication skills
Ability to build and maintain strong relationships
Ability to work within the constraints of a style guide and the ability to help develop the style guide to accommodate the growing needs of a company
Manager of Content Marketing Resume Examples & Samples
A strong understanding of traditional and digital media, how to integrate campaign strategies and develop appropriate content for earned, owned and paid media
Proven experience building and maintaining strong client relationships based on trust
Excellent verbal, written, presentation and problem-solving skills
A thirst for knowledge and a desire to constantly enhance your skill set
Media Relations Press Releases Strategic Communications Marketing
Communications Message Development Communications Planning Communication Training
Content Marketing Strategist Resume Examples & Samples
Successful completion of a full 4-year course of study in an accredited college or university leading to a bachelor's or higher degree in advertising, communications, creative writing, related field or equivalent training and experience
1-2 years of work experience in marketing, social media, or related fields
1-2 years of work experience in higher education
3-5 years of work experience in marketing, social media, or related fields
Content Marketing Lead Resume Examples & Samples
Keen understanding for how content aligns to our goals and strategy
Works with the content marketing manager to support our content strategy by writing and editing content that aligns to our initiatives
Ensures that all content is on-brand, consistent in terms of style, quality and tone of voice, and optimized for search and user experience for all channels of content including online, social media, email, point of purchase, mobile, video, print and in-person. This is to be done for each buyer persona within the enterprise
Assist with the development of a functional content calendar to particular persona groups
Write/edit whitepapers, blogs, customer case studies and other internal and external writing requirements
Work with third party writers/editors/designers toward creating content
Leverage customer insight/feedback and market data to develop content themes/topics and support the execution of a plan to develop the assets that support a point of view and educate customers that leads to critical behavioral metrics
Help establish work- flow for requesting, creating, editing, publishing, and retiring content
Bachelor's degree in English, Journalism, Public Relations or related communications field. MBA in marketing a plus
Consultant, Content Marketing Resume Examples & Samples
Work with the Senior Manager of Content Marketing to execute a content strategy that supports and extends marketing initiatives, both short- and long-term, determining which methods work for the brand and why. (10%)
Maintain and execute on a content calendar and leverage market data to develop content themes/topics. (20%)
Map content to the stages of the consumer decision journey (CDJ) to achieve expected conversion and continuously evolving the content strategy as appropriate. (5%)
Monitor, analyze and evaluate performance of content and lead nurturing performance via key performance indicators within each stage of the CDJ. (15%)
Ensure all content is on-brand, consistent in terms of style, quality and tone of voice, and optimized for user experience for all channels of content including digital, social, direct, mobile, print and experiential. (15%)
Implement standards, systems and best practices for content creation, distribution, maintenance, content retrieval and content repurposing. (10%)
Supervise the maintenance of content inventories and optimize content reuse. (5%)
Integrate content/inbound strategies with outbound marketing initiatives. (5%)
Conduct ongoing usability tests to gauge content effectiveness. (5%)
Conduct periodic competitive audits. (5%)
Develop standards, systems and best practices, utilizing in-house and external resources for consistent content ideation and creation, as well as consistency in messaging, distribution and audience development. (5%)
Bachelor's degree in Marketing, Communications, Journalism or other related field
7 years' work experience
Significant experience in digital media planning and content/social media management
Outstanding writing and editing skills, particularly for use in digital channels, with the ability to understand what the audience needs to know, their pain points and how they want to consume it
Adept at operating effectively within a diverse, multidisciplinary marketing team, with demonstrated ability to draw on individual strengths to maximize productivity
Ability to analyze key metrics to measure success of content marketing programs, digital marketing campaigns, and SEO and SEM efforts
Demonstrated ability to integrate new and emerging technologies into marketing strategies
Experienced in understanding technical details and operational complexity, and translating information into effective marketing communications
Ability to develop and apply creative solutions to solve business challenges
Ability to identify, build and maintain effective relationships with mid- and senior-level management and other key stakeholders
Content Marketing Strategist Resume Examples & Samples
Research, suggest, repurpose, manage, and coordinate content for all educational channels
Review and edit content from a variety of sources – radio, books, newsletter, seminars
Gather content related to current events through a variety of news sources
Become the expert on produce content; overseeing the cataloging of content, grouping related content, retiring old content, updating content that is date sensitive
Assist in the monitoring, analysis and enhancement of online content, organization and presentation
Drive improvement in site content, navigation, organization, etc
Scope new projects using Web analytics and benchmarking to identify new content opportunities to feed into marketing initiatives and educational channels
Possess the ability to effectively manage multiple projects, pay close attention to detail, thrive in a rapidly changing environment and meet short turnarounds and deadlines
Thoroughly QC content prior to content going live
Potentially manage content sources and writers
Content Marketing Coordinator Resume Examples & Samples
You eat, sleep and breathe content. But you don't just consume it - you understand what the marketing play behind it is. No one's foolin' you
Deep knowledge and understanding of Facebook, Twitter, Instagram, YouTube, Snapchat
You love a deadline, infact, you thrive on hitting them
You're hungry for knowledge, are ready to dig in, and don't mind rolling up your sleeves to get small and large projects done
You're a team player who knows how to work hard in a highly collaborative setting
Strong writing skills and an interest in copywriting and creative writing a plus
An eye for what makes for a compelling post: you know that photography/video + copy = content magic
Understanding of the unique and quirky Tough Mudder brand voice
Experience, or understanding, of how to use social analytics tools. Facebook insights and Google Analytics specifically. Hootsuite or Sprinklr a plus
Knowledge of best SEO practices
Experience using CMS platforms such as WordPress or Drupal
Content Marketing Resume Examples & Samples
Already have, or show the intellectual curiosity to quickly develop, an understanding of the dynamics affecting the IT industry and the role IT services play in the success of our customers
Work closely with key internal stakeholders (sales teams, regional and local marketing, solutions marketing, and technical experts) to create targeted and compelling content motivating action
Define differentiated value propositions, positioning and messaging for IT services distinctly and within broader solutions initiatives
Test the content to ensure that it is impactful with Cisco's audience
Actively monitor content that is available or under development both globally and in other countries
Track general business indicators, including market share, attach rates and competitor's marketing and sales program activities
Analyze and develop differentiation against competitors
Content Marketing Lead Resume Examples & Samples
Proven communication, proofreading, editing and listening skills
Proven grammar, spelling and punctuation
Demonstrated judgment and ability to prioritize and complete tasks in an effective and efficient manner
5-7 years' B2B technology marketing experience, preferably for telecom software products, ideally billing and BSS
5+ years of professional experience as a marketing communications specialist or relevant field
Advanced copywriting skills creating marketing content for a variety of mediums, including collateral, emails, web content, and ads
Must be able to multi-task, be deadline driven and need minimal supervision
Experience tracking marketing activities, preparing reports and providing analysis and recommendations for future activity
Advanced Microsoft Office skills, particularly in Excel
Ability to source, work with and manage 3rd party resources as required
A "roll up the sleeves" attitude; a self-starting orientation with the intense drive to "make things happen;" must be a "doer" with an infectious attitude
Ability to both work within a team and to produce results independently
Specialist, Digital Content Marketing Resume Examples & Samples
Additional Knowledge & Skills
Ability to adapt and thrive in a dynamic environment
Passion and enthusiasm for healthcare and our customers' success
Experience in healthcare industry a plus
Content Marketing Promotion Associate Resume Examples & Samples
Engagement with bloggers and travel writers to promote awareness of our content
Daily outreach to targeted prospects relevant to our blog and travel guide content
Logging history of communications with outreach prospects
Tracking performance of link building and social media exposure growth
Reporting on performance of link building and social media exposure growth
Excellent English-language skills
Excellent email and social media communications skills
Director of Digital Products & Content Marketing Resume Examples & Samples
Developing 10 to 15 new digital products a year
Overseeing fitness DVD and digital video products
Creating a multi-channel content marketing plan for every product
Meeting or exceeding contribution margin budget for the digital product business
Working with finance to create executable P&Ls for all products
Negotiating contract terms with writers, experts, agents, and partners
Creating product launch teams for each product
Working with our brands to ensure all products meet standards
Understanding the health, fitness, nutrition/food, and sex markets, directions and trends, and the competitive landscape
Researching and analyzing Rodale's customers' needs in order to develop and deliver products that appropriately address those needs
Developing product surveys
Directing marketing copy for e-books, DVDs, and digital programs
At least an undergraduate degree in English, journalism, marketing, communications, or related field
7 or more years experience as a fitness, health, sports, or nutrition editor or a combination of editorial and marketing experience in those same areas
5 or more years experience creating digital content or working in digital marketing
A passion for both product development and product marketing
A deep knowledge of the fitness, health, and nutrition category and audience
Solid medical/science base, as well as strong contacts among fitness/nutrition/health writers, medical experts, and health organizations
Strong background in social media and/or social marketing
A strong desire to be part of the Rodale brand and to create products that improve people's lives
Great attention to detail and organizational skills
Ability to collaborate with people at many levels
Ability to manage multiple projects simultaneously in a high-pressure environment
Content Marketing Coordinator Resume Examples & Samples
Project management and maintenance of schedules, budgets, and efficient workflows for a wide range of content marketing programs (articles, newsletters, videos, case studies, focus groups, surveys, etc.)
Key communicator between external vendors and clients
Content development and management including: topic brainstorming, editing and researching
Development and delivery of digital/print marketing content for B2B clients
Organization of assignments and schedules
Budget tracking
Bachelor's degree or equivalent, specializing in Communication, English, Journalism, Marketing, Business or similar field of study
3-5 years experience in marketing, communications or web media
Help develop and execute content strategies for clients that drive awareness, thought leadership, and demand for their products, services and solutions
Collaborate with cross-functional teams to translate business objectives and customer needs into comprehensive, content strategies
Develop, organize and maintain content calendar
Proficiency in Outlook, MS Word, Excel, and other web applications
Some familiarity with HTML, Dreamweaver, Photoshop a plus
Associate VP, Content Marketing Resume Examples & Samples
Develop and own all of the visual touch points, both digital and traditional, for the Mark's brand
Develop and execute content marketing strategies to support the overall Mark's strategy
Work collaboratively with the operations, e-commerce, marketing strategy and merchandising teams to execute against project and marketing plans
Lead the team to develop engaging content focused on storytelling and innovation in our product that drive growth in sales
Partner with external agencies to bring activations to life, validating research and tracking results
Own the relationship with external creative and media buying agencies
Develop, manage and execute the digital and traditional content plans including the ongoing evolution of features and benefits to maintain and grow customer engagement
Act as a brand leader to produce content for videos, photography, photoshoots and brand books
Develop and own the content maps annually and seasonally
Provide leadership and overall direction by leading and fostering a high performance team environment and determining appropriate resourcing to achieve strategy
Associate Director, EAB Content Marketing Resume Examples & Samples
Idea Generation & Content Development: Distill complex and inspiring ideas into simple, compelling content that serves delivery, sales and strategic marketing teams. Example deliverables include but are not limited to webinars, research presentations, content gives, sales sheets, videos, blog posts and infographics
Program/Project Management: Support CMCS programs/initiatives from concept to execution
Member Relations: Establish strong relationships across Navigate and Guide memberships
Presentations: Develop presentations and other long-form content runs that will help tell the EAB Collaborative value proposition at internal meetings and industry conferences
1) Content Marketing
Support new business generation through the development of strategic sales tools and collateral including but not limited to one pagers, executive summaries, videos, competitive sell against documents and infographics
Collaborate with cross-functional teams (product management, implementation, sales, strategic marketing, delivery) to understand and communicate an evolving value proposition through various channels
Gather market intelligence to better understand the prospect and customer base, new product opportunities, key customer segments, messaging, market size and competitive trends
Coordinate with web team to ensure that Navigate and Guide web pages have the most relevant and up-to-date content
Be a steward of the EAB brand by developing inspired ideas and crafting them to serve various marketing channels
2) Cohort Services and Member Research
Develop expertise in the student mindset to create resonant content (posters, videos, etc) that will encourage students to adopt and utilize SSC Navigate and Guide
Develop and Execute a Strategic Plan for the Student Ambassador Program for Navigate and Guide to help drive adoption/utilization of the technologies on each campus
Support planning and execution for member summits as well as other specialized member events like Product Advisory Council and New Member Launch Intensive meetings
Conduct member interviews to identify notable case studies to share with member institutions
Transform findings into useful deliverables, such as presentation decks, white papers, research briefings, training materials, webinars, or multimedia videos
3) Project Management and Collaboration
Set and adhere to established deadlines for independent projects while simultaneously project managing other stakeholders to ensure forward progress on multi-disciplinary projects
Cultivate great working relationships across internal departments, embodying a strong service ethic in interactions with colleagues
Bachelor's Degree and 5+ years of work experience
Proven ability to develop compelling creative content designed for a targeted audience across multiple channels
Proven ability to clearly articulate findings in both formal and informal settings
Ability to interface with all levels of an organization, including senior management
Passion for/experience working in higher education
Solution-focused strategic thinker who seeks creative solutions to complex problems
Strong time management, demonstrated ability to create and manage both team and individual projects
Writing reports, articles, slide decks, or blogs in a professional setting
Conducting primary and secondary research
Analyzing competitive business terrains and building research, marketing, or sales presentations
Ideal Qualifications
Experience designing and/or executing successful student-marketing programs
Experience in a start-up or entrepreneurial team/environment
Head of Digital & Content Marketing Private Bank Resume Examples & Samples
Primary marketing contact for DWM team at large
Oversight of all marketing needs for DWM, including Branding, Awareness/Adoption, Communication and Thought Leadership
Coordination across groups involved in DWM, including design team, marketing team and technology team
Manage overall timeline/assets for marketing deliverables across Global Wealth Management (GWM) and Chase Wealth Management (CWM)
Communication to senior executives around our marketing plan, efforts and timing
Approximately 15–20+ years of digital and content experience
Strong preference for candidates with corporate-side experience in large, complex B-to-B and/or financial services companies
Outstanding communication skills, visually, verbally and in writing
A track record that demonstrates strong skills in delivering a best-in-class digital content experience
Experience and expertise with Private Bank and/or the Private Bank's products are a plus
Previous proven ability to build and manage a content team and strategy from the ground up
Facility with research and data. Expertise in creating fact-based brand strategies
The business knowledge and personal gravitas required to influence senior executives, including C-level
Partnership and relationship building are a key factor to the success of this job
Experience partnering with multiple senior-level partners is a must, This includes Technology, Digital Wealth Management, Front-Office, Design, Legal/Compliance and within the Marketing Team
Experience working both for and with agencies (branding, advertising/DM, DM, digital, content, etc.)
Strong leadership and people management skills. The leader in this role will help to build out the team structure
Integrated Visual Designer » Content Marketing Design Resume Examples & Samples
Conceptual thinker who is strategically-centered
Demonstrates command of basic visual and communication design principles
Authors, shares and merchandises ideas in a cogent and inspiring manner
Passion for the intersection of culture and experiential design
Mobile-first mindset
Demonstrated mastery working within Adobe Creative suite
Experience with AfterAffects, motion graphics, 3D, animation and video editing a plus
Knowledge of other visual programming languages a plus
Content Marketing Director Resume Examples & Samples
Ability to deliver constructive and actionable feedback and coach/mentor individual contributors
Ability to inspire others to achieve a common outcome while representing our culture and values
Natural ability to tell stories and a demonstrated knack for relating to readers with relevant and sticky content
A track record for solving complex problems, managing across many teams, and driving business results
Ability to balance need for creativity with a data-driven approach to measuring impact and success
Command an understanding of all aspects of demand generation, marketing campaign strategy, performance marketing
Candidates should have 15 years' professional experience, demonstrate strong leadership skills, and have a genuine interest in industry trends driving content marketing and demand generation
This position is based in Redmond, WA with minimal travel required
Content Marketing Professional Resume Examples & Samples
Develop content strategies and plans that are aligned to target roles and the buyer's journey
Be proactive and innovative in reaching target audiences in new ways
Develop working knowledge of key buyer and influencer roles, their pain points, and how they go about discovering and learning ways to solve their problems
Create quality marketing assets, working with agency teams and industry analysts to design and deliver exciting new content that emphasizes solution capabilities
Be data driven, learning where IT leaders get information, what media they prefer, who they trust and how they prefer to consume the information
Define the client journey that delivers the right content at the right time in the right way through digital, social, traditional, and event marketing
Work with campaign marketing managers to assess existing assets and offers and identify gaps and continually optimize narratives and assets to drive maximum engagement
Leverage our program execution and influence in-country marketing teams to drive exposure
Success will require new, innovative thinking and creative approaches to elevating and energizing the discussion, focused on a buyer centric approach, given competitive threats and strategic business opportunities among new buyers, new markets and new channels
1 year experience in Market management
2+ years' experience in Editorial writing (blogs, etc.)
3+ years' experience in Content Marketing, Content Development Digital Marketing and Social Media Marketing
3 years' experience in communicating with customers
1+ years' experience in Information Technology
1 year experience in Audience Analysis and Campaign Development
1 year experience with Adobe products such as Illustrator, Photoshop or InDesign
2+ years' experience with MS Office including PowerPoint, Excel, Outlook and Word
Excellent writing and speaking English skills
1 year knowledge of IT Infrastructure
4 years' experience working for IT Vendors or Customers
3 years' experience in Content Marketing
4 years' experience in teaming and collaboration, including internationally
3 years' experience in knowledge of one of the following: Systems, Servers, Storage, or open source software
Senior Associate, Content Marketing Resume Examples & Samples
Collaborate with Discover Personal Loans SEO team, business partners and external agencies to plan and execute content strategies for driving traffic to Discover.com/personal-loans
Manage the entire creative and production process for development of new content, from content ideation to publishing. Develop web content that aligns with our business goals and our content style guidelines. Review and provide feedback on new content; assessing grammar, accuracy and tone
Ensures existing content on Discover Personal Loans web properties remains up-to date and accurate. Ensure all blog content is reviewed by legal before publication, and manages annual audits of all existing content with Legal
Responsible for the management, distribution and socialization of the content calendar. Reviews progress of content calendar with manager on a monthly basis to measure how were projecting against set business goals
Reviews channel/content performance with management and reports on key performance indicators. Drives campaign performance by analyzing data and reviewing opportunities for optimization
Organizes and facilitates regular status meetings with agency partners. Gives agencies and freelance writers clear direction on business needs and goals and the creative tactics to reach these goals. Works with agency partners and internal analytics team to develop and refine monthly and custom reporting
Researches and assesses new vendor opportunities
Performs social listening and competitive analysis to understand market performance as well as digital content best practices
Researches and provides content marketing industry updates and trends
Identify process improvements to increase throughput and heighten accuracy and efficiency in execution as well as increase frequency of publication of optimized content
3-4 years of copywriting, blogging, editing and proofreading professionally
2-3 years of digital marketing, publishing or communications experience
Proficient with WordPress or similar Content Management System
Basic understanding of SEO, social media, HTML and website technical abilities a plus
Prior experience successfully handling multiple projects simultaneously, adapting to changing priorities and working under deadlines
Detail-oriented, with excellent problem solving skills
Self-directed and comfort with ambiguity
Experience interpreting digital analytics and recognizing trends
Track record of delivering high standard of service and quality control
High degree of proficiency in Excel, PowerPoint and MS Office
High energy, enthusiasm and creativity a must!
Marketing Executive Content Marketing & Analytics Resume Examples & Samples
Strong analytics skills: proven track record of using analytics systems (Omniture preferred) to leverage data for optimisations, as well as driving success stories
Be analytically minded with an excellent attention to detail
Experience in tagging (e.g. Omniture or similar) and analytics packages
Strong communication skills and the ability to communicate credibly with internal & external partners and colleagues
Ability to work on own initiative and in uncertain conditions – must be a 'self-starter&#8217
Ability to advise and influence stakeholders and teams not under direct control
Demonstrated experience of working with agencies
Highly organized with effective project management skills
Have experience in devising and running merchandising campaigns
Experience of working with geographically/culturally diverse teams
Experience in online marketing mix
Understanding of travel industry economics and profitability drivers
Minimum of Bachelors degree in a marketing / business discipline and/or equivalent recognized marketing qualification such as Chartered Institute of Marketing Diploma
Nice to have: experience in paid digital marketing: Paid Search and Programmatic
Content Marketing Director Resume Examples & Samples
Assist in development of content marketing strategy
Lead corporate storytelling, including overview presentations, videos, and customer case studies
Lead cross-company messaging exercises
Drive marketing content across a variety of different topics, platforms, and form factors
Serve as a content marketing consultant across the business
Manages the development, production, and implementation of internal and external content and identifies appropriate content vehicles and channels
Consults with internal and external clients to develop appropriate content solutions and utilizes content methods and techniques to develop strategic approaches to meet client objectives
Manages and/or writes, edits, and produces content materials as necessary while ensuring quality standards are met
Drives the development of content, including messaging architectures, presentations, long and short form copy, videos, multimedia, event material, ebooks, email and landing page copy, and so on
Coordinates projects and oversees all phases of production (e.g., planning, writing, producing) with internal/external vendors (e.g., advertising agencies, freelance writers, video production companies). May negotiate contracts with vendor management to support content needs, objectives, budget, and time frames
Coaches company representatives to maximize the effectiveness of their presentations to the news media and other audiences
Performs staff leadership role and promotes motivation through effective management and mentoring
Proficiency in content marketing practices and techniques
Knowledge of the production requirements
Knowledge of project management methods and techniques
Proficiency to supervise, lead and manage effectively staff and third parties
Comfort working with senior executives
Excellent verbal and written communication skills to technical and non-technical audiences of various levels in the organization (e.g. executive, management, individual contributors)
Proficiency in evaluating the performance capabilities of subordinates as well as counsel subordinates in development and/or corrective discipline
Proficiency to operate independently
Content Marketing Intern Resume Examples & Samples
Collaborate with the Content Marketing team and Editor for title launches, ensuring all information live on site are on the content management system (CMS)
Source material for video clips and create social media images
Attend drama press conferences, events and assist on artist agency outreach
Effective communicator in both Korean and English. Mandarin is a plus
Love of world cultures, international TV and film
Familiarity with social platforms, including Facebook, Twitter, Instagram, Snapchat, etc.; ability to express knowledge and strategic differences between platforms
Photoshop and video editing skills are a plus
Buck-editor, Content Marketing Resume Examples & Samples
A strong, confident writing voice that delivers useful, relevant information in a way that captures readers' attention (i.e. a storyteller)
Knowledge of how content ties into the overall business strategy
A commitment to continuous professional development through independent research of industry publications, talking with subject matter experts, and learning how the business works
Experience working with and writing on behalf of senior leadership
The ability to collaborate with internal and external subject matter experts to write original content that generates interest and positions the organization as a thought leader
Interest in and the ability to lead and collaborate on content marketing strategy
Bachelor's Degree in marketing, communications, journalism, English, or a related field required, MA, MBA, or MFA a plus
10+ years of related experience
Consulting or other professional services experience preferred
Experience writing for (and with) the C-Suite
Ability to maintain the library of written content for organization
Demonstrated mentoring and/or supervisory skills
Self-starter and good problem solver
Strong critical thinking and reasoning skills
Global Content Marketing Lead Resume Examples & Samples
Serve as the corporate center of excellence for content marketing to drive the content vision, goals and strategic plan
Lead overall content strategy and development in order to increase audience engagement and ultimately drive advocacy
Utilize data/insights analytical abilities to gather key business and user insights, and strategic planning skills to create a long-term vision for overall content
Ability to synthesize complex technical information into compelling messages for broader audiences
Ensure all content supports the corporate marketing imperatives and narrative, supporting style, tone and driving the right message at the right time to the right audience
This position will lead the Content Marketing team which will be a combination of employees and contractors
Own and lead key content deliverables such as
Bachelor's degree in Marketing, Journalism, Communications, Public Relations or related field
8+ years of experience in content marketing, and brand marketing/digital marketing
Demonstrated agency management
Strong digital, social media marketing, digital paid media background
This position will lead the Content Marketing team which will be a combination of employees and contractors, previous leadership experience helpful
Exceptional analytical abilities in order to inform strategic content planning
General knowledge of content creative development, video and photography
Strategic and creative thinker with the ability to develop ideas into executable plans
Ability to collaborate, communicate and drive change cross functionally in a matrix organization
Ability to be flexible and adapt
Self starter, with the demonstrated ability to drive results while meeting timeline and manage multiple priorities
Strong relationship and networking skills
Proven track record of effective people management skills
Available to travel domestically as needed (approximately 10-15%)
A firm understanding of user experience and strong SEO/SEM skills
Global coordination in collaborating with a variety of countries across the globe for marketing initiatives
Audience segmentation
Brand marketing
Director, Content & Marketing Research Resume Examples & Samples
Be a research partner to the MTV Marketing/Strategy group to help with relevant audience insights, positioning, creative development, competitive contextualizing, media planning insights, pre-launch awareness/intent-to-view tracking and post launch effectiveness analysis of key MTV show launches
Act as Research liaison with external media agency on all queries supporting MTV media plans
Bring innovative Research solutions to the marketing effectiveness/ROI process
Optimize a smooth effective working process for the inter-relationship between the MTV Marketing and Research groups
Be a research partner to the MTV Development team to help with show development research, pilot and concept testing and deliver content based insights
Act as Research liaison with production companies on all queries supporting new and existing show research
Continue to iterate the pilot research process
Optimize a smooth effective working process for the inter-relationship between the MTV Development and Research groups
Manage a team responsible for content and marketing research and provide valuable insight for all internal stakeholders
Responsible for the development, oversight and output quality of direct reports
Support VP and team on all priority projects and primary research initiatives
Minimum of 7 years of experience in relevant Research functions
Must be adept at qual and quant research
Have an understanding of TV ratings and Nielsen measurement currency
Advanced knowledge of TV measurement tools required
Have an understanding of Social and Digital measurement and tools
Exposure and knowledge of campaign measurement and audience planning tools
Strong organizational & time management skills
Demonstrated ability to multi-task within a fast-paced, high-volume environment
Strong business and personal ethics
Strong written & verbal communication skills
Ability to craft and deliver story-telling presentations
Youth expertise strongly preferred
A love of content, characters and story telling
Ability to inspire a must
Senior VP, Global Content Marketing Resume Examples & Samples
Overall Content Strategy for Citi's Global Consumer Bank
Management of Global Consumers Content Center of Excellence (COE)
Tools and Technology that Enable Best in Class Content Capabilities
Oversees the Lead Agency's Global Content Strategy team
Development of strong relationships with key business and marketing leaders and stakeholders across the company to educate marketing teams on the power of content to drive their business goals
Collaboration with business partners to understand content marketing goals and develop content ideas, formats and storylines to ensure content is serving business objectives and meeting KPIs
Oversight of Citi's influencer content strategy, collaborating with agency to develop a roster of contributors and social influencers with expertise in topics that are top-of-mind with Citi's target audience and consumer base
Creation of the roadmap and strategy for the creation of editorial playbooks to ensure that all contributors are developing content that is in line with the Citi brand voice and personality, and adheres to all legal and compliance guidelines
Creation of a streamlined content review and approval process in collaboration with the key Digital and CMS team stakeholders
Development of a measurement system and onboarding of tools that will facilitate the review of analytics in order to optimize content to ensure that traffic/engagement goals and program KPIs are being met
Development of an interaction model with the social media team to ensure social content developed to support content is designed to drive click-through and social engagement
Collaboration with media team and agency partner to oversee programs with paid content amplification and syndication partners
Has 10-15 years of content marketing, journalism, public relations and/or social media experience
Has experience working with major consumer brands or a publisher in a variety of the disciplines mentioned above
Has top quality writing and communications skills
Is detail-oriented
Experience with web design and development preferred
Global experience a plus
Content Marketing Senior Manager Resume Examples & Samples
Intellectually Curiosity: a natural interest in learning how things work, and a willingness to persistently question (even challenge) why it works that way
Clear Communication: an ability to identify the best vehicle for teaching an idea, and to communicate those ideas via clear prose and compelling visuals
Creativity, Entrepreneurialism: an ability and interest to support redesign of how team shares research, through new digital and non-digital teaching formats
Spirit of Generosity -Equally, Atlantic Media seeks what we term a spirit of generosity – a natural disposition towards service and selfless conduct
Content Marketing Executive Resume Examples & Samples
Support the Electrician Programme Manager to develop and implement a content marketing strategy that delivers key business and brand objectives for the division
Originate high quality content to feed asset creation and drive activities such as electrician partner engagement, product awareness, offer launches and customer training (examples include online content, infographics, product guides and webinars etc)
Collaborate with relevant stakeholders such as industry group experts, external influencers, product marketers, sales professionals and electricians to develop and curate topical information and technology trends to feed the partner communications channels
Produce relevant and engaging content to be posted across multiple social media platforms to foster a collaborative electrician partner community and keep this audience informed
Through an effective content marketing strategy underpinned with appropriate metrics and analysis, help to deliver the strategic growth of Schneider and its engagement with electrician partners and the wider electrician community
You will have demonstrable content marketing experience or similar
Ability to source relevant information and re-assimilate according to audience need, preferably with an appreciation of a B2B environment or technology industry
Ability to produce compelling content, while maintaining brand messaging, persuasiveness and readability
Outstanding written and interpersonal skills to establish professional relationships among diverse internal and external stakeholders
Demonstrable experience of professional written work, conveying a range of content from brochure copy to technical news topics with attention to detail
Knowledge of how to develop and build communities across social platforms such as Facebook, Twitter and YouTube
Understanding of design processes and working to brief
Specialist Customer Content Marketing Resume Examples & Samples
Create a plan for SAP Ariba customer stories and case studies in North America aligned to major themes, segments, product roadmap, events and more
Develop external content to include videos, case studies, customer focused blog posts, etc
Partner with the stakeholders and serve as a liaison to the broader organization on customer success stories
Partner with the customer marketing team to amplify advocacy of our biggest champions and influencers
Measure impact and utilization of content to optimize programs and asset development
Work with peers on the marketing team and colleagues in CST, Product Marketing and Demand Generation, determine types of stories and formats for key persona types within segments
Create effective promotional plan for stories, including social media
Function as customer advocate, ensuring our brand promise is reflected in all interactions with our customer
Maintain and regularly communicate pipeline and publishing of customer stories with key stakeholders in NA
Manage writers, videographers and creative agency to develop content in a timely manner
Oversee and own fulfillment of inbound customer marketing requests (event speakers, media and blog interviews, analyst surveys, earnings sound bites, etc.)
Strong commitment to a positive customer experience and customer advocacy
Represent the Customer Storytelling Team, customer references and marketing programs in regular field updates, executive updates, and others as required. Organize and host sales enablement sessions as needed to ensure adoption of customer marketing tools and materials
Ability to perform in a fast-paced environment, tackle challenges, roll up your sleeves to get things done
Seasoned in content development, storytelling, creative writing
Interest in startup culture yet savvy enough to operate in large company environment
5-8 years marketing experience within B2B software, SaaS marketing experience preferred
Highly collaborative working style with the ability to build strong relationships across the organization and with external customers, including the ability to interface professionally with clients and senior executives; asking appropriate questions to elicit, interpret and synthesize information
Analytical, with the ability to create reports, snapshots, and dashboards to highlight program success and return
Demonstrated success in project management and process improvement with careful attention to detail
Strong consulting and problem-solving skills
Exceptional communication, organization, and interpersonal skills
Proactive, can-do attitude and strong, team-oriented work ethic; driven by passion for customers and to exceed expectations
Cross cultural sensitivity, working for global company, in multiple countries, with cross-matrix collaboration
Content Marketing Analyst Resume Examples & Samples
Support the brand's digital communications across multiple channels, owning our Twitter, Facebook, LinkedIn, Instagram accounts, as well as supporting e-mail marketing and internal communications
Help brainstorm smart and creative ways to bring our brand to life through stories and thought leadership, with an eye towards human language and good design
Assist in the creation and distribution of content, including articles, op-eds, videos, podcasts and infographics
Maintain a communications calendar to keep marketing efforts organized and on-time
Help test and optimize organic and paid content creation with a data-driven approach
Own measurement and analytics to help measure success and guide optimization
Experience in marketing, communications, public affairs, journalism or media
Demonstrated creative sensibilities with an attention to detail
Self-starter, organized, motivated with a good sense of humor
Passion for understanding and communicating nuanced financial topics
Design skills are nice to have, but not required
Director of Digital & Content Marketing Resume Examples & Samples
Accountable for all digital and content marketing initiatives
Accountable for digital and content marketing goals, including lead generation, content performance, website traffic, social media engagement growth
Manage a team of 3 employees: digital marketing, social media, and content design
Manage multiple agency relationships, including design, branding, and video agencies
Collaborates across functions to deliver an effective digital strategy, social strategy, content marketing strategy, and editorial plan to meet business objectives
Plan and execute comprehensive digital presence strategy, including website, SEO/SEM, social media and display advertising
Plan and execute comprehensive content portfolio strategy, including e-books, blog posts, infographics, and videos that cover our range of product and solution offerings, as well as integrated solutions, industry trends, and thought leadership topics
Channel management of digital content hubs including our website, blog, Twitter, Facebook, LinkedIn, and community forum
Evaluate and optimize end-to-end prospect experience across channels and touchpoints
Support events with relevant content in the form of employee- and customer-led breakout sessions, demonstrations, and other activities
Work closely with executives and sales leaders to craft presentations for strategic customer meetings and large-scale events
Design and launch a new Account-Based Marketing program
Work with sales enablement team to develop materials that empower sales teams to successfully deliver messaging and content to their customers and prospects
Experience in and passion for the nonprofit and/or education sectors
Deep expertise in the areas of digital marketing, social marketing, content marketing, and other areas, preferably with a B2B background
Experience managing a brand across web and social properties
High level of creativity in designing content and campaigns that inspire, engage, inform, and motivate
Experience in user experience and conversion optimization
Understanding of website information architecture, layout, and navigation in support of user-centric design strategies
Experience with content strategy on paid media, owned media, and earned media
Knowledge of website analytics tools, including Google Analytics
Experience managing marketing contacts and campaigns in Salesforce
Knowledge of marketing automation tools such as Salesforce Pardot
Experience with content management systems, including Wordpress
Experience in setting up and optimizing Google Adwords campaigns
Working knowledge of HTML, CSS, and JavaScript development and constraints
Experience with SEO/SEM
Up-to-date with the latest trends and best practices in online marketing and measurement
Editorial mindset that seeks to understand what audiences want to consume and how to create it
Project management skills and understanding of how to manage the priorities of multiple stakeholders in a complex environment and focus on the delivery of results
Balanced strategic and tactical thinker with strong presentation, problem-solving, analytical, and budget management skills, and understanding of ROI analysis
Experience building, mentoring, and coaching a team
Senior Content Marketing Strategist Resume Examples & Samples
Lead development of content strategy, including creation of email marketing strategies, web content and social media
Collaborate and build relationships with various business units, marketing teams as well as Sales, Service on a variety of market programs. In addition, you will work with customers, digital partners to refine our message in key channels
Develop and support an editorial calendar to deliver a consistent experience across all channels
Develop messaging and positioning for offerings to key audiences
Bachelor's degree in marketing, communications or specialization field required or equivalent experience
10+ years related work experience
Experience with writing financial content and marketing automation platforms is preferred
Must have an understanding of various digital media platforms and experience with content marketing as well as implementing full scale integrated marketing campaigns
Advanced leadership skills, which include excellent time management and decision-making skills, as well as strong diplomacy and negotiation skills
Advanced oral and written language skills for story concepts and story angles
Ability to build and maintain relationships in a matrix-driven environment, manage expectations and focus on results-orientation in a deadline-driven, multiple project environment
Ability to be confident and tactful is necessary
Basic knowledge of business unit and company products preferred
Comprehensive understanding of marketing, advertising, public relations, and corporate communications
Working knowledge of software applications. This includes: Word, PowerPoint, Excel, Adobe Acrobat and a marketing automation platform
Must be accurate and detail oriented
Content Marketing Lead, GGO ANA Resume Examples & Samples
Bachelor's degree in English, Journalism, Public Relations or related communications field
5 years experience as a leader in multichannel content creation (publishing, journalism, marketing)
Proven ability to collaborate and influence senior business leaders on a regional scale and across multiple functions/organisations
A good understanding of demand generation
Experience with the Adobe Creative Suite and HTML
Strong organisational/project management skills and experience managing the priorities of multiple stakeholders in a complex environment
Experience of using traditional, web and social marketing channels
Reporting and analysing content marketing performance
Experience in using Social Media as a marketing channel
Content Marketing Internship, January July Resume Examples & Samples
3DEXPERIENCE, the Compass logo and the 3DS logo, CATIA, SOLIDWORKS, ENOVIA, DELMIA, SIMULIA, GEOVIA, EXALEAD, 3D VIA, BIOVIA, NETVIBES and 3DEXCITE are registered trademarks of Dassault Systèmes or its subsidiaries in the US and/or other countries
Work with the marketing team members in the corporate headquarters (Velizy France) and other in other regions
Collaborate with many people (in person, by phone, email etc.) in support of marketing missions
Participate in team meetings, marketing training and workshops
Develop HTML pages using TYPO3 HTML software
Develop reports of campaign results using Excel and PowerPoint; content will be provided
Analyze marketing reports
Maintain marketing collateral, images, videos, etc. with Web-based tools
Masters in Communications, Journalism or Business (Marketing, Economics or equivalent majors)
Basic knowledge of French
Advance knowledge and experience with Excel, Word, and PowerPoint functions
Content Marketing Intern Resume Examples & Samples
Generate relevant ideas and topics of research for thought leadership content
Remain current on developments and issues within the economy and politics relevant to the
Students currently enrolled in an undergraduate program from an accredited
Content Marketing Coordinator Resume Examples & Samples
Write and develop original, compelling content across multimedia channels and different audience groups
Contribute to Futureforce social media platforms, posting and engaging with candidates
Assist in the creation and updating of the editorial calendar
Will be able to pull data reports used for email marketing campaigns
Will report to the Sr. Associate of Social Media and Comms, but will work closely with the Futureforce Programs Team and Recruiting Team
Expected to provide monthly metrics on blogs
Provide weekly analytics reports on email marketing and blog performance
2+ years of web content experience
Experience blogging for business
Excellent writer with superior grammar, spelling and proofreading skills
High performing self-starter, with proven ability to work both independently as well as a member of high performance-output teams in a fast-paced, deadline driven environment
Experience with Social Media and writing including: blogs, Facebook, Twitter, LinkedIn, YouTube, Flickr
Understanding of marketing and communications
Ability to write Sales-related content
Social engagement experience
Web analytics experience
Director of Messaging & Content Marketing Resume Examples & Samples
You have a 7+ year track record delivering exceptional messaging and creative across all marketing channels for a beloved consumer brand in retail, service, financing or hospitality
You can share what it means to apply the art of behavioral psychology and based on a rich knowledge of our customer personas, motivators and barriers
You are a brilliant communicator with exceptional written skills and know how to develop visual creative content to enhance a rich and compelling story and create the desired emotions
You have a dual-brain: Creative & Analytical
Digital Content Marketing Lead Resume Examples & Samples
High school diploma required, BA/BS degree preferred
Minimum seven years' experience in marketing, with a minimum of 5 years' experience in Content Marketing
Minimum of 2 years of content creation experience also required
Bachelor's degree in marketing or communications field
Background in content and inbound marketing roles with a proven track record of success
Has developed and worked with personas and user journeys and has past experiences building audiences online or offline
Proficiency in marketing automation and channel-specific knowledge (paid, social, seo, blog, etc.)
HTML/CSS, Adobe Creative Suite skills
Content Marketing Intern Resume Examples & Samples
Demonstrate a passion for writing and communicating marketing content in a variety of digital media
Create content a variety of customer- and partner-focused channels, including the corporate website, blog, trade articles, case studies, press releases, and newsletters
Hone communications for SEO-focused performance
Transform raw information from subject matter experts into customer-empowering content
Assist in the editing of marketing collateral
Communicate with sales, business partners and customers in support of marketing projects
Work with our global partner network to provide intriguing content to a diverse audience
Participate in and contribute to other Digital Operations Team projects
Work closely with the Marketing Communications Manager and Digital Marketing team
Must be a currently enrolled college student or recent graduate
Must have excellent communications skills and be able to quickly translate complex technical ideas into layman's terms
Working knowledge of GIS, remote sensing, and the geospatial industry
Experience with geospatial software (Hexagon Geospatial software preferred)
Geospatial or Geography background
Punctual, self-motivated, and able to adapt to changing priorities
Able to work a minimum of 20 hours per week (40 hours maximum)
Must be a U.S. Citizen or Green Card holder
Manager of Content Marketing, Vision Source Resume Examples & Samples
Thought-leader and champion for world-class content, leveraging content to drive engagement on the web platform and driving for exceptional marketing communications appeal
Develop a space to achieve the highest levels of audience engagement and relevance of content on the internal web platform
Publishing processes and campaigns are critical undertakings the incumbent will execute
Working in a fast-paced environment, collaborate with corporate and field teams to identify, produce, and publish high-quality and engaging content to influence audiences
Lead the development and publishing of all digital content in web platform. To source the highest quality content, identify and engage with content creators and curators both internally and externally
Write, develop, and publish top notch email marketing communications
Provide weekly/monthly/quarterly updates to the Sr Director on activities and milestones
Cross-functional collaboration with peers within the IT team in charge of UX and web production on the daily management of web platform and ensure platform functionality
Publish and update resources and solution descriptions, member testimonials, cases studies, white papers, etc. S/he will also drive strategy and engagement for the social media component of internal web platform
Responsible for leading communications, which may include editorial calendar development, measurement of engagement on a regular basis, and executive presentations on program approaches
Long-term strategy development for web platform and email marketing communications, which may include development and execution of campaigns to drive engagement and achieve goals
The role requires familiarity with web content management systems but requires greater competency
Exceptional verbal and written communication skills
Project management skills and understanding how to manage the, sometimes competing, priorities of multiple stakeholders in a complex environment and focus on the delivery of results in the form of engagement
Exceptionally PC literate – including experience with Google analytics, social channels, PPT
Experience using email marketing communications platform, preferred
Positive, "can-do" attitude and good team-player
Content Marketing Associate Resume Examples & Samples
Develop engaging content for current National Journal members and subscribers -
Intellectually Curious: a natural interest in learning how things work, and a willingness to persistently question (even challenge) why it works that way
Clear Communicator: an ability to identify the best vehicle for teaching an idea, and to communicate those ideas via clear prose and compelling visuals
Creative, Entrepreneurial: an ability and interest to support redesign of how team shares research, through new digital and non-digital teaching formats
Force of Intellect -Atlantic Media seeks a discipline and rigor of thought as manifested, often, in exceptional academic performance and, later, success in a professional environment
Senior Director, Content Marketing Resume Examples & Samples
Create and curate content each month to build brand awareness and support for campaigns and associated programs (examples include ebooks, whitepapers, infographics, guides, etc.)
Increase our prospect and customer engagement by planning and executing consistent, compelling content that's aligned with their needs and interests
Collaborate with designers, product marketing, sales, external influencers and industry experts to produce relevant content that meets the needs of both key stakeholders and our audience
Measure critical production and engagement metrics, and track progress using qualitative and quantitative data
Understand content's role in the buyer journey
Apply our brand's voice, tone, and narrative among all our content assets
Own and project manage content marketing repository, including packaging content for sales distribution
Understanding of how to leverage certain channels for different types of content
Marketing Manager, Scale & Content Marketing Resume Examples & Samples
Create and drive scalable marketing for key Amazon Launchpad initiatives and tail selection
Design, execute, analyze, and manage traffic channels strategies and programs to engage customers, specifically: email, PR, and social media channels
Own the strategy and execution for the Amazon Launchpad consumer social media program
Manage and lead Marketing Consultation office hours with new vendors on Amazon Launchpad
Develop and grow scalable benefits for all Amazon Launchpad vendors
BA/BS Required
Experience with content management in CRM/CMS tools, and/or the ability to learn new tools quickly BA/BS
Ability to create innovative new marketing programs that generate results
Strong analytical and data-mining aptitude, coupled with strong Microsoft Excel skills, and basic familiarity with SQL
2+ years of experience in online marketing and/or merchandising, preferably in retail or e-commerce
Experience managing and optimizing content marketing tactics, specifically video content, written content, social media, etc
Familiarity with markup languages like HTML/XML
SQL fluency preferred
Copywriting experience
Content Marketing Executive Resume Examples & Samples
Support the Content Marketing Specialist, Customer Conversion in collating and assembling content, assets and marketing communications to drive reader engagement and new subscriptions across our owned marketing channels
Curate and assemble digital packages of editorial content to increase engagement and product knowledge amongst casual readers
Write, edit and proof related marketing copy compelling readers to take an desired action
Implement and monitor an integrated, effective and highly persuasive lead nurture program across e-mail, push, social media and telemarketing
Work closely with the Optimisation & Insight Specialist to monitor and understand campaign and content performance, within and across channels, and establish the key drivers of engagement, lead generation and free-to-paid conversion
Identify opportunities to improve campaign content and performance
A keen interest in global affairs and the key themes relevant for the readers of The Economist
Previous working knowldege of producing and editing copy to an exceptionally high standard
Experience of working within a team, in which you were responsible for delivering joint outcomes to challenging deadlines
Experience in a role in which your were responsible for managing your own time, deadlines and accountability
An understanding of content marketing principles and how they relate to the media industry
An understanding of online sales models and the lead nurture process
An understanding to how write persuasive marketing copy in order to lead a reader through to a desired action
A clear understanding of how to track and measure marketing performance
Exceptional written and spoken English
A high degree of numeracy
Accountability of the successful delivery of tasks
The ability to work to deadlines and manage conflicting priorities
The ability to communicate clearly and work with a team
An eagerness to learn and keep up-to-date with the latest developments in media and marketing
Digital Content Marketing & Production Coordinator Co-op Resume Examples & Samples
Work closely with merchandising teams to develop content schedules ensuring products and related content are online by the expected date
Provide support to the production of new digital content such as product copy, videos, social media content, etc
Administer and QA digital content for Canadian Tire website(s)
Ensure our customers have all the information required to make a purchase decision with Canadian Tire through various research efforts
Identify and regularly evaluate competitors with an eye on their content strategy and format
Work within digital projects and provide support
Through training, become familiar with existing CT web applications and leverage them in support of digital initiatives
Aptitude for digital strategy including technology and strategies
Strong interpersonal skills and ability to collaborate in a creative and strategic environment with a team of diverse skill sets in digital content marketing
Strong command of Microsoft Excel
Strong organizational and problem solving skills
Proven ability to perform well under pressure
Ability to prioritize workload and manage short-term and long-term projects simultaneously
Must have had your own website or blog and/or have a social presence online
Strong marketing copywriting ability is a strong asset
Experience with photography and/or video is an asset
Experience with Photoshop and/or designing websites is an asset
Experience leveraging social media for promotions is an asset
Understanding of web analytics is an asset
Have a good understanding of a typically online purchasing process (from a customer's perspective) is an asset
A passion for design (specifically for digital design) is an asset
Video editing is an asset
Content Marketing Associate Resume Examples & Samples
Content Syndication: Partner with Digital Media team to develop campaigns and strategies for syndicating and distributing content (video, written, images, etc.) across digital channels
Web Integration: Work with web and UX team to develop content strategy for integration into our websites, identifying opportunities and developing solutions
Sponsored Content: Work with digital advertising and partnership teams to create programs for sponsored content and identify other opportunities to secure sponsorships and monetize content
Plan and execute content marketing strategy and digital distribution with internal and external partners (e.g., Outbrain, Taboola)
Email Integration: Partner with email strategy team to develop new content-driven email communications and identify opportunities to integrate content into new programs. Identify existing content and/or create new content for the ongoing email calendar, proposing appropriate posts based on email topics, and evaluating results
Creative Input:Provide creative ideas and insights to develop new content programs to support seasonal and business-driven content priorities
Vendor Recommendations:Evaluate vendor partners to explore new technologies, innovations, and establish new relationships and make recommendations
Competitive Analysis:Monitor the landscape for best practices, trends, and new ideas; ensure competitive parity and drive competitive advantage
Omni-Channel Support:Work with multiple marketing channels, including print, to identify opportunities to drive content integration efforts for key marketing programs, seasonal campaigns, audiences, and merchant initiatives
Content Marketing Strategist Resume Examples & Samples
Identify existing content and/or create new content for the ongoing marketing calendar and evaluating results
Omni-Channel Support: Work with multiple marketing channels, including print, to identify opportunities to drive content integration efforts for key marketing programs, seasonal campaigns, audiences, and merchant initiatives. Key Priorities include
Email Integration: Partner with email strategy team to develop new content-driven email communications and identify opportunities to integrate content into new programs
SEO/SEM: Contribute to SEO/SEM strategies and execution
Project Management: Employ strong project management skills including the ability to independently manage multiple projects and complete projects to schedule
Creative Input: Provide creative ideas and insights to develop new content programs to support seasonal and business-driven content priorities
Testing & Measurement: Partner with ecom testing team to measure and optimize impact of content on the web; recommend strategies based on results
Vendor Recommendations: Evaluate vendor partners to explore new technologies, innovations, and establish new relationships and make recommendations
Manager Glbl Content Marketing Resume Examples & Samples
Content Strategy and Development
YouTube Channel Management
YouTube Media planning and execution
Minimum 4 years (2 years with MBA) experience in brand management or digital marketing
Minimum 2 years of experience in YouTube marketing, including channel management and influencer programs
Thorough understanding of digital media
Demonstrated leadership ability, strong analytical and strategic thinking skills
Experience managing content multiple agencies in the content development/production process
Excellent written/verbal, time management and quantitative/analytical skills required
Proven ability to drive change and results through influential leadership skills
Demonstrated strong facilitation skills and ability to identify common ground amongst individuals with divergent opinions and perspectives
Demonstrated strong presentation skills with a persuasive nature
Proven ability to effectively manage multiple projects in a dynamic environment
Demonstrated positive attitude, sees challenges as opportunities and translates them into actionable items
Director Content Marketing Resume Examples & Samples
Bachelor degree in relevant field of study or equivalent years of related work experience required
7+ years of content strategy experience at a content agency, digital marketing/advertising agency, publishing company or brand, or relevant work experience
Proven and visible marketing experience with creating content across several disciplines (e.g., text, design, video) and media (e.g., blogging, infographics, podcasts)
Knowledge of all aspects of Marketing Communications, including social and traditional media, web, publications, digital media
Ability to be a team player who can perform well in a decentralized, fast-paced organization
A storyteller with the ability to leverage strong written and verbal skills to translate strategies into convincing and inspiring stories
Ability to think outside the box and courageous to consider big, compelling ideas for content marketing strategies
Proven track record to grow and develop top teams
Well versed in integrating vendor content, user generated content and proprietary content
Robust capability to produce multi-channel content programs for B2B and B2C
Collaborative work style
Possess exceptional verbal, written, and presentation skills
Organized, systematic thinker
Strong ability to analyze, articulate, and solve complex problems/concepts to make effective business decisions
Able to maintain the customer perspective as a driving force behind business decisions and activities
Up to 10% of travel required, overnight stays as needed
Acceptable level of hearing and vision to perform job duties
Senior Associate, Content Marketing Resume Examples & Samples
Collaborate with Content and Channel Marketing Managers, Product Management, Design, and external agencies to deliver impactful and effective content
Maintain and manage existing programmes (written and digital)
Tailor content for different platforms, including digital sites, social media and emails
Provide creative energy and ideas in developing new content aligned with business objectives
Coordinate with counterparts in global offices to share process and content
Partner with compliance and global content colleagues to meet guidelines and investigate strategies for evolving communications
Content Marketing Associate Resume Examples & Samples
PIMCO's clients and prospects want to read, engage with, and share with their own networks
Positively influences the perception of PIMCO's investment process and firm overall in the minds of clients, in the context of product-specific communications
Supports, enables, and facilitates the sale of PIMCO's products to prospects, and retention of PIMCO's products among clients
Provide day-to-day execution and project management for priority marketing campaigns supporting a variety of investment solutions and vehicles
Interface with global colleagues across channels, including stakeholders in product management, client management, compliance, technology and all marketing departments (brand, design, digital, channel, editorial, messaging and content)
Manage the development and production of marketing materials across a fully integrated communications platform
Promote marketing materials and thought leadership papers, internally and externally
Update, maintain and improve webpages
Focus on quality control and quality process implementation
Prepare marketing metrics reports using Google Analytics and other data sources and work with internal strategic initiatives group and digital marketing team to develop campaign reporting dashboards
Coordinate closely with the global marketing function and resources to ensure strict adherence to PIMCO's brand standards and to harness best practices across geographies and business channels
Keep abreast of industry and competitor best practice and make recommendations
Content Marketing Director Resume Examples & Samples
Collaborate to establish strategic marketing plans that achieve Vuforia business objectives (thought leadership, market share, monetization)
Design and drive Vuforia content marketing strategy and KPIs in line with sales and product needs
Write copy and create content including, but not limited to white papers, bylines, social/blog posts, case studies, newsletter, web copy, collateral, eBooks, etc
Manage and oversee marketing materials and projects including video content, photography and other creative projects
Assess content effectiveness, and drive alignment between marketing campaign narratives, user experiences and KPIs and show ROI on all content and campaigns
Continually test and optimize - from A/B testing CTAs and content placements to optimizing lead gen form flows
Oversee and drive web content and digital marketing strategies with ongoing content updates to our websites, including copy, content/resources and SEO to keep the experience fresh, engaging and relevant
Optimize and implement best practices across all digital marketing programs, including: SEM, SEO, display, mobile, video and social, with an eye to driving new customer acquisition, customer engagement and ultimately, conversion
Guide programs/projects from conception to completion, overseeing all aspects including requirements gathering, scope definition, resource planning, project timeline, budget management, risk management and change control
Work cross-functionally with sales, product, engineering, executive management, app developers and company customers and partners
Director, Content Marketing Resume Examples & Samples
Ultimately, the role of the Director of Content Marketing is to think creatively and critically, leading the strategy and development of physical and digital assets that drive the business through thought leadership, lead generation, and partner ecosystem support. Responsibilities include
Ensuring that all content is on-brand, consistent in terms of style, quality, and tone of voice, and optimized for search and user experience for the digital and/or physical medium
Developing of a functional content pipeline and editorial calendar that maps assets to target vertical industries, personas, geographies, and lifecycle stages
Delivering a persona-driven content strategy that supports and extends marketing initiatives from top of the funnel to bottom of the funnel
Leveraging customer, partner, and market data to develop content themes/topics
Advising colleagues in Digital Marketing and Events how to best apply content assets to their respective mediums—and in turn, optimizing future content for SEO or user experience based on their feedback
Conducting periodic competitive audits
Maintaining content audit documentation, and performing regular gap reviews
Implementing best-in-class localization strategies to ensure a consistent yet tailored global brand experience
Measuring and reporting on the effectiveness of content messaging and delivery, determining which methods work for the brand and why
Collaborating with and managing writers, editors, and producers within PTC Agency and approved outside agencies to ensure consistent branding and messaging across all channels
Participating in the recruiting, hiring, supervising, and professional development of content creators/storytellers
Content Marketing Consultant Resume Examples & Samples
You will be degree qualified minimum 2:1 or equivalent
You will have to demonstrate excellent knowledge of using Social Media / blogs and its content creation
Be able to direct, produce and edit video and support wider team with various events and marketing activities
Strong skills in writing content, time management skills and ability to prioritise tasks and work well under pressure
Be creative thinker with experience or passion in videography
Content Marketing Coordinator Resume Examples & Samples
1-2 years of relevant experience working experience as a writer, editor, or a content role in either a B2C or B2B company required
Bachelor's degree in Communications, Journalism, Marketing or related field is strongly preferred
Experience as an editor preferred
Demonstrated ability to work across and influence a complex organization
Ability to occasionally work off hours to respond/manage customer escalations required
Ability to create effective content within time, budget, and resource constraints
Excellent writing skills for a variety of audiences
Excellent interpersonal skills, with the ability to communicate complex data issues correctly and clearly to both internal and external customers
Senior Content Marketing Strategist West Lafayette Polytechnic Institute Resume Examples & Samples
Bachelor's degree in Communications, Marketing, Journalism, English or related field of study
Five years' experience in any of the following: large marketing/recruitment and promotional type campaigns; marketing communications, such as case studies, ad copy, white papers, website content, sell sheets, brochures, email newsletters, press releases, video scripts, infographics, blog posts; a content role (marketing, editorial, or communications); or other closely related
Exceptional writing and editing skills
Experience curating and adapting content for a variety of communication mediums
Microsoft Word, Excel, Adobe and general CRM and CMS systems
Digital Content Marketing Analyst Resume Examples & Samples
Work across international markets and central teams to test and implement new opportunities to deliver relevant content to existing American Express Cardmembers
End-to-end campaign management across external channels such as Social Media (Facebook, Instagram, Twitter, etc)
Proactively identify opportunities to support markets to both optimise campaign performance and drive key business objectives
Implement a measurement framework, in partnership with our Analytics team, to ensure we can accurately assess the impact of our channels, platforms, content and campaigns
Deliver analysis and actionable insights to help teams measure the success of their campaigns and help to optimise future campaign performance
Help to develop a User Generated Content strategy and prove the value of this content across multiple business objectives
Bring new thinking and innovative ideas to contribute to the on-going innovation and strategy of the team
Keep abreast of trends and new developments and provide updates on competitor activity in the digital space
Have a passion for digital and social marketing
Experienced in managing projects, including project planning and administration
Consistent top performer with proven ability to drive results
Knowledge of marketing processes and campaign execution
Knowledge of paid media and social marketing
Strong relationship management and ability to build effective working relationships with stakeholders and partners
Excellent interpersonal and influencing skills and ability to operate successfully in a matrix environment
Independent self-starter with a can-do attitude and ability to deal with change positively and create structure and clarity even under ambiguous/ challenging business circumstances
Competent at managing an ever-changing backlog and are able to pivot on strategy and priorities when business needs arise
Strong analytical skills and an ability to build and articulate strong business cases and ideas based on data
Excellent team player, with a desire to have fun and work on a fast-paced, high performing team
Content Marketing Resume Examples & Samples
Research and write content for, but not limited to: website, blog articles, email newsletters, whitepapers, testimonials, social media sites, internal emails, executive communications and more
Work with the Director of Marketing to help maintain an editorial calendar for the organization, both internal and external
Interview customers and ATI team members to craft content for various communication channels
Create content/messages that will help generate leads for inside Sales
Post regularly to the company blog and occasionally to the website
Work creatively with our digital marketing team to develop layout for various content and communication pieces
Help standardize department procedures to develop, publish, cross pollinate and manage content
Research and keep up-to-date with major content and business/industry trends
Research and write on community marketing and philanthropic efforts to support promotion of ATI
Perform other duties as assigned by management. Supervisory Responsibilities
Approachable
Career ambition
Comfort around higher management
Compassion
Composure
Conflict management
Integrity and trust
Timely decision making
The ability to organize and manage multiple priorities
Excellent interpersonal and communication (both oral and written) skills
Strong team player; and
Commitment to company mission and values. Working Conditions
Content Marketing Associate Resume Examples & Samples
Collaborating with designers, product marketers, business leaders, sales professionals and industry experts to produce relevant content that meets the needs of both key stakeholders and our audience
Writing content for the web, plus some traditional channels, with deep-rooted expertise in crafting the post for the platform
Providing feedback to other contributors, and editing other writers' content
Contributing to, and executing on an effective content marketing plan, editorial calendar, and editorial governance, to meet the business objectives at the lowest possible cost, while remaining consistent with our brand voice, style and tone
Optimizing content for search engines and lead generation
Using analytics to improve content strategies/tactics
Coordination of creative resources including designers, writers, and other agency personnel as part of the day-to-day content management strategy
BA/BS or equivalent working experience, Journalism background a plus
Minimum 5 years of experience
You have an editorial mindset that seeks to understand what audiences consume and how to create it
A dual-minded approach: You're highly creative and an excellent writer but can also be process-driven, think scale, and rely on data to make decisions
Experience organizing and propelling a program forward, identifying a clear path for all parties and keeping the group on time and on goal
Proven project and time management skills must be resourceful in developing alternative solutions and meeting deadlines in a real time, in a fast paced environment
Sbm-brand Activation & Content Marketing Resume Examples & Samples
Responsible for the achievement of financial and market share targets for a brand or group of brands in the market
Responsible for marketing for a brand or group of brands in the market with responsibility for activation excellence of Area Powerbrand plans
Works across functions including Area, Po1 team, supply, sales and finance to develop and execute successful commercial plans in order to deliver financial and share plans and targets
Manages initiative development and activation of any local brands in the portfolio including development of new products, consumer and shopper communications
Generates and proposes business development initiatives (BDIs) for the brand(s) based on consumer, shopper and market understanding
Supports the Trade marketing team as required in the implementation of the store-format activation plans or optimizing product assortment and promotional strategy
Supports the Sales team in creating customer presentations and meeting customer requirements
Lead strategy and execution of content marketing including PR , digital , social , offline event to increase the ROI of Marketing investment
Lead establish partnership with key stakeholders in Local market and achieve high return result
Educated to minimum bachelor's degree level in a commercial subject
Proven track record in Marketing must be able to demonstrate outstanding marketing skills and potential
Strong commercial awareness, network, in-depth industry knowledge. Experience on ecommerce and digital marketing above 5 -8 years
Demonstrated success in P&L management, budget delivery and growth momentum
Strong commercial awareness, in-depth industry knowledge
Additional functional experience, preferably in Sales and/or Trade Marketing is an advantage
Must be proficient in Microsoft Words, Excel and Powerpoint
The business language in RB is English, therefore fluency in this language is essential. Fluency in other languages(s) is advantageous
Great communication skill for internal and external partnership management
Assistant, Content Marketing Resume Examples & Samples
Bachelor's degree and at least one year of related administrative experience preferred
Comfort with the Internet and social media
Proficiency with Excel/Word/PowerPoint
The ability to multitask in a fast-paced, deadline-driven environment
Content Marketing Leader Ultrasound Asean Resume Examples & Samples
Strategy & Customer Lifecycle
Passionate about writing and digital
Bachelor's degree in advertising, communications, creative writing, related field or equivalent training/experience
Experience writing against an editorial calendar
Strong understanding of website technology, social and email marketing including SEO, SEM, Social Media platforms. Knowledge in Marketo as strong plus
Bachelor's degree in online instructional design, multi-media, video production, broadcasting, communication, or related field. Advanced degree preferred, but not required
Strong leadership skills (respected by peers and leadership for contributions to the business)
Strong presentation skills (public speaking and lecture experience desired)
Demonstrated ability to understand and present complex material in understandable terms
Demonstrated interpersonal & communication skills (ability to effectively communicate, verbally
And in writing, to external customers, global counterparts and to team members in other functional organizations)
Solid problem solving skills (ability to manage and resolve conflict, communicate issues and propose solutions to both internal team members and external customers)
Proven professional business acumen (experience interfacing with both internal team members
Content Marketing Senior Associate Resume Examples & Samples
Collaborating with designers, product marketers, business leaders, sales professionals and industry experts to produce relevant content that meets the needs of both key stakeholders and our audience. Writing content for the web, plus some traditional channels, with deep-rooted expertise in crafting the post for the platform
Accountability for leading content marketing initiatives to drive traffic, engagement, leads, that deliver sales and customer retention. As Digital channels expand, growing blog subscribers and other channel engagement strategies, converting visitors into leads, and expanding our overall reach
Developing and executing on an effective content marketing plan, editorial calendar, and editorial governance, to meet the business objectives at the lowest possible cost, while remaining consistent with our brand voice, style and tone
Utilizing an attribution model to understand how individual content contributes to traffic and lead generation, identifying what's working and not working, putting forth recommendations and acting on them
Management of all creative resources including designers, writers, and other agency personnel as part of the day-to-day content management strategy
Minimum 8 years of experience
You are a passionate storyteller
Understand the best practices of the top social media channels, which content and approaches work on each and why
Experience creating content for digital media and growing a social audience
Ability to interact with all levels of internal (including executive leadership) and external resources, business partners, vendors, prospects, and clients
Digital & Content Marketing Intern Resume Examples & Samples
Audit and document key content assets used on xerox.com
Classify documents per customer journey working with internal marketing teams in business groups
Support workshops, meetings, etc. with outcome resulting in documented content marketing strategy
Participate and support in creation of processes for content creation as needed involving the digital marketing team
VP, Creative Content Marketing Resume Examples & Samples
4-year degree from an accredited university and 10+ years of relevant professional experience, demonstrating progressive career growth and a pattern of exceptional performance including experience in content creation with major brands or content companies
Digital Studio leadership within a major corporation or agency representing major brands
Prior experience working with international creative community; cultural fluency
Develop and maintain effective relationships with both internal and external stakeholders across the organization. Foster a positive climate to build effective teams that are committed to organizational goals and initiatives
Update stakeholders on key initiative wins and opportunities, respond to concerns, and solicit feedback. Engage leadership to develop and execute action plans to address gaps
Watson Content Marketing Intern Resume Examples & Samples
Apply buyer persona/behavior expertise to orchestrate and manage the delivery of exceptional client engagement encompassing buyer journey and content narrative
Define, refresh & localize market leading messages that are clear, crisp and differentiated
Gauge the effectiveness of content by measuring engagement, leads, sales, retention, and customer advocacy, modifying content strategy based on this data
Candidates should exhibit strengths in areas including
Communicating to drive belief, action and advocacy
Crafting logic-driven written and oral arguments
Social and digital media
Problem solving and analysis
Pursuit of Bachelors Degree
Readiness to travel 10% annual
English/Advertising/Journalism/Media Studies
Experience in video production or editing
Experience driving social media campaign
Prior experience in related fields
Content Marketing Internship Resume Examples & Samples
With direction, develop content repository of current content assets
Provide project coordination for events and campaigns
Communicate effectively to peers, business partners, and management
Contribute accurate and thorough work
Present complex information in an understandable and compelling manner
Write and edit content for social media, newsletters, online
Bachelor's degree or currently enrolled in four-year college degree curriculum in business, marketing, or related field with strong academic performance required
0-2 years' experience in strategy, marketing, market/business development, or related field
Strong verbal communication and presentation skills
Proven ability to coordinate projects and plans with minimal supervision
Expertise with Word and PowerPoint
Creative thinking and problem-solving skills
Ability to adapt well to change in a fast paced environment
Digital / Content Marketing Coordinator Resume Examples & Samples
Develop digital campaign assets (social ads, display ads, landing pages, etc.) that promote our content communities, utilizing eye-catching visuals and copy that speaks to the needs and interests of our target audience
Run paid social campaigns utilizing these assets across Facebook, Twitter and other relevant platforms; monitor and constantly optimize the performance of these campaigns to hit CPL targets
Work with our in-house web development and editorial teams to identify opportunities within our content communities to drive newsletter signups and promote our events through in-article CTAs, pop-ups, house ads, etc
Establish and maintain strong working relationships with cross functional departments and colleagues
POSITION REQUIREMENTS
1-3 years of experience with running campaigns across multiple digital platforms
Bachelor's degree in Marketing or related field
Experience monitoring and optimizing campaign metrics and meeting targets
Experience with analytics platforms such as Google Analytics and/or Omniture
Ability to work independently and within a team with a positive attitude
Excellent organization skills and ability to juggle and prioritize multiple projects
Highly analytical with great attention to detail
Proficiency with Photoshop and/or InDesign
Experience creating and managing SEM campaigns
Intern, Brand & Content Marketing Resume Examples & Samples
Previous experience in a marketing role desired. Experience coordinating creative review processes with agencies and directly managing projects highly desired. Marketing/communications agency experience an asset
Strong communications/interpersonal skills
Strong creative skills
Understanding of digital marketing ecosystems
Exception PowerPoint skills
Content Marketing Co-op Resume Examples & Samples
Works directly with members of the content marketing team on implementing key business initiatives and project management
Write, review and edit digital copy, social media and internal emails with focus on supporting key department initiatives
Responsible for issuing a monthly internal newsletter
Assists with both the communications team and the public relations team on key projects and deliverables as needed
Maintains an editorial calendar for tracking upcoming content and a central database for archiving published content; both hosted on Microsoft SharePoint
Conducts competitive market research, analysis and benchmarking related to the investment industry
Assists with syndication and placement of MFS papers and researches across a wide range of digital media outlets
Performs additional duties as needed
Successful candidates in this position have strong verbal and written communication skills
Strong Microsoft office skills and a keen eye for detail
Commitment to learning, creativity and critical thinking
Must have solid writing skills and ability to break down complex topics into clear, concise concepts
Ability to multi-task, prioritize projects and meet deadlines
Proactive in approach
Comfortable working as part of a team in a fast paced environment
Efficient in providing reporting and analytics on public relations campaign
Have an interest in investing, public relations and communications
Pursuing a degree in Journalism, Public Relations, Communications or Marketing preferred
Content Marketing Lead Resume Examples & Samples
Execute content plans, ensuring work is completed to a high standard
Work closely with creative, analytics and social to deliver an ongoing programme of continual content improvements
Ensure content is aligned with SEO, commercial, UX and brand strategies
Focus on data and analytics and draw insights to ensure effective and commercially aligned content
3-5years+ proven experience creating content initiatives and delivering these across multiple platforms. Whitepapers, thought leadership presentations, sales collateral, case studies, videos, infographics etc will all play a part
Success stories that tell how your content had positive results on sales, retention and customer engagement
Strong writing / journalistic background. First class communication skills including the ability to write compelling, error-free copy
Challenging the norm – story-telling at its best
Excellent understanding of SEO strategy and how it links to digital content
Strong knowledge of best practice digital content styles and how to sell them to stakeholders. You see social as a channel to influence and a source of learning as well as sharing
Experience with marketing automation and CRM systems
Experience with Martech to help create creative and dynamic digital content across platforms
You have a track record to be proud of and you want to make a difference
Senior Financial Analyst, Content & Marketing Resume Examples & Samples
Bachelor's degree in Accounting and/or Finance
Minimum 5 yrs. of relevant experience
Analytical thinker with a strong understanding of accounting principles including amortization (or depreciation)
Demonstrated ability to deliver operational excellence and proven time management skills to multiple tasks in a fast paced, dynamic environment
Fluent in Spanish, working knowledge of Mandarin and Portuguese
Effective business partner with ability to influence senior management and drive organizational effectiveness
International working experience
Confidence in dealing and building relationships with all levels of management
Experience with global media company preferred
CPA, CFM, CMA a plus
Knowledge of Longview Planning Systems
Well organized with strength in prioritizing
Exhibits flexibility and a positive attitude in order to achieve results
Director, Content Marketing Resume Examples & Samples
7+ years' experience in a Managing Editor, Content Marketing or similar role with a combination of deep editorial and project management skills
Innovative and market-savvy with a strong interest and passion for learning, education trends and education technology
Deep knowledge of editorial style and standards and experience managing an editorial calendar
Proven track record of success in digital environment: ability to grow audience, shift to digital trends and tell the Ceridian story across various platforms (social, search, mobile)
Experience in multimedia production and distribution
Strong social media and content distribution background
Ability to analyze traffic data, track metrics and shift strategy accordingly
Expertise in graphic design and video production are a bonus
Ability to thrive under pressure in a fast paced environment
Graphic Designer, Content Marketing Resume Examples & Samples
Design a wide variety of content on behalf of our higher-education partners, including: mini-sites, infographics, data visualizations, e-books and more
Thoughtfully integrate writing and design to create the best visual stories and digital experiences
Help drive inbound content strategy by providing feedback into creative briefs and contributing ideas throughout the creative process
Take direction from creative briefs and collaborate with the team to create strategic content that fulfills inbound marketing goals
Communicate directly with internal stakeholders to successfully and efficiently meet the deliverable requirements of a project
Partner with web developers to create responsive mini-sites and landing pages
Continuously discover and share found inspiration and new industry best practices to maximize efficiency and creativity
Manage multiple projects and remain flexible through revisions while keeping a keen attention to detail
Eloquently present and defend design work
Inbound content marketing and/or content design experience
Experience working with writers and editors
Ability to work with and direct web developers
Data visualization experience and/or solid math skills
Calm, flexible and able to work under pressure or with short deadlines
Content Marketing & Lead Generation Strategist Resume Examples & Samples
BA or BS or equivalent degree in business, marketing, communications or related discipline
5-7 communications or related experience
5+ years in project management
Excellent organizational and project management skills
Critical Thinking: Thoughtful process of analyzing data and problem solving data to reach a well-reasoned solution
Team Mentality: Partnering effectively to drive our culture and execute on our common goals
Content Marketing Analyst Resume Examples & Samples
Interaction: Interact with the Engineering & Product Design portfolio and campaign marketing team to clearly understand requirements for the creation and development of content assets used in multi-channel marketing programs
Content Marketing: Produce marketing collateral (assets) in compliance with IHS Markit and Engineering & Product Design brand standards
Support the development and production of thought-leadership assets – articles, infographics, etc. adhering to IHS Markit and Engineering & Product Design brand standards
Coordinate the production and delivery of the Engineering Intelligence Review newsletter including all associated articles, branding, materials, and hosting of individual components
Assist the development by team members of marketing collateral (assets) including articles, infographics, solution brochures, etc
Bachelor's of Science in business degree required, Marketing preferred
Optional: Bachelor's of Science in mechanical, electrical, or chemical engineering
Proven experience in writing and delivery of articles and reports for engineering audience
6+ years of relevant experience
Strong communication, consulting, interpersonal and presentation skills
Strong MS Office (Word, PowerPoint) skills
Experience with publishing tools and collateral delivery systems (WebDam, Jive, Sharepoint, Akamai, Viddler) a plus
Demonstrated ability to work well under pressure
Ability to handle and prioritize multiple projects with competing priorities
Good communication, analysis, research, interpersonal and presentation skills
VP, Campaign & Content Marketing Resume Examples & Samples
The ideal candidate represents a "modern marketer" with experience working at a large consumer brand in an executive capacity
Multichannel retail experience is a plus
Ability to travel as required (10-20%)
Web Content & Marketing Coordinator Resume Examples & Samples
Define and implement design, layout and content standards/ templates for all our websites
Work with closely Content / Product Marketing, on publishing content, maintaining continuity of company branding, design layout and themes
Liaison with our web team on continuous improvement for site layout, navigation, site user exceptional experience
Collaborate with support, services and training teams for our customer portal to ensure relevant, update information is available for our users
Manage new web projects, including creating project plans, testing and quality assurance and reporting project milestones
Work to identify and implement SEO and social media opportunities to increase organic site traffic and converting through calls-to-action / landing pages
Support inbound/outbound marketing programs to create landing pages to facilitate content activation and other tactics to capture leads and generate pipeline
Maintain web dashboard and analytics on website performance indicators
Drive and support standards to ensure harmonization of all web content, branding guidelines and local language translations
Experience in marketing, design and communications, including social networking strategies
Knowledge of Web CMS software such as Droople, Typo 3 or equivalent
Solid grasp of search engine optimization strategies and Google analytics
Knowledge of website design software, practices and trends
Ability to work independently as well as part of a global team
An ability to multitask and perform under tight deadlines
Strong communication skills and an up-to-date awareness of online marketing strategies a plus
Contractor Content Marketing Editor Resume Examples & Samples
Develop an influencer and media relations strategy covering key publications, web sites, blogs, social influencers, communities and industry associations
Prioritize media and social media outlets in relation to marketing and communications goals
Work closely with marketing colleagues and editors at tier 1 UK and Netherlands industry publications to develop an editorial calendar that ensures regular, high-quality thought leadership bylines, award submissions, advertorials and advertisements
Work closely with marketing teams to understand objectives and audience, obtain details and write copy that is clear and targeted to the appropriate audience
Interview subject matter experts, customers and others as needed to inform writing
Serve as editor for copy written by other members of the marketing department
Edit and proof content for style, technical accuracy, completeness and consistency of brand message and tone across all touch points
Interface continuously with the design team to provide ample time for graphic design work, proofing and editing as necessary
Keep abreast of industry trends and issues as well as internal updates to help inform written materials
Manage the content library, uploading new items and updating items as necessary to ensure continued accuracy and relevancy
Optimize messaging based on feedback, testing and best practices
3-5 years of experience writing marketing content preferred
Ability to convert technical information into layman-friendly prose
Ability to manage multiple projects simultaneously, on deadline
Highly skilled journalist/writer who writes clear, concise and grammatically correct copy in a timely fashion
Must be highly organized, flexible, deadline- and detail-oriented
Excellent project management and communication skills
Ability to adjust tone and language based on medium, target audience and product
Must be a self-starter, able to produce with limited supervision in a fast-paced environment
Excellent interpersonal skills with the ability to build and maintain relationships both internally and externally
Content Marketing Program Manager Resume Examples & Samples
Project manage Russell Investment's global content strategy across multiple continents, coordinating with investment subject matter experts, blog owners, legal review, and marketing colleagues
Map all content needs against business priorities and client issues - identifying and filling gaps
Publish content directly to corporate blog and coordinate other company blogs
Project manage major content creation streams
Help to establish and maintain a global content calendar
Produce content in support of brand positioning campaigns, partnering with marketing initiatives and PR strategy
Optimize content for social sharing and press mentions
Utilize SEO skills to optimize content for search-engine skills
Interface directly with economists, strategist, portfolio managers and senior subject matter experts
Work to syndicate content across online and offline trade publications to increase impact
Leverage content across business lines and geographies through a create once/publish everywhere approach
Repurpose existing content and package it into alternative forms, extending the promotional life of resource-intensive content creation efforts
Collaborate with data scientists and graphic artists to craft compelling visual representations of our data and reports that convey Russell Investments' expertise
Bachelor's degree in communications, journalism, or related field. PMP certification preferred
5+ years relevant marketing project management experience
Proven track record of ROI-positive content marketing results
Extremely detail oriented
Positive attitude and a great sense of humor
Experience with WordPress and SEO a plus
Experience in financial services or other highly regulated industries a plus
Content Marketing Co-ordinator Resume Examples & Samples
Be a content expert in the marketing team and use this knowledge to bring this content to life across digital, print, instore, email, loyalty and web channels
Collaborate with Consumer Engagement, CRM and Retail Marketing to ensure that all key initiatives, promotions and brand messages are supported
Co-ordinate global assets and content for use in-market
Devise and create original content to support local priorities
Support the marketing team to source third party partners to help Gap drive new customer acquisition and loyalty
Produce creative and effective copy to support marketing campaigns, suitable for channel and aligned to brand guidelines
Work with the creative Studio team and third party partners to ensure messages are accurate and designs are brand relevant and commercially strong
Brief and co-ordinate translation across markets (UK, Ireland, France and Italy)
Work with wider marketing specialists to interpret analytics to constantly develop and improve effectiveness of marketing content
Ensure content requirements are delivered in a timely manor, working with the wider team to manage priorities
Effectively collaborate with a high performing cross-functional marketing and creative team
Senior Analyst, Content Marketing Operations Resume Examples & Samples
BS/BA degree in marketing, advertising, communications, journalism, public relations or related field
2-3 years of relevant work experience (content marketing, communications, SEO, social media, etc.)
Maintains positive working relations with vendors, Client Service Managers and other Centers of Excellence
Talent Management - Provides support and feedback to help individuals develop and strengthen skills and abilities needed to accomplish work objectives
SAP S / Hana Cloud Content Marketing Expert Resume Examples & Samples
Drive the definition, optimization and operationalization of messaging frameworks and content plans to support the customer journey, from awareness, to consideration, trial, purchase, and loyalty
Oversee and orchestrate content production efforts across product management, solution management, value engineering and product marketing teams to provide a complete portfolio of assets along the buying cycle
Drive and offer guidance on the creation and implementation of digital programs that drive awareness and demand, working closely with regional, field, product and industry marketing groups
Help create compelling customer stories
Build a top performing network of content contributors and agencies to deliver relevant content strategies at large scale
Become a point of reference for content contributors on S/4HANA Cloud side and content stakeholders in the global marketing organization and in the field
Independently assess, analyze, and evaluate the performance of programs and messages to optimize marketing strategies and influence communication
Ability to act as a lead and mentor for other team members
Expertise in enterprise software content marketing, including knowledge of industry marketing and SaaS solutions
Experience in developing and driving integrated marketing plans
Exceptional writing skills and ability to scale this skillset through agencies
Team player, with the ability to build and maintain relationships and with the confidence to take the lead and guide other departments when necessary
Good knowledge of the principles of digital marketing, including paid search, SEO, social media, etc
Ability to think strategically and execute with attention to detail
Comfortable interacting with all levels of management
Good customer-facing skills and experience
Enthusiasm, strong work ethic and a positive attitude
Bachelor's or master's degree, with degree in business administration, marketing or related fields a plus
10+ years of demonstrated marketing and communications experience, including a strong background in product, solution and industry marketing
A deep understanding of enterprise software and SaaS. Familiarity with SAP solutions a plus
Content Marketing Architecture Analyst Resume Examples & Samples
Map new SKUs and local country SKUs to IBG GPIM Footprint for eCommerce, bCom, PPCs/NPIs, etc.)
Govern requests and setup new IBG product Bases as catalog expands
Lead IBG implementation of new GPIM 2.0 hierarchy with Earley & Associates
Implement new FUZE attributes and components for navigation, related products, product selectors, etc
Produce GPIM Master File weekly for Global Content Activation project and work with DRCs in regions to leverage Rich Content (localize, translate, publish)
Help design and implement market and application content storage and display capability, and SEO keyword storage strategy for IBG
Manage catalog implementation for Where to Buy and Ratings and Reviews
Establish project timelines, develop and manage a project plan. Make adjustments as necessary, communicating regularly with stakeholders
Design content architecture in a way that can be easily replicated globally and across applications
Use metrics to monitor data architecture decisions and recommend improvements/changes
Possess an in-depth understanding of 3M PIM systems and how 3M and channel partner platforms consume and display product, application, and market content
Lead projects, design innovative approaches to content architecture challenges, and collaborate with content creators and owners to design and implement content architecture strategies
High School Diploma/GED or higher
Bachelor's degree or higher from an accredited institution and minimum of three (3) years of experience in Information Technology, Content Taxonomy, and/or Data Management OR minimum of seven (7) years of experience in Information Technology, Content Taxonomy, and/or Data Management in lieu of education
Experience with pivot tables and macros in Microsoft Excel
Experience using Hybris, GPIM, Endeca, Celum, SNAPS, Experience Manager, and/or FUZE
Ability to think critically, grasp system design and interdependencies, and understand relationships between critical issues
Project management experience with demonstrated ability to prioritize work independently and manage multiple tasks
Strong leadership ability. Excellent analytical, written and oral communication skills
Dairy Foods Content Marketing Associate Resume Examples & Samples
Lead the development of the quarterly editorial plan, in collaboration with key stakeholders and the agenc(ies) that will directly drive business growth. Continually refine strategies and resulting tactics as new learning and opportunities present themselves
Manage monthly calendars of content updates, orchestrating the timely routing and approvals of all content through key internal teams, while also ensuring strong alignment and visibility to content programs to be launched in market
Bachelor's degree in marketing or marketing communications
At least 3+ years digital/social/content marketing management experience
Proven editorial skills
Proficiency in Microsoft Office suite of applications
Demonstrated social media savvy and experience
Demonstrated familiarity with basic digital analytics metrics and how they can be practically applied
Experience crafting multi-channel content strategies and managing execution to analysis
Experience and familiarity with content management systems
Agency background
Experience with CRM and 1:1 marketing
Experience leading photo shoots
Ability to comprehend the connection between the creative and the business
Excellent analytical and proactive problem-solving skills; strong business acumen
Strong initiative skills—proven ability to work independently and in times of ambiguity
Strong interpersonal and relationship-building skills
High level of integrity and accountability – willing to admit when things go wrong, learn from mistakes, resolve issues and move forward
Demonstrated ability to excel, adapt and be highly productive in a fast-paced environment
Flexible, enthusiastic, eager to learn, and results-driven
Deadline-driven, high work ethic to meet strict deadlines and heavy workload
Ability to prioritize projects and demanding workload effectively
High level of attention to detail and highly organized
Ability to navigate conflicting points of view to arrive at a common ground
Natural passion for social media and content strategy
Eye for design/aesthetics
Experience managing budgets
Experience in digital marketing
Experience in social media management
Content Marketing & Web Production Manager Resume Examples & Samples
Responsible for the creation and management of the content production for MoneyGram Online properties
5-7 years of content marketing and web production experience
Experience managing and working with a web content management platform
Experience managing SEO program
Strong project management- Ability to manage multiple projects in a fast paced deadline driven environment, ability to lead cross-functional teams to execute projects, communicate with stakeholders, demonstrating sound judgment, clear understanding of dependencies and road blocks, critical thinking skills, leadership and a sense of urgency
Team-player- Ability to build strong rapport and working relationship with cross-functional and global marketing partners. Ability to work collaboratively to create the best solution to meet the business's needs
Writing skills– Ability to write clear and concise consumer/product copy
Strong understanding of web analytics
LI-MF1
Director of Content Marketing Resume Examples & Samples
Manages the development, production and implementation of internal and external content and identifies appropriate content vehicles, e.g., bulletins, magazines, videos
Develops and manages the execution of strategic plans and the implementation of content tactics
Coordinates projects and oversees all phases of production, e.g., planning, writing, producing with internal/external vendors, e.g., advertising agencies, freelance writers, video production companies. May negotiate contracts with vendor management to support content needs, objectives, budget, and time frames
Directs the development of a wide variety of content with an emphasis on thought leadership (e.g., white papers, articles, newsletters, briefs, videos, presentations, special events, ebooks, trade speeches, etc.)
Analyzes content policies, procedures, and standards for efficiency and effectiveness based on the needs of the target audiences and select appropriate content media
Communicate company philosophy, policy and marketing strategy to employees and outside resources
Collaborate with business teams to create best in class content
Advises senior management on content initiatives to support company objectives
Manages and/or writes, edits, and produces materials as necessary while ensuring quality standards are met
Other related duties assigned as needed
Strong writing skills, especially in regards to thought leadership; sample portfolio required
Self- assured and super creative; Financial Services industry and agency background preferred
Strong ability translating business message into thoughtful, compelling, readable copy
Typically requires up to seven or more years' experience in a content-related field, e.g., advertising, public relations, marketing, content, intra-company content; or equivalent combination of education (BA or BS) and experience
Previous experience as lead creative on complex content projects preferred
Knowledge of the production requirements for a wide variety of content types – written, visual, animated, presentation, etc
Proficiency to supervise, lead and manage effectively staff and contract members
Excellent verbal and written communication skills to technical and non-technical audiences of various s levels in the organization, e.g., executive, management, individual contributors
Excellent problem solving, team and time management skills managing multiple deadlines for self and others
Proficiency in making projections of future expenses based on analysis of cost effectiveness of past expenditures
Must be able to follow legal compliance and regulations
Content Marketing Director Resume Examples & Samples
Manage the content strategy and development for the CIO-CDO (Chief Information Officer-Chief Analytics Officer) persona, which deals with Master Data and Analytics
Develop content across multiple personas, including CFO (Finance & Risk), CMO (Marketing & Sales), and CCO-CPO (Chief Compliance Officer-Chief Procurement Officer)
Create content for Sales Enablement needs
Perform various editing tasks where needed and provide oversight of special projects where needed
You will also have proven ability to write and proof content on a variety of topics across multiple content formats, with a focus on digital environments and performance
You will be able to describe how content & headlines drive digital results
You will be able to share examples of how you have used data-driven decision making
Bachelor's degree required, preference in English or related field
Clinical Trial Content Marketing Strategist Resume Examples & Samples
Content marketing discipline comprises three components
Influencing Lilly TrialGuide content road map by developing clear pathways that allow for mult-stakeholder (internal and external) engagement in a continuous feedback loop for learning and improvement in clinical trial awareness and education activities
Creating and implementing a Digital Marketing Strategy for sharing content developed through the roadmap
Establishing metrics and measurement framework to understand the value to the organization, as well as to build iterative learning and improvement feedback loop
BS/BA degree in scientific field, technology, or marketing
Demonstrated professional experience with Digital Marketing (Social Media Engagement and Search Engine Optimization)
Qualified candidates must be legally authorized to be employed in the United States. Lilly does not anticipate providing sponsorship for employment visa status (e.g., H-1B or TN status) for this employment position
Demonstrated familiarity of clinical research and/or drug development and/or healthcare
Demonstrated understanding of enabling transformative methods
Demonstrated understanding of experimental methodology
Aptitude to define and execute a portfolio management methodology
Demonstrated entrepreneurial spirit and experimenter's curiosity
Ability to distill the essence of strategic business objectives in order to develop and execute a strategic experimental portfolio
Ability to work in a global virtual team environment, with a variety of external partners
Ability to collaborate and influence effectively with external industry colleagues and service providers
Knowledge of and experience with multiple dimensions of clinical research from a process, technology, capability, and organizational perspective
Proven ability to deliver to timelines
Excellent verbal, written, presentation, and critical thinking skills
Experience with digital media and understanding of web analytics
Broad exposure to and deep knowledge of the internet culture and use cases in healthcare
Ability to proactively identify potential issues and contingency plans with a focus on quality and risk mitigation
Ability to establish and leverage personal and organizational credibility to drive change and to foster an environment of creativity, innovation, engagement, and collaboration
Experience with technology proof-of-concepts and pilot projects
Familiarity to and understanding of public data and/or emerging standards relevant to Clinical Innovation work (e.g. digital media, marketing channels, electronic health records, health information exchange, etc)
Demonstrate broad knowledge of vendor / alliance management
Content Marketing Strategist Resume Examples & Samples
Experience in creating engaging digital content that converts qualified leads
Experience in creating content assets across a wide range of mediums such as e-books, webinars, videos, and interactive web experiences
Evidence of researching and incorporating long tail keywords, meta tags, and other content-focused SEO tactics in content marketing material
Evidence of a Bachelor's degree in a related field
Junior Graphic Designer, Content Marketing Resume Examples & Samples
Select and resize images to accompany blog posts
Collaborate with designers and outreach coordinators to create assets that promote our content on social media
Take direction from creative briefs and project managers under manager supervision
Design typography and publish blog posts on our CMS using HTML and CSS
Ensure design consistency between posts within each blog
Collaborate with copy editors to ensure blog content is ready for publishing
Interest in inbound content marketing and/or content design
Desire to work with writers, editors and web developers
Understanding of accessible design and accessibility standards
Willingness to eloquently present and defend design work
Passion for design and a desire to learn and grow in a creative environment
Dir, Content Marketing Resume Examples & Samples
Employee management including but not limited to interviewing and hiring candidates for open positions, onboarding, establishing goals, assigning or delegating work, providing on-the-job training, giving guidance to staff, conducting performance evaluations, approving paid time-off (PTO), developing performance improvement plans, and taking disciplinary action
Ensure all content is on-brand, consistent in terms of style, quality and tone of voice; optimize content for search and user experience across all channels including online, social media, blogs, email, mobile, video, print and in-person
Work closely with key stakeholders in solution marketing, AR/PR, product marketing, field marketing, and product management to help define both the brand story and the customer story/journey
Manage the overarching content strategy and editorial calendar in support of all marketing initiatives and campaigns
Measure the impact of content effectiveness across multiple platforms with analytics to enable data-driven decision making; continually create and curate content to optimize its use and impact in engaging our audiences
Manage a team of writers, editors, content strategists and producers who are responsible for developing compelling content aimed at driving increased brand awareness and lead gen into our nurture funnel
Ability to turn technical content into compelling business value statements for different target audiences
Outstanding storytelling ability and writing/editing skills
Project management skills and a demonstrated understanding of how to manage the priorities of multiple stakeholders in a complex environment; ability to focus on the delivery of results that achieve business goals
Ability to clearly articulate the business goals of content deliverables
Experience with budget and team management, including staff hiring, managing and performance reviews
Proven personnel management and leadership skills. Ability to lead cross-functional teams and collaborate closely with marketing colleagues
An entrepreneurial drive and work ethic and attention to detail
Bachelor's degree in Marketing or related field, MBA preferred
10+ years' experience in industry, enterprise IT
8+ years' experience managing and leading a team
Business-level marketing experience
Content Marketing Intern Resume Examples & Samples
Helping to align messaging for SSG's products / systems and go-to-market plans
Describing the benefits of SSG's solutions, our competitive proposition to partners and how they fit into our overall strategy/mission
Developing content for both internal and external consumption. Including sales collateral, social media posts, blog posts, press releases and presentations to ensure a consistent voice across multiple touch points within SSG
Using SWOT and SOSTAC techniques to evaluate SSG's products and potential markets
Helping to develop a content plan for SSG
Helping to review the current ARM website to ensure SSG content is up-to-date and on brand
Content Marketing Analyst Resume Examples & Samples
Strong record of achievement in current position at The Advisory Board Company
1+ year of professional work experience
Proven ability to communicate insights in written and verbal communication
Proficiency with Microsoft PowerPoint, Word, and Excel
Experience with at least two of the following
Technology delivery, specifically Dedicated Advisor experience
Conducting primary or secondary research
Writing reports, articles, or blogs in a professional setting
Building research, marketing, or sales presentations
Knowledge or experience with hospital-physician issues
Knowledge or experience in population health or value based care initiatives
Knowledge or experience with Advisory Board Research business
Knowledge or experience with the revenue cycle business and technologies, specifically delivery
Experience with solution-focused problem solving and thinking through problems creatively
Comfort with a fast-paced work environment and working autonomously
Comfort with ambiguity and a desire to innovate
Content Marketing Lead Resume Examples & Samples
Leading an in-house team
Content marketing fundamentals, an understanding of traditional copywriting techniques, and the ability to write clearly and persuasively
A solid understanding of SEO and how to create content that ranks well in search engines
Building projects and getting traction for them with content
Content Marketing Coordinator Resume Examples & Samples
Superb written communications and storytelling skills, with the ability to write in a professional, persuasive tone and to adapt messaging for the intended audience
An excellent grasp of the fundamentals of the English language, with the ability to self-edit and refine copy to meet Young Living's standards of quality
Excellent communication, project management, and organization skills
Demonstrated ability to work across teams or departments
A strong understanding of communications and the network marketing industry
Ability to communicate data correctly, clearly, and captivatingly
Experience with WordPress or other content management system
An understanding of SEO and podcast best practices is helpful, but not necessary
An understanding of printing procedures and best practices is helpful, but not necessary
Bachelor's degree from a four-year college or university; or 2 to 4 years of related experience and/or training; or equivalent combination of education and
Knowledge of Internet, spreadsheet, and word processing software
Must have solid presentation abilities
Must be able to prepare, organize, and present viable content
The noise level in the work environment is usually quiet. The individual must be able to tolerate the scent of essential oils worn or diffused
Content Marketing Assistant Manager Resume Examples & Samples
Excellent presentation and persuasion skills
Knowledge of the subject(s) to be presented and knowledge of effective sales and presentation strategies and techniques
Must be able to work in a self-directed capacity and collaboratively with internal team members
Ability to learn Client products and processes effectively and transfer knowledge into effective presentations
Must be able to use MS Office Suite and online conferencing (e.g., WebEx) tools
This position has irregular work hours, requiring overnight trips and extensive travel - driving and air
Must have a valid driver's license and clear driving record
Knowledge of adult learning theory a plus
Head of Product & Content Marketing Resume Examples & Samples
Lead the customer analytics efforts for NLG including a customer segmentation initiative to help focus the organization on the most profitable clients and products
Create solutions that are targeted at NLG existing customers, prospects, as well as new customers and markets
Work with the Digital Team to develop new tools and calculators to make our products easier to understand and sell
Develop and manage marketing strategy for all life and annuity product introductions and enhancements
Collaborate with the Advanced Sales team on new strategies for small business owners
Identify new markets for our products and services including Direct to Customer (DTC) opportunities
Be an active member of the Marketing and Business Development leadership team and help lead the group marketing strategy.Represent marketing in product development discussions
Implement and manage marketing procedures and processes, evaluate existing practice and opportunities for standardization
Effectively manage assigned resources
Qualified candidates will have a minimum of 7 to 10 years of experience in a customer centric marketing organization.Financial Industry experience not required
3 – 5+ years in management roles with direct reports and numerous priority projects
Bachelors in Accounting, Finance, or similar technical disciplines preferred.Post graduate degree preferred
Strong user experience advocacy and ability to be the voice of the customer
Results driven; direct action toward achieving key business goals that are critical to our success
Can effectively work with every level of management in the organization
Ability to form and manage cross functional project teams and effectively manage time and priorities
Outstanding interpersonal, communication and presentation skills are essential to the achievement of the goals established for this position
Content Marketing Consultant Resume Examples & Samples
Develop marketing collateral about Brighthouse Financial for internal and external use allowing employees, prospects and customers to connect with our mission
Distill complex research findings into compelling content in the form of whitepapers, infographics, articles, social media campaigns and webcasts
Develop an activation and promotion plan to amplify content and obtain high level of engagement
Define key metrics and partner with the analytics team to analyze and evaluate the performance of content and develop recommendations for improvement
Work closely with agency partners and internal creative services to develop multiple assets
3-5 years of prior marketing experience
Branding and/or content marketing campaign experience preferred
Ability to think strategically, analyze data, and apply creative problem-solving skills
Ability to work with all levels of management
Exceptional communication, teamwork and interpersonal skills
Proven ability to navigate, collaborate and influence cross-functional partners
BA/BS Degree in Marketing, Public Relations, Communications or similar field
Strong work ethic and a "do whatever it takes to get the job done" attitude
Exemplary organization and time management skills with the ability to handle several projects simultaneously
58342
Content Marketing Strategist Resume Examples & Samples
Develop content and nurturing paths for marketing automation programs
Coordinate email and social campaigns with digital marketing team
Curate and develop content for websites and marketing literature
Coordinate and contribute content to customer newsletters and email campaigns
Track and monitor effectiveness of lead nurturing campaigns
Responsible for approvals of social media calendar
Create white papers and case studies
Bachelor's degree (marketing or related field preferred)
3-6 years' work experience in B2B marketing, interactive, advertising or public relations
Ability to work well with and independently of a team
Ability to lead a project, organize resource and produce results
Experience with SEO and SEM
Strong writing, proofreading, editing and communication skills, both for print and electronic media
Strong experience with key social media outlets
Familiar with marketing automation platforms (ParDot preferred) and SalesForce.com
Strong organization and analytic skills required
Must have a "can-do" attitude – the desire to go above and beyond in all you do!
10% travel expected
Content Marketing Editor Resume Examples & Samples
Work with writers to generate ideas and produce stories (and writes own stories) on deadline
Edit stories
Manage the project side of each story through publication
Create and maintain an editorial calendar and meet that calendar's deadlines
Interface with internal marketing partners on strategy and content goals
Work with design team on compelling infographics, data visualizations and other digital content that attracts readership and encourages sharing
Communicate regularly and professionally with school partners
Experienced in SEO and organic marketing
Thoughtful, concise and persuasive communication skills
Confront any hurdles with a calm, positive mindset and a sense of confidence
Ability to find creative, unorthodox solutions without close supervision
Instinct to identify ways in which processes can be improved
Content Marketing Intern Resume Examples & Samples
Research on licensed TV shows/movies & artists to (i) fill in the gaps for metadata fields and (ii) provide/check for accurate metadata on the CMS
Effective communicator in both English and Korean
Experience working in a consumer Internet/digital media is preferred
Experience working in an international company is a plus
Previous marketing or related marketing assistant experience in new media and/or entertainment industry experience a plus
Photoshop, video filming and/or video editing skills are a plus
Great attention to detail and highly resourceful in delivering results
Excellent multi­tasker thriving in fast­-paced environments
Senior Manager, BB Content Marketing Resume Examples & Samples
You will lead a team or writers and editors who produce industry-leading B2B content
Develop and produce marketing content that is designed to support brand awareness, engagement and lead generation efforts
Develop and drive content-driven multichannel campaigns (editorial, social, email, video)
Collaborate with product teams and other internal stakeholders on content integrations
Interpret business needs and work with partners to meet their content needs
You will expand Zillow's network of high-quality freelancers and contributors
Communicate with team members and freelancers on assignments and story ideas
Ensure all content is on-brand, consistent in terms of style, quality and tone of voice, and optimized for search and user experience
Director of Content Marketing Resume Examples & Samples
Build and maintain a high-performing team; select, develop, coach, reward and recognize team members
Design strategies and operating plans for key marketing segments and oversee the execution of those plans for key marketing vehicles, messaging and content. Based on prevailing conditions, execute or adjust the operating plans as necessary
Develop and manage segment bios and stories to interpret and use voice of the customer and market trend information to develop, present and facilitate execution of strategic plans for Thrivent's marketing vehicles, messaging and content
Monitor and implement appropriate best practices and trends in marketing vehicle effectiveness, including digital, print, audio, video and grassroots efforts
Effectively allocate resources and marketing vehicle budget based on a clear understanding of the returns on investment from each of the elements in the mix
Set effective and measureable goals for each marketing vehicle employed. Ensure that metrics are regularly reported to key stakeholders
Develop strong partnerships within Thrivent Financial and with enterprise Public Relations, Thrivent Magazine, and Social teams as well as act as a thought leader for Thrivent Financial branded businesses to create an ecosystem of content delivery
This role will have significant budget, vendor and people management responsibilities that will be determined once the entire membership marketing organization and budget is formed
Make decisions about the appropriate marketing vehicles to use to accomplish strategic goals. These decisions can have significant financial implications (e.g. cost of Thrivent Magazine, Member Meetings, sponsorships, advertising or PR agencies)
This person will ultimately be responsible for the quality, accuracy and effectiveness of our marketing vehicles. Missteps in this area could have significant negative impact on our trusted reputation
College degree, advanced degree in marketing preferred
7-10 years of professional marketing, journalism and/or communications experience
Advertising, Public Relations or Digital agency experience preferred
Demonstrated channel management experience, including digital savvy
Demonstrated experience in content strategy and execution
Financial services industry experience preferred
Highly creative, strategic thinker
Highly developed customer relations, negotiations and budget management skills
Leadership/coaching skills: Ability to build effective, high-performing teams
Strong relationship building, managing through influence and coaching skills
Planning/organizing: Ability to effectively work under tight deadlines and lead projects
Commitment to and experience in return on investment measurement techniques
Demonstrated creativity and flexibility to solve problems and develop unique approaches and solutions
Comfortable working with senior executives
Interpersonal skills: Builds and maintains effective working relationships, has a wide and effective network, quickly establishes rapport with others, collaborative working style
Ability to think creatively about prospect and member needs and identify new and innovative ways to meet those needs
Deliver unanticipated results that exceed expectations, reframe questions, challenge assumptions, topple orthodoxy and disrupt the status quo
Senior Content Marketing Analyst Resume Examples & Samples
Develops, evolves, and then communicates various digital strategy, including but not limited to web, social, and/or mobile strategy. Defines engaging, retail-oriented solutions, best practices, and opportunities to meet business objectives and the broader customer experience
Works closely with customers, stakeholders, and technology partners to understand business goals, multi-channel marketing strategies, brand strategies, content strategies, product strategies, and technology solutions in order to create best-fit digital marketing programs and solutions, serving as a trusted advisor to internal customers
Keeps management informed of project activity, interdependencies, challenges and opportunities and educates stakeholders by socializing new, interdependent, or evolving digital capabilities and opportunities
Manages and distills research, analytics, competitive activities, and emerging trends to support digital strategy. Makes tactical decisions, and socializes opportunities with stakeholders. Monitors competitive landscape as well as other related verticals such as retail or financial, creating insights for future development; sets, meets, and re-evaluates key performance indicators for all projects and BAU digital capabilities
Ensures consistent messaging within digital channel by working with content providers, content strategists, and cross-channel marketing and business partners to ensure consistency throughout customer experience
Other duties as assigned or requested
Excitement to build a best practice content marketing organization and processes
Exceptional writing, interpersonal, communication and presentation skills
Ability to develop strong and enduring relationships with key stakeholders in multiple business areas
Strong organizational skills, including the ability to simultaneously manage several high priority projects and deadlines and the ability to quickly adapt to changes in work objectives, promotions and available technologies
Desire to own and manage a fluid content marketing calendar
A passion for technology and digital media, including knowledge of evolving best practices, web trends, UX design, digital marketing and the role of content across channels
Experience delivering content to meet WCAG 2.0 and 508 compliance standards
Ability to develop strategic marketing content for use across marketing channels
Team driven and oriented
------------------------------------------------------------------------------------
Digital Content Marketing Resume Examples & Samples
Managing content on digital channels (web, social)
Coordination the digital message in collaboration with the Digital Marketing team
Supporting product messaging for the entire Cornerstone platform
Supporting content creation activities in multiple languages
Manage digital content
Coordination of all Twitter accounts (in-house and outsourced)
Publication of EMEA content on the corporate LinkedIn page (news, posts, blog posts …) per language zone
Promotion of EMEA content on social media per language zone and topic
Training of Sales/AM teams on social networks
Coordination of blog validation with PR and communication on social media
Coordination of video blog creation and publication with Digital Marketing
Managing content on the EMEA web pages in coordination with Digital Marketing
Create marketing content
Support for pitch preparation, copywriter coordination and proofreading
Support for product related, EMEA-specific marketing content
Creation of content for conferences, webinars…
Public speaking
Support other product marketing activities
Director of Content Marketing Resume Examples & Samples
7-10 years of relevant work experience in marketing, publishing, with at least 3 specific to multi-channel content marketing and operations. Financial Services or regulated industry rules/regulations pertaining to advertising / marketing is a plus
Ability to think strategically and to develop a vision and a strategy
Skill at both long-form content and creation and real-time content creation and distribution strategies and tactics
Social DNA; SEO subject matter expertise
Strong understanding of modern day media platforms and the tools used to engage consumers
Capable of organizing and managing complicated projects with numerous stakeholders
Experience managing effective creative development to tell a story using words, images, audio and an understanding of how to create content that draws an audience
Demonstrated ability to influence and communicate internally and externally
Proven experience driving audience growth
Superior analytical skills; ability to synthesize and interpret data to build meaningful conclusions and recommended actions
Ability to thrive in a fast-paced, fluid, and collaborative environment
Associate Director Content Marketing Resume Examples & Samples
Develops and executes content strategies that span several business units and multiple markets
Plan, develop and manage the content for websites, email campaigns, newsletters, paid search, apps and more
Collaborates across functions and product silos to deliver content plans that meet stated business objectives by providing relevant, compelling and concise content
Build and manage content strategy team to deliver relevant health topics including educational and clinical content, messaging to drive awareness of self - service tools, and content to compliment health and care plans
Establish brand publisher mindset: to create the content our audience is looking for and then to optimize the path to conversion
Develop and manage organization workflows, process and governance
Establish content audit process and protocols
Manage editorial requirements including content categorization and structure, content development, distribution and measurement
Establish closed - loop analytics to understand how our inbound marketing activity turns members into engaged consumers
Develop measurement and optimization plans for the content we curate and create
Lead a team of content strategist and planners
Directs others to resolve business challenges that affect multiple functions or disciplines
Collaborate with curation and content creators to ensure content aligns to the strategy and is consistent with brand tone and voice guidelines
Partner with campaign operations and external partners to distribute content in relevant channels
Partner with the advanced analytics team to determine measurement and alignment to NPS® and ROI
BA / BS degree or equivalent work experience
6 years content marketing experience
6 years creating content that engages the target audience
5 years people management experience
Excellent communicator and creative thinker, with an ability to use data to inform all decisions
Demonstrated ability to lead in a changing and growing organization
Managing and prioritizing several deliverable
Influencing and collaborating with others
Proficiency in Microsoft office suite including Word, Excel, Outlook and PowerPoint
Proficiency in web analytics software and keyword tools
Experience with data - driven SEO analysis and optimization
Ability to be flexible and work with ambiguity
Marketing experience with in a matrix organization
Content Marketing Editor Resume Examples & Samples
Bachelor's degree in journalism, communications, creative writing, or related field
4+ years of experience as a journalist, editor, marketing writer or related field
Strong, witty writer and editor
Experience in online blog publishing such as WordPress and Medium
Solid understanding of enterprise software industry
Strong interpersonal, multi-tasking and organization skills, a collaborative nature, and the ability to work in a cross-functional environment
Self-starter with a DIY mentality and grace under (deadline) pressure
Technology experience, especially in the enterprise/B2B space
Executive Assistant, Content & Marketing Resume Examples & Samples
Facilitate internal communications both inside the department and with other internal/external business groups
Proven experience as an executive assistant
2+ years of working experience in an English-speaking corporate environment
Intern, Digital Content Marketing Resume Examples & Samples
Establish and maintain partnership relationship with the Marketing/Communication group's key stakeholders
Help drive key initiatives related to the extranet platform (define project plan and deliverables; monitor and communicate project status, including monitoring project progression)
Assist Manager in developing internal and external communications for key strategic projects
Collaborate with Corporate Communications team on Retail Banner Services' portion of corporate website revamp
Assist key team members on ad hoc projects pertaining to social media and consumer-facing websites
Content Marketing Coordinator Resume Examples & Samples
Write original and compelling content with the goal of improving brand awareness, website traffic, social sharing, leads and conversions
Bring innovative, inspiring and award-winning thinking to MullenLowe clients to ensure we retain and grow the business
Report on content performance in a manner that is meaningful and actionable
Assist in blogger outreach initiatives
Conduct content audits and gap analyses to identify data-driven content creation opportunities
Content Marketing Assistant Manager Resume Examples & Samples
At least 3-4 years' experience in communications role
Qualified to degree level or equivalent
Strong understanding of the creative process to produce engaging, creative and effective communications - driving activities from concept to distribution
Ability to prioritise competing demands
Be a self-starter
Content Marketing Editor Resume Examples & Samples
Write and edit articles, ebooks, blogs, microsites, social posts, videos, and infographics, often working with graphic designers to create final deliverables for publishing
Lead consultative engagements with clients to ideate and execute content marketing campaigns on their behalf, managing internal and external resources to create and deliver required content assets
Conduct in-person and video presentations and interviews with high profile client and industry executives
Assist Sales team in ideating and pitching creative content marketing proposals
Manage and edit work of external and internal content writers
Professional experience as a journalist or content writer in the public sector market, preferably with a media organization, think tank, digital agency, or major brand
Experience in editing, producing, and writing short and long-form content, from social posts to web articles to ebooks
Experience in ideating and mapping content marketing programs preferred, specifically in designing campaigns which serve the buyer journey model
Passion for and deep knowledge of social tools (e.g., Twitter, Facebook, LinkedIn, etc.)
Excellent written, verbal communications and client management skills
Excellent communicator: good listening, probing, and qualification abilities. You will spend a lot of time gathering input and testing ideas with a broad range of stakeholders, inside and outside the company
Comfortable with presenting content and good at pitching ideas to others
Attention to detail, poise, and grace under pressure
Content Marketing Coordinator Resume Examples & Samples
Detail-oriented and highly organized with great time management skills
Exceptional mastery of the English language specifically spelling & grammar
Passion for marketing and empowering readers with exceptional content
Basic to advanced understanding of website technology, mobile devices and the internet
Intellectual curiosity, ambition and an enthusiastic attitude
Ability to work well independently, and within a team
Completed college degree in marketing, communications or related fields
Comfort with Microsoft Office suite (Word, Excel, Powerpoint)
Experience with Wordpress a bonus!
Experience with Photoshop or other image editing tools a bonus!
Public speaking / presentation skills a bonus!
Be prepared to talk about your online experience, achievements and any personal projects
Content Marketing Program Manager Resume Examples & Samples
Partner with internal and external agencies to develop and review editorial/content to be used across multiple content destinations and marketing campaigns
Plan and execute the content amplification strategy and evaluate results
Plan and execute editorial calendar
Identify content needs across business units
Drive new Staples narrative across all content
Bachelor's degree required, preferably in journalism, marketing, public relations or communications
At least 3-5 years in content marketing, public relations or trade journalism
Very strong writing, project management and analysis skills required
Google Analytics and CMS experience a plus
Professional writing and social media experience also preferred
Content Marketing Executive Resume Examples & Samples
Supporting the Head of Content Marketing for Colleagues in delivering colleague engagement campaigns
Managing day to day project budgets thoughtfully and efficiently to maximise the impacts of our funding and cement the necessary return on investment
Creating and producing brilliantly effective content marketing in line with our key governance and control processes, differentiating Barclays to our competitors, through our superior communications quality
Delivering effective end to end campaign management of our multiple channel content outputs for our key audiences and owning the embedding and 'after-care' stages of content delivery
Working collaboratively and building relationships with different teams across the business to support them in delivering effective colleague content and colleague engagement campaigns
Leveraging content channel specialism and channel content development by managing relationships with our content creation team and our various external agency partners
Experience of developing content outputs and world-class creative delivery for large-scale organisations
Experience of marketing to colleagues, including strategic planning, channel choice, tone of voice , measurement, agency management and creation of content
A track record of delivering results in competitive markets, with the ability to prioritise opportunities and activity to ensure the greatest commercial impact is achieved
The ability to analyse situations in order to proactively spot opportunities and purposefully propose positive change and innovation
Confident, impactful and high quality communications and presentation skills, with confidence in 'communicating our story' to a vast range of key internal and external influencers
Online Assessment: We'll then ask you to complete an online assessment exercise which we will send to you via email. Our assessments are carefully designed to measure the skills and capabilities necessary to be successful in our roles, but they'll also provide you with some insight into what our roles entail
Application Review: We will review your application along with your responses to the online assessment exercise. Depending on the type of role you are applying for, we may contact you to arrange a brief telephone interview to discuss your experience in more detail
Interview: If your application is progressed, we'll invite you to attend a face-to-face interview. We want you to be free to choose an interview time that suits you, so we'll provide some options and ask you to select your preferred timeslot
Outcome: We will keep you updated throughout the process. If you attend an interview, we'll be in touch within five working days of all interviews being completed to advise you of the outcome
Senior Specialist, Content Marketing Resume Examples & Samples
BA/BS Degree required
Must have minimum 3 years of content-related project management position (preferable at a web site, publication, or video channel)
Must have excellent organizational skills
Must have proficiency in PowerPoint, Excel and Word
Must have impeccable communication and presentation skills (verbal/written)
Must have ability to multi-task and be detail oriented
Experience with Google Analytics is preferred
Copy writing experience is a major plus
Experience working with budgets is a plus
Experience with the photography/video industry or having photography/videography as a hobby is a plus
Digital Content & Marketing Assistant Resume Examples & Samples
Update and maintain the Academy Music Group venue websites
Additional support updating the O2 Priority platform/app
Individual website event building using a content management system
Sourcing, resizing and adding assets for all new show announcements
Genre tagging all content to improve SEO
Assisting with building and proofing weekly marketing e-flyers when necessary
Compiling post show customer analysis reports to help guide marketing efforts for upcoming tours
Assisting with creative copywriting within the brand guidelines when necessary
Any other duties as requested per management
Skills/Experience
Be numerical with a good knowledge of excel
Experience using Google Analytics beneficial
Be dynamic, creative and driven
Ability to work within a team
Have good written and spoken communication abilities
Have good business sense
Head of Brand & Content Marketing Resume Examples & Samples
Lead the Amazon Business brand strategy including messaging, brand guidelines and awareness campaigns to increase top of funnel traffic and increase account penetration. Establish KPIs and publish results
Establish and execute against a content marketing strategy that includes both top of funnel and mid funnel content. Content types may include: blogs, published articles, website content, off Amazon advertising, case studies, whitepapers and infographics
Work with PR to effectively tell our industry specific stories in key publications
Field and publish industry research to position Amazon Business as a thought leader
Leverage data in a way that informs your messaging and design decisions
Communicate and present your team's work appropriately to the company and community
Willing to work from our Seattle office
8+ years of relevant work experience in research, content development, and brand marketing
Experience driving an agency RFP process and driving large scale brand campaigns
Demonstrated experience in setting content strategy and working cross functionally to delivery final content
Experience with SalesForce, Pardot, and campaign measurement used to evaluate program value and influence GTM
Masters or MBA
Candidates need to be strategic thinkers, hands on, highly organized, detail-oriented, and have experience driving both Brand and Content strategies
Feel at home in an agile environment, and be able to straddle between strategy and execution as needed
Strong project management, creative thinking and analytical skills
Excel at cross-group collaboration and problem solving
Demonstrated ability to manage multiple programs and priorities
Content Marketing Strategist Resume Examples & Samples
Content marketing leader who works cross-functionally on content marketing strategy and planning. Provides integrated strategic marketing communications services for product managers and others to promote IDEXX products and services. Coaches business to leverage content marketing to develop and deliver market growth opportunities. Provides ongoing coordination of content marketing initiatives and leads projects, managing schedules, deliverables and budgets. Acts as liaison to external/internal creative groups to provide content/image direction for effective execution
Create, manage and establish guidelines for digital content
Developing standards, systems and best practices for content creation, voice, tone, style, distribution, maintenance, and content repurposing
Collaborate with designers, analysts, product managers and commercial marketers to serve a global content audience
Train and support global content contributors
Manages internal and external creative services involving copywriting and graphic design. Create content in various formats, including print, internet, direct response, trade shows, press, packaging, video and new media. Writes copy, edits copy, and/or generates graphic designs that support marketing objectives
Web-Based Marketing. Manage web-based communications strategy and execution through Company website. Defines website content, standards and delivery, ensuring consistency of messaging, format and use and overall customer satisfaction
Marketing Operations and Traffic management including managing resources, workflow, infrastructure and processes to enable content marketing to accomplish objectives
Indirectly manages staff, assigning work and monitoring activities. Manages escalated/critical issues. Provides coaching and guidance to staff and promotes staff training and development in content marketing. Supports the development of department budget, policies and procedures
Leads work activities of the area, planning and organizing work, providing for adequate staffing and resources and maintaining work on schedule so that ongoing internal and external customer satisfaction is maintained
Communicates with other related departments/external resources to coordinate work and resolve issues as needed. Provides internal/external customer feedback and leads/participates in internal teams/projects related to Marketing Communications initiatives, new program development and other areas as needed
Leads/contributes to process and other improvements based on evaluation of existing programs, procedures and business needs. Utilizes data, metrics and system tools to ensure efficiency and to maximize internal/external customer experience. Identifies problems, obstacles and opportunities and takes action to address issues
Leads/contributes to maintenance of department technology and systems resources. Coordinates with technology department, other internal departments, vendors and others as needed to resolve issues, perform system upgrades and maintain ongoing functionality
Prepares reports and other information summarizing work activities and reports results to peer groups as well as senior management. Prepares various analyses as needed to highlight issues and resolve questions
Maintains knowledge of Company products and services as well as changes and developments in the industry affecting work activities. May participate in outside industry groups and forums related to business activities
Adheres to and models the IDEXX Purpose & Guiding Principles
10-15 years experience as a respected leader in multichannel content creation
Experience delivering multi-channel content strategy for a global audience
Hands-on experience with: content creation, publication calendars, content inventories and audits, content mapping and modeling, voice and tone guidelines, and governance documentation
Experience developing content for customer journeys using either Marketo or Salesforce Marketing Cloud
Content Marketing Strategist Resume Examples & Samples
5 years of experience in brand strategy/planning in digital/content/media at an agency
Bachelor's degree in a related field – business, marketing, communications, PR etc
Solid understanding of social, digital, media, content metrics
Excellent skills in gathering, synthesizing & analyzing internal/external research into sound content analyses
MS Office Proficiency (Excel/PPT/Outlook)
Familiarity with content/social analytics platforms
Ability to travel between 20% - 50% to meet with Business Unit personnel, key content, agency partners, etc
An understanding of media planning, distribution, measurement, optimization, & syndication of content
Evidence of: facilitating and initiating creative thinking in the digital space; being a collaborative partner yet provocative thought leader
Ability & willingness to develop relationships, work with a wide array of partners in content development, production & measurement, video distribution, seeding & social media
8 years of experience in brand strategy/planning in digital/content/media at an agency
Content Marketing Campaign Manager Resume Examples & Samples
Work with content marketing activation team to ensure project plans are delivered as per your brief
Own your clients, being accountable for strategy, performance & output quality
Carry out advanced testing & performance analysis, assessing impact of activity on client's business (attribution, RoPo etc.)
Review internal & external audits that are run on clients, translating scores into actionable plans for the teams
Own & manage client on-boarding & ignition process: from systems & finance set up through to meetings and status updates
Influence & guide teams/clients on their search investment, always promoting innovation and insight driven plans
Own 'Account Development Plans' for your clients, ensuring they are created in line with wider client objectives
Continually review & suggest changes to strategy based on current performance and its impact to client's business goals
Manage client forecasts, reviewing potential delivery & ROI for existing new clients and assessing impact on client's business
Devise & drive strategies that are integrated across all digital channels, specifically search & social
Quality assure all client facing documents
Confident telephone manner & written tone
Lead the search/social contribution to client meetings
Present confidently and with impact
Respond to client calls & emails within set time scales
Work with team to understand & prioritise workloads, meetings etc
Share good work & industry updates to department
MS PowerPoint - Advanced & be able to coach others
MS Excel - Advanced & be able to coach others
MS Word - Advanced & be able to coach others
Google AdWords Editor- Advanced & be able to coach others
Microsoft Desktop Editor - Advanced & be able to coach others
3rd Party Search Management Tools (DoubleClick, Kenshoo, Marin) - Advanced & be able to coach others
Google Analytics - Advanced
Director, Content Marketing Resume Examples & Samples
The Director must think like a marketer, but act like an editor of a newsroom, leading the development of relevant and successful content daily
Help create the corporate content and social strategy for the company. Execute on monthly, quarterly and annual plans
Influence and align Salesforce's digital strategy with the execution of content and social messaging
Prioritize key content asset development for the company that include but are not limited to blog, eBook, interactive content and video to grow traffic and leads
Align Salesforce's social strategy with the messaging priorities of the company. Find, pitch, and delegate story ideas for content and social
Collaborate across the company to source content and align with the goals of departments
Manage and lead a team of content and social managers
Measure, track and reassess the team's content and social strategy based on performance of assets and messaging
5-10 years of marketing experience related to content marketing and social media with preferably 3-5 years at a technology company
Demonstrated success leading a team of people who are experts in their field
Understanding of emerging content and social technologies along with an ability to make decisions to maximize the impact of the technologies for Salesforce
Ability to collaborate across departments and provide leadership of ideas
Self-motivated individual capable of working in a fast-paced, creative environment
Understanding of CRM and cloud computing
Bachelor's degree or higher
Principal Content Marketing Campaign Manager Resume Examples & Samples
For more information on AWS, please visit http://aws.amazon.com **
Develop detailed campaign project plans, including campaign goals, messaging, call to action, marketing distribution channels, and global campaign schedule
Create compelling and effective copy and campaign assets that fit the appropriate audience and marketing channel, while maintaining Amazon Web Services' brand and voice
Oversee concept and creative development of campaign materials
Forecast, track, and report campaign effectiveness metrics as well as overall ROI to internal business partners. Plus, continually monitor, analyze and tune campaigns to maximize results
Work closely with Marketing Operations, Design, Web Developers and agencies to meet deadlines and execute campaign to your specifications
Manage budget and goal setting, in conjunction with business partners' input
10+ years of related experience in Content Marketing, demand generation, marketing communications, product marketing or channel marketing
Writing skills appropriate for demand generation, in particular, email, web, and social, Newsletters, and campaign ads; both short form and long form
10+ years of project management skills and experience, including managing internal business partners and external agencies, along with multiple campaigns and projects at once
Experience in a business-to-business (B2B) environment, high-tech products/services preferred
Bachelor's degree in marketing, business, communications, or relevant field of study
Advanced degree desired (MBA, MA, Journalism, Communications)Experience with CRM systems; Salesforce.com is preferable
Clear understanding of cloud/cloud models
Experience with online advertising or social media
Experience working in a fast-paced and highly cross-functional organization
Proven success managing time and juggling multiple projects in a high growth environment where priorities shift fast
Ability to understand the buyer's journey and inventory, map, create, re-purpose content -strong skills working with agencies and vendors for creative and content marketing campaigns
Content Marketing & Digital Engagement Manager Resume Examples & Samples
Act as a subject matter expert in the overall social media strategy for the department
Create content marketing plans, copywriting/editing, digital-first storytelling, commissioning stories, email marketing campaigns
Maintain and execute against an integrated digital engagement strategy across our digital platforms (careers website, LinkedIn, Facebook, Twitter, Glassdoor, etc.)
Guide graphic design, UX/UI, visual content creation (illustrations, infographics, etc.), experience design
Measure effectiveness of our strategy on each platform and improve performance over time
Maintain the Talent Brand editorial calendar and manage day-to-day activities on all social platforms
Manage content for the Prudential careers website, including monitoring/updating existing content as needed and developing new landing pages when required
Provide consultative recommendations on digital marketing and content strategy to Staffing and project manage deliverables as needed
Identify opportunities to experiment with emerging technologies and to pilot new approaches
Act as liaison to Compliance and Advertising teams and manage day to day needs for conference and events
Bachelor's degree or equivalent professional experience
5+ years' experience managing digital projects with a focus on content and strategy
Deep expertise in one (or more) of the following areas: Editorial (writing and/or commissioning stories); Digital Strategy (audience segmentation/targeting, SEM/SEO, analytics, and optimization); or Graphic Design
A deep understanding of social media, digital marketing, and audience engagement
Experience creating, executing and measuring success of digital marketing and social media campaigns
Hands-on experience managing the social media platforms/campaigns, defining KPI, and successfully achieving desired results
Clear and engaging writing ability, including development of social posts and article-style content
Ability to explain and present digital strategy and tactics to stakeholders and to larger audiences
Exceptional attention to detail while managing multiple projects simultaneously
Experience beyond financial services, human resources, or recruiting is welcome
Content Marketing Executive Resume Examples & Samples
Develop messaging aligned with targeted audiences, personas and the student journey
Collate, develop, coordinate, distribute and promote a cohesive and high-quality suite of on and off-line content to generate an increased volume of quality leads, and to drive awareness, engagement and brand preference across various marketing vehicles including web, social media, events, print, and email
Ensure all content created follows the overall brand strategy through consistent messaging and design
Create engaging content across all key content types, this includes copywriting, video production and the creation of design assets such as info graphics
Create and manage a content development plan based on the partner's style guidelines, standards and requirements
Has to include guidelines for social media, CRM and media rich content
Has to include the content requirements for all marketing campaigns
Has to include content needs of other internal departments
Facilitate data collection and content generation by liaising with internal teams, partner organisations, stakeholders and other organisations in order to maximise reach and influence
Maintain and develop a central content database accurately inputting fresh content as necessary
Develop a content marketing framework that can be rolled out across university partnerships and programmes
An undergraduate degree in marketing, or other professional marketing qualification
3+ years of experience in content marketing, including experience in copy writing, video production, creation of design assets
Higher education and student recruitment marketing experience desirable, but not essential
Good working knowledge of a variety of content marketing channels and platforms, including social media, email marketing, CRM and CMS systems
Proficient in MS Office, with a special emphasis on Excel, PowerPoint and Word
Outstanding project/time management and communication (verbal and written) skills
Ability to engage in productive innovation development, bringing new solutions to challenges
Ability to analyse and work with numbers (analytics, budgets), particularly as it relates to direct response reporting and analysis
Ability to engage in strategic/account planning and develop and apply in-depth product knowledge
Eagerness to learn, willingness to develop, desire to support team, department and organizational development
Strong team player with excellent and proven inter-personnel skills
Willing to work extended hours when required
Ability to anticipate and provide prompt resolution on issues
Ability to operate in fast-pace environment and manage a number of campaigns simultaneously
Proactive, solutions oriented and focused on business objectives
Focused on quality and delivery of results
Ability to develop efficient and effective communication strategies for engaging internal and external stakeholders
High attention to detail and administration
Strong relationship building skills, ability to develop strong cross-functional working relationships
High level of professional business acumen