Project Manager Level Resume Samples
Project Manager Level Resume Samples
4.8
(
52
votes) for
Project Manager Level Resume Samples
The Guide To Resume Tailoring
Guide the recruiter to the conclusion that you are the best candidate for the project manager level job. It's actually very simple. Tailor your resume by picking relevant responsibilities from the examples below and then add your accomplishments. This way, you can position yourself in the best way to get hired.
Craft your perfect resume by picking job responsibilities written by professional recruiters
Tailor your resume & cover letter with wording that best fits for each job you apply
Resume Builder
Create a Resume in Minutes with Professional Resume Templates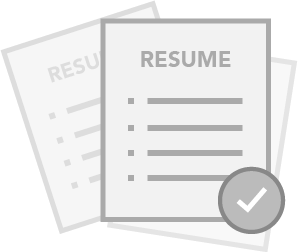 CHOOSE THE BEST TEMPLATE - Choose from 15 Leading Templates. No need to think about design details.
USE PRE-WRITTEN BULLET POINTS - Select from thousands of pre-written bullet points.
SAVE YOUR DOCUMENTS IN PDF FILES - Instantly download in PDF format or share a custom link.
24500 Altenwerth Canyon
New York
NY
24500 Altenwerth Canyon
New York
NY
Phone
p
+1 (555) 632 4718
Mid-level Project Manager
Mid-level Project Manager
Mid-level Project Manager
Provides performance review input and indication of area of development for team members
Manages business development
To support the development of a positive safety culture
Manages project financials including P&L
Manages internal as well as external resources with a team size less than 20 people
Manages project team
To monitor project budgets, schedules and performance against KPI's
Project Manager Level
Project Manager Level
Project Manager Level
Working knowledge of project management lifecycle, tools and techniques
The PM L1 monitors, adjusts and reports on project performance, budget and schedule
Serves as lead project manager on complex Corporate Projects and/or small-to-medium inter-related programs; defines and manages all aspects of project planning including scope, budget, financial forecasting and scheduling
- Assists with proposing, implementing, and enforcing Government policies, standards, and methodologies and
Responsible for overseeing and consolidating overall project status reporting to executive management
- Is responsible for either developing or supervising the preparation of studies, reports, and acquisition documents
Remains informed of job-related issues through networking, training programs, seminars and trade publications
Entry Level Project Manager
Entry Level Project Manager
Entry Level Project Manager
Works with program manager, product line manager, mfg supply chain/procurement, engineering & manufacturing ops organizations to estimate costs & lead- time
Understand and promote within the team as well as to Customers Honeywell's New Technologies, Products and Solutions for Comfort, Energy, Safety and Security
Supports program manager to develop statement of work in response to request for quote
Provides regular status reporting to management and other stakeholders on the project
May provide performance feedback on project team members
Responsible for all aspects of Project Management for small to mid size projects (generally <$500K) with special focus on Customer, Cost and Cash management
Identify areas of improvement and work w/ the teams on executing more agile methods
Bachelor's Degree in Finance
Bachelor's Degree in Finance
Bachelor's Degree in Finance
Demonstrated ability to execute complex projects within budget and on time
Proficient with MSExcel, MSWord, Visio, PowerPoint, SmartSheet and MSProject
Working knowledge of project management lifecycle, tools and techniques
Excellent analytical, problem-solving, and decision-making skills
Strong technical writing skills
Excellent collaboration and communication skills
Working knowledge of network and information exchange technologies (e.g., TCP/IP, RESTful, SOAP, HTTP)
Knowledge of data structures and relational database systems (e.g., Oracle, MySQL, Microsoft SQL Server, PostGres)
Ability to focus on engineering from a performance perspective
Expertise in web-based frameworks (e.g., Java Enterprise Edition (JEE), .NET, JavaScript, JQuery)
Create a Resume

in Minutes
15 Project Manager Level resume templates
Read our complete resume writing guides
---
Entry Level Project Manager Resume Examples & Samples
Works on customer project delivery, under supervision, as, team member or in a project support role Small, straightforward, local scope
Supports project financial management
Supports project team May lead internal as well as external resources in a predefined area
May provide performance feedback on project team members
Candidates must have recently graduated with a bachelor's or master's degree in Business or Finance within the past 12 months (December 2013 - January 2015 only)
Candidates must have their PMI PMP Certification (no exceptions)
Demonstrates basic knowledge of project support, client relations, IT industry, accounting, and time recording/effort
Project Manager Junior Level Resume Examples & Samples
Willing to embrace large problems and promote large solutions
Excited to learn the business, build relationships, and unearth IT requirements
Confident in presenting both in person and remotely across a global organization
Energetic and desirous to spread that energy to engage others
Communicative, persuasive and proud of HP's identity
Ready to play a proactive, vital role in HP's turnaround culture and prepare for HP's future
Bachelor's Degree in Computer Science, Information Systems or equivalent experience
0-2years of experience in related fields, knowledge of a wide array of technologies (SAP, .NET, Java, Web Apps, Security, Cloud, Mobility, etc.) would be really helpful
Project management foundations, at a practical or university level
Exceptional written and verbal skills to enable communication across a global organization
Hunger for knowledge and the ability to rapidly assimilate information
Thought leadership on serving our end users within HP
Unquenchable thirst to dominate life at HP and shake things up!
Mid-level Project Manager Resume Examples & Samples
Bachelor's Degree in Computer Engineering
Recent experience with capital markets
3-5 years of experience managing projects of varying sizes and complexities
Experience in business and functional analysis, product management and requirement gathering
Experience establishing project tasks, timelines and deliverables in addition to effectively managing them
Comfortable balancing technical requirements with schedule and costs
Experience with: Python, Java, C++, C# or SQL development
Great communication skills and a proven track record of SDLC Project Management
Entry Level Project Manager Resume Examples & Samples
Manage MSS projects (internal and client delivery projects)
Oversee the delivery roadmap, capture risks and escalations, establish project expectations, and maintain the scope and financial budget
Capture project status and identify resources each week
Develop and maintain project plans
Provide proactive communications and weekly/monthly/quarterly project management reports to client and internal stakeholders
Organizational, leadership, and team collaboration
Client facing skills to set expectations, communicate effectively, and enhance the customer experience
Successfully manage quality/budget/timelines
Proactively identify risks and escalations, and communicating in advance
Protect the project's success by ensuring the deliverables meet or exceed expectations
Mid-level Project Manager Resume Examples & Samples
Technical Background (experience with either: Python, Java, C++, C# or SQL development)
Some agile/scrum experience
Proven track record of SDLC Project Management
Mid-level Project Manager Resume Examples & Samples
Experience with Federal and medical health programs and communities
Experience with network monitoring methods and tools
Possession of excellent presentation skills
Project Manager, Level Resume Examples & Samples
Experience with Data Warehousing, analytics, reporting and associated technologies
4-5 years of experience in a IT Senior Project Manager role
3-5 years' experience with (Agile) SDLC and Scrum
Eight (8) years of overall Project Management experience
PMP Certification; Scrum Master certification
Experience identifying and implementing Project Management and Agile best practices
Successful tracking and schedule compliance with larger scale projects
Experience working in Agile project environment
Process modeling, data standardization, and analytics
Proven ability to manage multiple projects simultaneously in a deadline driven process
Consistent success in leading teams to meet aggressive deadlines
Demonstrated use of sound and proven project management practices and tools
Demonstrated skill with Project and Portfolio Management tools and concepts
Experience with resource management (labor models, time tracking, etc.)
Proficiency in Microsoft Office Outlook, Word, Excel, PowerPoint, Project; general Web proficiency; PPM tool(s)
Ability to pass required background check
Experience in online education industry
Experience with Learning Management and Student Information Systems
Experience with Oracle BI, MS SQL Server
Experience with IT release management strategy and best practices
Master's degree
Project Manager, Level Resume Examples & Samples
3-5 years experience with (Agile) SDLC and Scrum
PMP Certification; Certified Scrum Master
Experience leading IT projects with technical engineers and developers
Proficiency in Microsoft Office Outlook, Word, Excel, PowerPoint, Project; Hypertext Markup Language (HTML) and general Web proficiency; PPM tool(s)
Experience with CRMs, specifically SFDC
Project Manager Level Resume Examples & Samples
Serves as lead project manager on complex Corporate Projects and/or small-to-medium inter-related programs; defines and manages all aspects of project planning including scope, budget, financial forecasting and scheduling
Leads and manages all aspects of project planning within and across related projects including scope, budget, financial forecasting, and scheduling
Represents the PMO in rationalizing a set of projects into a program on behalf of business and/or technical units
Determines resource requirements and procures resources; manages contract project and/or program resources
Facilitates impact analyses of current/existing technologies on the program
Remains informed of job-related issues through networking, training programs, seminars and trade publications
May contribute and/or lead vendor relationship management for project-related vendors; supports enterprise vendor management standards and coordinates initial contracts, contract renewals, and addenda to contracts with key project vendors
Complies with enterprise project management standards and contributes to their incremental improvement
Monitors project and/or program execution and escalates project issues as necessary
Maintains project and/or program website and database, and issue and risk tracking logs
Four year degree or equivalent professional experience and/or qualifications
MBA or relevant graduate degree preferred
Formal training in project or program management and/or certification required
Must possess strong interpersonal and organizational skills including serving as a mentor
Nine or more years of project/program management experience and demonstrated success
Five or more years of experience that demonstrates an understanding of IT and/or banking operations systems and operations
Requires advanced knowledge of project and program management principles
Recognized as a subject matter expert within his or her specified field of expertise
Requires expertise in MS Office, MS Visio, and MS Project
Requires demonstrated knowledge in system integration and management
Must possess excellent verbal and written communication skills and an ability to build relationships at all levels of the enterprise including external vendors
Demonstrated ability to exercise independent judgment and strategic thinking under a minimum of supervision
Project Manager Level Resume Examples & Samples
In the primary Project Manager Level 2 role, the Project Manager Level 2 [SOJTF-A Site Lead]
Monitors, adjusts, and reports on the project's performance, budget and schedule,
Provides interim progress reviews to the Government on an as-needed basis,
Assists with proposing, implementing, and enforcing Government policies, standards, and methodologies and
Is responsible for either developing or supervising the preparation of studies, reports, and acquisition documents
In the secondary SOJTF-A Site Lead role, the System Engineer
Analyzes workflow, delegating projects, and meeting departmental goals
Develops and monitoring performance standards
Provides input on hiring decisions for technical staff
Oversees the consolidation of IT services
Articulates key critical path activities and understanding the technical requirements, dependencies, and tradeoffs at varying levels of system design (e.g., logical and physical)
Supervises employees
Ability to focus on engineering from a performance perspective
Expertise in a systems or application programming language (e.g., Java, C++)
Expertise in web-based frameworks (e.g., Java Enterprise Edition (JEE), .NET, JavaScript, JQuery)
Knowledge of data structures and relational database systems (e.g., Oracle, MySQL, Microsoft SQL Server, PostGres)
Working knowledge of network and information exchange technologies (e.g., TCP/IP, RESTful, SOAP, HTTP)
Familiarity with system engineering processes and techniques
Excellent collaboration and communication skills
PMI PMP
Project Manager Level Resume Examples & Samples
Manage several Project Managers, each responsible for an element of the project and its associated project team
Manage the project during the development, implementation and operations startup by ensuring that resources are made available and that the project is developed and is fully operational within previously agreed time, cost and performance parameters
Formulate statements of problems; establishes procedures for the development and implementation of significant, new or modified project elements to solve these problems, and obtains approval thereof
Define and document the objectives for the project; determine budgetary requirements, the composition, roles and responsibilities and terms of reference for the project team
Report progress of the project on an ongoing basis and at scheduled points in the life cycle
Meets in conference with stakeholders and other project managers and states problems in a form capable of being solved
Prepare plans, charts, tables and diagrams to assist in analyzing or displaying problems; work with a variety of project management tools
Project sign-off
Project Manager Level Resume Examples & Samples
Scope of Work
Thorough review, consultation and understanding of background & existing documentation, including IM/IT costing model
Identify, develop and implement iterative steps and activities toward achieving IM/IT costing model
Research, review, analyze and document existing data sources and reporting capabilities in order to fully or partially achieve, or approximate each cost dimension defined in the IM/IT costing model
Identify, develop and document alternate and/or proxy data sources and reporting capabilities in order to fully or partially achieve, or to approximate each cost dimension defined in the IM/IT costing model
Identify, consider and document any assumptions, limitations and interdependencies
Present the above to sponsor and DD2020 SC for review and direction
Identify, analyze, develop and document options & strategies to achieve and/or approximate time component in IM/IT costing model
Include time tracking option
Provide short versus long term options, showing progression
Present to sponsor and DD2020 SC for review and direction
Develop and document an overall TCO implementation plan for short and long term
Identify resources, schedule, costs, governance etc
Prepare monthly/regular status reports on progress and presentations of findings
Meet with project sponsor, DD2020 project team and SC on an as-needed and regular basis to
Consult and brainstorm
Communicate and discuss initiative/project progress, schedule, risks, issues, budget, options and recommendations; and
Present findings and seek direction
Meet with stakeholders, team members on an as-needed and regular basis to
Review options, proposals
Seek subject matter views, input and opinions
Prepare and distribute meetings notes, records of decision for approval etc
Deliverables
Additional reports and presentations
Project initiation and scoping document
Project charter and governance structure
Project plan including work breakdown structure, schedule, resourcing, communications and change management
Close-out report
Project Manager, Level Resume Examples & Samples
Leads large, global, and often, virtual groups of multi-disciplinary teams of highly-talented professionals
Develops and refines project plans specifying goals, strategy, staffing, scheduling, identification of risks, contingency plans, and allocation of available resources
Leads the execution of the tasks as defined in the project plan in order to achieve the project goals
Manages changes to the project scope, schedule, and costs using appropriate verification techniques in order to keep the project plan accurate, updated, and reflective of authorized project changes
Ensures a common understanding by setting expectations in accordance with the Project Plan, in order to align the stakeholders and team members
Records detailed stakeholder requirements, constraints, and assumptions in order to establish the project deliverables, using requirement-gathering techniques (e.g., planning sessions, brainstorming, focus groups) and the project charter
Documents high-level risks, assumptions, and constraints using historical data and expert judgment in order to understand project limitations
Implements approved actions and workarounds to mitigate project risk events in order to minimize the impact of the risks on the project
Supports and evolves project performance measurement and reporting using appropriate tools and techniques in order to monitor the progress of the project, identify and quantify any variances, perform any required corrective actions, and communicate to all stakeholders
Supports budget/forecast process and related financial analysis and reporting, including capacity / resource utilization and alignment to financial system
Maintains relationships with other departments and organizations by recognizing dependencies in order to assess potential partnership and commitment to the project
Coordinate custom solutions with other departments in the organization; Maintain and develop strong working relationships with K12 Business Owners
Motivates the team using appropriate tools and techniques in order to increase commitment to the program objectives
Assists with the evolution of project and operational processes and workflow in support of the dynamic needs of the Company's business
Optimizes processes, tools, metrics, and human capital to enable effective and efficient delivery of company projects, including, enhancements to implemented systems, and supporting rollout and user adoption initiatives
Coaches and mentors more junior project managers, and provides consultative support to project managers
8-10 years of overall Project Management experience or
Equivalent combination of education and experience
Demonstrated use of sound and proven project management practices and tools, including excellent Microsoft Office (Outlook, Word, Excel, PowerPoint)
Project Management Institute (PMI) certification such as Project Management Professional (PMP)
2-5 years' experience with Agile project methodologies
Project Manager, Level Resume Examples & Samples
Bachelor's Degree in Political Science, Public Policy, or related field of study
5 to 7 years of relevant experience in political campaigns, public affairs, advocacy, and grassroots organizing at federal and/or state levels
Experience in and knowledge of education industry and education reform movement
Excellent writing, editing, and verbal communications skills
Highly organized, proven ability to manage multiple projects in a deadline driven environment
Mid Level Project Manager Resume Examples & Samples
Actively contribute in the creation of an Enterprise Project Management Office
Contribute to and manage for assigned requirements in the Project Management Plan, the schedule, issues, and risks
Document and maintain DHCS-approved processes of SDNs, MCDs, DOILs, Problem Statements, and ad hoc requests ensuring documentation is current and accurate and processes satisfy CMMI Level III requirements
Facilitate internal, ASO, and client approval of processes
Ensure processes are followed
Create and maintain methodology to control, track, and report the status of change orders, system improvements, emergency fixes, Contract Waiver Requests (CWR), and Contract Waiver Letters (CWL)
Establish and maintain processes to plan, organize, monitor, control, and report on projects from initiation through close-out
Determine and pursue courses of action essential in accomplishing objectives
Serves as EPMO representative on specialized process and portfolio activities
Provides innovative process improvements for more efficient and effective project management
5 years of experience in project management (or in like roles/businesses)
1-2 years of extensive process development experience including "swim lane" flowcharting
Understanding of critical business success factors
Demonstrates knowledge of key operational policies, processes, and methodologies applicable to project management for the IT industry
Understanding of critical project management techniques
Understanding of the CMMI Level III requirements for change management processes
Strong written and verbal communication skills including strong presentation skills
Strong MS Office skills including expertise in PowerPoint and Visio
Experience utilizing and managing MS SharePoint
Experience managing Change and Change Management
Able to organize and manage multiple responsibilities at that the same time
Solid analytic skills with strong attention to details
Required: Basic knowledge of project support, client relations, accounting, and time recording/effort tracking
Required: First Level University degree
Required: PMP Certification or CPMP
Desired: Experience with Microsoft Project Server 2013 for managing projects
Desired: Experience managing or supporting a project manager of software/application development projects
Desired: Experience with Healthcare and/or state government projects
Mid-level Project Manager Resume Examples & Samples
Assisting with the development and implementation of multiple IC integration projects, monitor execution, and assess performance
Aligning projects with Unifying Intelligence Strategies and assess performance against intelligence gaps identified therein
Working with the ODNI, IC, and others to engage in working groups and projects implementing Unifying Intelligence Strategies
Helping to coordinate working-level administrative and logistical integration between and amongst IC Strategy Boards as well as the analytic and collection enterprise
Helping to ensure projects are aligned and responsive to Intelligence Planning, Programming, Budgeting, and Evaluation (IPPBE) deadlines and milestones
Preparing status updates for ODNI/IC seniors as well as White House and congressional overseers, with government review and approval, as appropriate
3+ years working in the Intelligence Community
Project Manager Level Resume Examples & Samples
The PM L1 monitors, adjusts and reports on project performance, budget and schedule
The PM L1 shall provide interim progress reviews to the Government on an as-needed basis
The PM L1 assists with proposing, implementing and enforcing policies, standards, and methodologies and is responsible for either developing or supervising the preparation of studies, reports and acquisition documents
Bachelor's Degree from an accredited college or university in Information Systems, Computer Science, Engineering, a Mathematics-intensive discipline, or a major field of study which either provides substantial knowledge useful in managing large, complex Automated Information System (AIS) projects or is closely related to the work as described and required by the task
Candidates may not substitute experience for education for this position
Four years of progressive and intensive experience management, with at least one year of relevant experience in a position with duties commensurate to those defined in the Statement of Objectives, or two years of specialized experience in a position with duties commensurate to those defined in the Statement of Objectives
Candidates require a working knowledge of Federal Acquisition law, regulations, policies and procedures, including substantial involvement in a major acquisition effort
Project Manager Level Resume Examples & Samples
Bachelor's Degree from an accredited college or university in Information Systems, Computer Science, Engineering, a Mathematics-intensive discipline, or a major field of study which either provides substantial knowledge useful in managing large, complex Automated Information System (AIS) projects or is closely related to the work as described and required by the Statement of Objectives. Candidates may not substitute experience for education for this position
Six years of progressive and intensive experience in management, with at least two years of relevant experience in a position with duties commensurate to those defined in the Statement of Objectives, or five years of specialized experience in a position with duties commensurate to those defined in the Statement of Objectives
Candidates must have a working knowledge of Federal Acquisition law, regulations, policies and procedures, including substantial involvement in a major acquisition effort
Project Manager / SDM Level Resume Examples & Samples
Should have 7+ years of strong experience in IT Infrastructure Management / IT Service Delivery
The candidate should have minimum of 3+ years of extensive project management experience, and should be proficient in the usage of various Project Management tools like MS projects for tracking projects
He/she should have excellent communication skills and the ability to keep multiple stakeholders informed of the project delivery
He/she should be able to understand and adapt, the regional/country specific work cultures, for project delivery
He/she should be able to build effective working relationships with various other teams within Accenture
He/she should be able to understand complex activities and relationships quickly, and assess business and delivery risk effectively, and communicate it effectively
He/she should be able to articulate and communicate the related concepts to a broad range of technical and non-technical staff
He/she should have experience with auditing, risk management, as well as contract and vendor negotiation
Experience of working with virtual project team members
Good knowledge about the various IT infrastructure components and processes
Effective risk assessment skills
Good commercial acumen for managing budgets
Good MS Project, MS Visio, MS Office skills
Knowledge of BS7799 / ISO27001 / ISO20000 / ITIL Framework / COBIT etc) preferred
Team Building and Team Leadership
Possess strong influencing skills and substantial delivery capability
High energy level and be able to effectively work with various cross functional teams
Excellent oral and written English and Mandarin language skill
Excellent planning, organization, and implementation skills
Excellent Written and Verbal communication skills
Excellent Documentation and Presentation Skills
Project Manager Level Resume Examples & Samples
Manage several Project Managers, each responsible for an element of the project and its associated project team
Manage the project during the development, implementation and operations startup by ensuring that resources are made available and that the project is developed and is fully operational within previously agreed time, cost and performance parameters
Formulate statements of problems; establishes procedures for the development and implementation of significant, new or modified project elements to solve these problems, and obtains approval thereof
Define and document the objectives for the project
determine budgetary requirements, the composition, roles and responsibilities and terms of reference for the project team
Report progress of the project on an ongoing basis and at scheduled points in the life cycle. + Meets in conference with stakeholders and other project managers and states problems in a form capable of being solved
Prepare plans, charts, tables and diagrams to assist in analyzing or displaying problems; work with a variety of project management tools. Project sign-off
Senior Level Project Manager Resume Examples & Samples
Manages delivery teams to ensure that deadlines are met, escalates issues for appropriate and timely resolution adhering to IS Facilities project management methodologies
Tracks actual performance against planned performance against planned performance, analyzes variances and resolves issues to ensure all customer needs are met
Reviews project plan to determine time-frame, funding limitations, procedures, staffing requirements and allotment of resources to the project
Provides risk management enabling proactive decisions and actions to mitigate project scope, schedule and budget overages
Facilitates communication regarding project progress across key stakeholders and ensures timely attainment of project milestones
Prepares and presents regular project reports for management, clients or others
Tracks actual performance against planned project performance, analyzes variances, and work with project team to ensure all customer needs are met while maintaining control of the project
Must have managed a RTLS (Real time Location Tracking) project
Bachelor's Degree in Computer Science, Information Technology or related field, required
Minimum of five (5) years related technical experience including three (3) years of project management experience, required
Demonstrated experience in the 9 Project Management Institute (PMI) knowledge areas, required
Experience with MS Project or NIKU Workbench project planning tools, required. Experience with CA Clarity or related PPM tool, pref
Mid-level Project Manager, ISP Services Resume Examples & Samples
Provide technical assessment and coordination services
Evaluate Agency requirements, capability deployment and operations integration through review of design and programmatic documentation and milestone and readiness reviews to manage cost, schedule and performance
Provide CM support for the review of NGA RFCs and ECPs submitting recommendations
Participation in technical reviews, program reviews, and milestone reviews
Review products and artifacts and provide feedback to the Program Office and contractor
Attend and participate in ERBs and IPTs
Review test procedures and serve as a witness to test events
Facilitate system, program, and product development across program lifecycle
Facilitate transformation of architecture and engineering approaches
Bachelor's degree; Preferred in Engineering, Computer Science, Information Systems, Program Management or related field
Minimum 8 years' of total work experience, 6 of which must be technical experiencespecialized in IT Services Management in any combination of the following functional areas: Data Center / Cloud Services; Desktop / User Facing Services; Network / Transport Services; Enterprise Management Services; Cyber Security Services; Mobile computing platforms
5 years of Project management experience in terms of cost, schedule, performance, and risk
Excellent oral and written skillsAbility to work independently and as an effective team member, under tight deadlines with changing priorities
Advanced degree in Finance or Program Management
Understanding of Federal Acquisition Regulation (FAR) and DFARs as they relate to DoD acquisition
Entry Level Project Manager Resume Examples & Samples
Ensures project execution and delivery, managing an overall project vision with supporting project plans
Identify areas of improvement and work w/ the teams on executing more agile methods
Develop and deliver progress reports, issues/action item logs, and presentation
Provides regular status reporting to management and other stakeholders on the project
Conduct project lessons learned for continuous improvement in project delivery
Basic knowledge of project management methodologies
Demonstrates proficiency in MS products
Demonstrated ability to interact professionally with a diverse group of people, including subject matter experts and managers
Demonstrated organizational and time management skills with ability to handle multiple tasks and meet deadlines
Minimum of 1 year project management experience
Knowledge of asset tracking, product/service procurement, and basic accounting
Knowledge of Asset Tracking, product/service procurement, and basic accounting
Knowledge of Atlassian JIRA and Confluence would be plus
Project Manager Level Resume Examples & Samples
Minimum 4 years industry experience in a relevant field
Computing skills, including word processing and use of spreadsheets (e.g. Microsoft Office packages and Microsoft Project)
Proven ability to prioritize and manage time
Mid-level Project Manager Resume Examples & Samples
5 years' experience in project management or in like roles/businesses
SharePoint 2013 (ability to set and define permissions, discuss some SharePoint features and functionality)
Microsoft Office suite (particularly Power Point, Word, Excel, One Note)
Experience in Microsoft Project
Skype
Ability to switch tasks quickly and manage multiple projects at once
PMP and ITIL certifications preferred
Entry Level Project Manager Resume Examples & Samples
As part of HONEYWELL'S CONNECTED BUILDINGS GROWTH INITIATIVE Manage the implementation of Control Systems at Large Commercial Buildings like Airports, Pharmaceuticals, Office Towers. Universities/Schools, Corporate Headquarters, Data Centers, Sports Arenas/Stadiums etc. Control Systems are used for controlling HVAC, Fire Alarm, Security, Lighting, Video, Audio, and other Building Facility Equipment
Responsible for all aspects of Project Management for small to mid size projects (generally <$500K) with special focus on Customer, Cost and Cash management
Manage technicians and develop hi performing teams for predictable performance of project installations under budget
Understand and promote within the team as well as to Customers Honeywell's New Technologies, Products and Solutions for Comfort, Energy, Safety and Security
Participate and support Sales team in pursuit of new project opportunities
BS Degree in Engineering or Construction Management
1 years experience or internship managing projects in Construction Industry
PMI/PMP certifications a plus
Mid-level Project Manager Resume Examples & Samples
To plan, organize, control, co-ordinate, lead, motivate, delegate and communicate to achieve optimal balance between cost, time, quality, benefit and risk in (multi OpCo) projects
To support the development of a positive safety culture
To develop project documentation including project execution plans
To monitor project budgets, schedules and performance against KPI's
To supervise project teams
To communicate with clients, internal partners, and sub-contractors
To support the tendering process
Project Manager, Level Resume Examples & Samples
Lead the delivery of ATM Channel Projects
Manage multiple project resources from cross-functional teams as well as interfacing with project leaders, technology specialists, professional staff, vendors and consultants
Manage large (tier 5 and larger) initiatives with multi platform impact
Demonstrate strong communication skills (written and verbal), proven ability to effectively interact with individuals across business units, and at various levels within TD Bank (Technical, Business, including Senior and Executive Management)
Demonstrate strong cost estimation and financial management skills
A thorough knowledge of TDBFG Project Management methodologies (e.g. PDLC, RMLC) and ensuring that recognized Project Management processes, discipline, and controls are consistently applied to projects. Working experience in Agile methodology is a strong asset
Identify all project dependencies and risks ensuring that they are managed effectively
Escalate issues to both Technology and Business Management
Track Project Management Deliverables against the budget and the approved project plan, working with Technology partners to develop[ the content of those deliverables
Provide project reporting and ad-hoc analysis, and present project status and issues requiring attention by Senior and Executive Management
Build consensus and relationships with project team and business through use of superior negotiation skills
Excellent judgment skills and the ability to manage conflicting priorities
A minimum of 4 years of proven experience leading projects as a Project Manager, 2-3 years in Financial Services
In-depth understanding of PDLC and RMLC methodologies
Strong technical background with ATM-specific technologies would be an asset
Comfortable with waterfall, rapid, and agile delivery methodologies
Ability to manage multiple projects at one time
Knowledge of Corporate Business areas and applications would be an asset
Proficiency with MS Office (Excel, Word, Powerpoint, Project, Visio)
Confident presentation and facilitation skills
Strong interpersonal and leadership skills to facilitate working with technology and business partners
Project Management Professional (PMP) required
Certified Scrum Master (CSM) or PMI Agile Certified Practitioner (PMI-ACP) an asset
Project Manager Junior / Intermediate Level Resume Examples & Samples
Planning, coordinating and supervising the development of cycle from conception to finalization stage
Being accountable for delivering projects on-time and on-budget that meet our high standard of quality and meet the customer's objectives
Supervising teams that consist of varying technical and design resources
Communicate project updates and manage project messaging internally to the team (including management and account managers) and assessing and minimizing risk factors to ensure a project's success
Resource/traffic management - working with the other project managers in planning the resource schedule for the production team
Supporting the business development team in the scoping and costing of new opportunities
Mid-level Project Manager Resume Examples & Samples
Medium/ high risk
Medium complexity legal and commercial issues
Provides reliable financial forecasts to the management
Supports qualification and opportunity assessment for large and moderately complex opportunities
Manages project team
Must have 2+ years of professional experience managing multiple projects from start to finish; Must be able to demonstrate the end to end lifecycle of project management during an interview
Microsoft Office Suites (Word, Outlook, Excel) experience and Microsoft Office is highly desired
Oracle or VMware experience is also a plus
ITIL is desired
PM Certification is an asset
Strong communication and presentation skills are required (verbal and written)
Project Manager Level Resume Examples & Samples
Bachelors degree with at experience working within the Joint/DoD community
Possess excellent communication skills (oral & written) in order to be able to coordinate and brief senior leadership
Able to work with multiple agencies and several levels of leadership - Both Govt and internal team
Bachelors degree in communicaiton or liberal arts with at least three (3) years experience working within the Joint/DoD community
Entry Level Project Manager Resume Examples & Samples
Supports program manager to develop statement of work in response to request for quote
Works with program manager, product line manager, mfg supply chain/procurement, engineering & manufacturing ops organizations to estimate costs & lead- time
Follows established protocols & processes. Elevates opportunities for improvements
Adheres to commonized cost estimating & parts procurement processes/practices
Expedites pre-defined project schedules to ensure deliverables/timeline is met. Expedite/tracks parts delivery
Monitors project costs (ensure budget within pre-defined guidelines)
Communicates project updates/risk to program manager. Communicates roadblocks quickly & effectively
Interfaces with manufacturing & supply chain; able to clearly articulates project needs & identify gaps/concerns
Uses/refines existing tools
BS in engineering - optics or related field or experience in optics
0-5 years of related experience
Communication skills – verbal & written
Organized, rigorous attention to detail
Proficient use of Microsoft Office Tools (Excel, PowerPoint, Word, Project, Outlook)
Desired - Ability to assist in the development of program related processes
Desired - Technical training or experience in optics
Process discipline oriented
Self Starter / Motivated
Ability to generate enthusiasm and motivation for a technical program
Ability to articulate clear direction and program requirements
Ability to work cross functionally (commercial, manufacturing, engineering)
Independent problem solving and development of approach to solutions
Project Manager, Level Resume Examples & Samples
Bachelor's Degree(s) AND
Three (3) years of project management experience OR
Demonstrated awareness of project management practices and tools, as well as Microsoft Office (Outlook, Word, Excel, PowerPoint), Ticketing system
Project Management Institute (PMI) certification such as Certified Associate in Project Management (CAPM)Familiarity with Microsoft Project
Project Manager Level Resume Examples & Samples
1) Project Plan Development -
3) Monitor Projects –
Must be detail oriented and demonstrate the ability to take ownership and complete assigned tasks
Must maintain a professional attitude amidst difficult and stressful times and demonstrate a sense of ethics while performing daily tasks
Prefer college degree
5 year experience utilizing core competencies project management
Prefer knowledge of and experience with any 3 of the following applications
Mid-level Project Manager Resume Examples & Samples
Assisting in the planning and execution of the Commander's engagement, information and outreach programs
Drafting and editing command correspondence letters, policy letters, memoranda, talking points and notes
Developing and maintaining interface with allied and partner-nation organizations for substantive analytical, educational, security cooperation and host-nation support issues
Developing and maintaining contacts with USEUCOM staff to synchronize intelligence security cooperation activities with headquarters priorities
Maintaining the Commander's mission briefing
Developing and maintaining contacts with UK academic and research organizations to improve the quality of analytic products and provide professional development of JAC analysts
Mid-level Project Manager Resume Examples & Samples
Manages day-to-day operational and tactical aspects of retail banking system enhancement / upgrade projects and retail banking vendor implementation projects. Assumes full responsibility for the following project management areas: scope management, project planning and scheduling, resource management, risk and issue management, communication management, project monitoring/controlling and project status reporting
Creates and maintains project task schedules. Captures detailed work breakdown structures from SMEs (subject matter experts), captures work estimates, sequence work items and obtains team member commitments from functional managers in a matrixed environment. Identifies internal and external task dependencies in order to define the project's critical path
Anticipates, communicates and addresses project issues/risks and ensures timely resolution through utilization of mitigation and/or escalation techniques
Measures and monitors progress of detailed tasks, milestones and action items to ensure that the project is delivered on time and at a level of quality consistent with constituent expectations
Prepares and delivers communications including status reports, meeting minutes, presentations, stakeholder meetings, and information regarding issues and risks and ensures that communications are delivered to appropriate project stakeholders
Must be flexible and willing to embrace non-standard and hybrid project management methodologies
Outstanding leadership, teamwork, inter-personal, facilitation, organizational, listening and communication skills with a proven ability to meet deadlines
Bachelor degree in IS or Business related field or equivalent education and/or experience preferably in a financial services environment
Project Manager Entry Level Resume Examples & Samples
Main responsibility will be to lead the project controls processes with the internal project management team to execute project deliverables within budget
Responsible for schedule management, earned value management and cost management
Report accurate updates to cost reports or forecasts
Responsible for monitoring resource loading of schedules #LI-ML1
Robotic Process Automation Project Manager Level Resume Examples & Samples
A Bachelor's Degree in Engineering or Business
Around 5+ years of Project management experience, PMP certification is a plus
Experience in working with RPA tools and automation solutions (BluePrism, Automation Anywhere, UiPath)
Knowledge of business processes in different areas, eg.: IT, HR, supply / logistics, telecommunication services etc
Ownership and results oriented
Junior / Mid Level Project Manager Resume Examples & Samples
Act as the liaison between offshore development team and US-based team to ensure reports for stakeholders, partners, and so forth meet expectations, delivery schedules, and quality measures
Define, gather and analyze requirements in preparation for sprint planning and backlog grooming
Plan sprints and maintain team backlog
Help high-performance teams and individuals to grow, challenge them to improve further and help them track through progress and clear any roadblock
Manage customer deliverables using the Scrum Methodology; follow established delivery processes
Communicate a clear picture to team members of what project success looks like, and work with stakeholders to build the comprehensive plan to get there
Effectively manage project risks and issues, tracking status and resolutions to help the project stay on track
Experience leading or managing multiple technical projects
BA/BS or equivalent years of experience in project management (minimum 4 years)
Agile certification or experience working in a Scrum and/or Kanban environment
Use of Agile collaboration tools such as Atlassian JIRA and Confluence, which are preferred tools
Microsoft Office tools
Video conferencing and instant messaging tools
Bonus skills: SQL Server, .net, or database/application development
Project Manager Level Resume Examples & Samples
Partners with business owners, team members and other key personnel across various departments to plan, develop and manage key operational, technical and strategic business projects
Ensure project plans and related activities support key organizational business objectives and major deliverables
Facilitate appropriate communication methods and tracking tools to ensure identification and management of risks, mitigation strategies, plan activities, dependencies, impacts, escalation channels, financial budget and detailed project documentation
Has a strong background and understanding of software, technology and operations
Serves as primary point of contact for project team
Resolve project issues to meet productivity, quality, and customer satisfaction expectations
Contribute to, support, and promote identification of best practices, and use of all project management tools, techniques, and methodologies within the PMO
Minimum of 5 years' experience in Project Management, Management and / or Supervision
3-5 years' experience in successfully leading and managing multiple small to medium size key operational and strategic business projects, with varying complexity and moderate impact
Experience in obtaining resources needed to effectively complete project assignments & tasks in a matrix organization
Proven collaborative leadership with effective negotiation, interpersonal and partnering skills
Seasoned project planning skills with the ability to handle large workload, the ability to anticipate required tasks & milestones, and facilitate the activities of dynamic, dispersed workgroups
Excellent analytical, problem-solving, and decision-making skills
Working knowledge of project management lifecycle, tools and techniques
Proficient with MSExcel, MSWord, Visio, PowerPoint, SmartSheet and MSProject
Technical background and experience
Experience with agile methodologies
Business analysis methodologies and experience
Software development lifecycle and/or technical/infrastructure planning, monitoring and controlling
Application deployment & information systems planning
Working knowledge of physical and virtual servers, load balancers, networks and switches, firewalls, and storage a plus when working with Data Center technologies