IT Project Manager Resume Samples
IT Project Manager Resume Samples
4.7
(
76
votes) for
IT Project Manager Resume Samples
The Guide To Resume Tailoring
Guide the recruiter to the conclusion that you are the best candidate for the it project manager job. It's actually very simple. Tailor your resume by picking relevant responsibilities from the examples below and then add your accomplishments. This way, you can position yourself in the best way to get hired.
Craft your perfect resume by picking job responsibilities written by professional recruiters
Tailor your resume & cover letter with wording that best fits for each job you apply
Resume Builder
Create a Resume in Minutes with Professional Resume Templates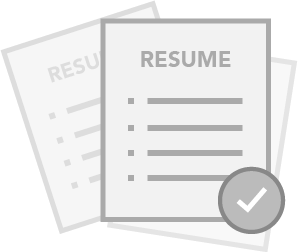 CHOOSE THE BEST TEMPLATE - Choose from 15 Leading Templates. No need to think about design details.
USE PRE-WRITTEN BULLET POINTS - Select from thousands of pre-written bullet points.
SAVE YOUR DOCUMENTS IN PDF FILES - Instantly download in PDF format or share a custom link.
5558 Cassin Ports
Detroit
MI
5558 Cassin Ports
Detroit
MI
Phone
p
+1 (555) 491 7143
Lead IT Project Manager
Lead IT Project Manager
Lead IT Project Manager
Manage recruitment, performance appraisals, pay reviews, training and development for the IT project management team
Developing, establishing and maintaining project management standards and procedures
Support Project Delivery build-out and provide leadership and functional management to the Development and Support Team
Create and manage overall resource plans, budgets, forecasts and scenarios
Develops project schedules, work assignments, target dates and other aspects of assigned projects
Establish and lead a centre of excellence for IT project management
Provides regular communication to executive level management
Associate IT Project Manager
Associate IT Project Manager
Associate IT Project Manager
Works to develop in-depth knowledge of project management components, including Project Management Software (such as MS Project 2010)
Assists IT management with developing cost estimates and managing the budget throughout the project
Work with all levels of management and diverse working group(s)
Works with Management & IT leaders to define project scope and objectives
Works with Project Managers to define and document tasks and activities for the projects
Perform at a high level of project management competence and maturity
Facilitating meetings including preparing agendas and coordinating schedules and materials, documenting meeting minutes, following-up on action items; gathering, organizing and distributing project related documentation
IT Project Manager
IT Project Manager
IT Project Manager
Provide feedback to group managers regarding the work performance of members
Works under specific direction of other Project Managers, IT Managers or Program Managers
Time Management: develop, manage, execute, and control the project schedule
Provides input to managers for performance appraisals based upon project participants' performance
Keep project manager well informed of status of development effort and serves as liaison between development staff and project manager
Makes recommendations for improved project management processes by being an active member of the Program & Project Management Community of Practice
You are expected to work under minimal supervision with oversight provided by the Project Delivery Manager within ETG Enterprise Service Management
Bachelor's Degree in Computer Science
Bachelor's Degree in Computer Science
Bachelor's Degree in Computer Science
Strong time estimation and execution in prescribed estimated periods to provide high quality content and deliverables related to specific assignments
Strong organizational skills, analytical skills and a highly professional attitude
Excellent ability in implementing program and project plans and monitor progress, resource usage and quality
Group medical, prescription, vision, dental, life, and short-term disability insurance options that are available for purchase—and the coverage is portable
Apply advanced analytics and quality / process improvement methodologies to assure uniformity, standardization, repeatability and scalability of GCA solutions
Strong leadership qualities and the ability to gain respect across a highly technical team
Solid attention to detail and highly analytical and creative
Demonstrates excellent written and verbal communication skills, strong customer focus and demonstrated ability to work in geographically dispersed teams
Strong organizational skills with an attention to detail and a proven ability to handle multiple priorities
Excellent interpersonal skills including the ability to interact effectively and professionally with individuals at all levels; both internal and external
Create a Resume

in Minutes
15 IT Project Manager resume templates
Read our complete resume writing guides
---
IT Project Manager, RSU Program Resume Examples & Samples
1-2 years of industry experience with an emphasis oninformation technologyproject management
Proven organizational and project management skills
Hands on experience in developing variety of dashboard reports (slice/dice reports, business dashboards, trend analysis etc)
Ability to develop presentations and summary materials for management consumption
Strong written/verbal communication skills with ability to communicate effectively across multiple levels of management
Data and business analytics experience
Knowledge of budgeting and resource allocation procedures
Ability to influence and create agreement among differing stakeholder views
Ability to analyze technology specific problems and provide resolutions
Experience managing projects throughout their full software development lifecycle
Proactive problem solving skills, manage multiple tasks simultaneously
PC skills (Excel, PowerPoint, and MS Access)
Excellent organizational skills with the ability to manage and prioritize in order to meet tight deadlines
IT Project Manager Resume Examples & Samples
Accountable for the delivery of multiple, simultaneous projects ensuring scope, schedule, and quality objectives are attained
Ensures quality through effective use of delivery methods and standards
Collaborates with process and technology leads to build well-structured project plans that segment projects into pre-defined phases
Assists in identifying the skills and resources needed for each stage of the project lifecycle
Establish a common understanding of project timelines, milestones, and expectations on delivery utilizing expert communication and leadership skills
Provides direction to project resources, monitors development efforts, assembles key project deliverables, and intelligently identifies issues requiring escalation when reporting project status
Minimizes exposure to risk which could impact schedule, cost or quality
Sets project expectations among business partners, internal process owners, and IT staff
Monitors change requests and prevent unapproved requirement modifications that result in scope creep
Communicates project implementation options that affect cost, schedule, quality and risk to stakeholders, as well as other recommendations based on these elements
Direct the effective execution of tasks/processes on a project
Ensure project documents are complete, current and stored appropriately
Keep senior management informed of key issues and changes which may impact expected business results
Demonstrate judgment in selecting methods and techniques for obtaining solutions for a project
Serve as an expert in-house project consultant
Proven exceptional written and oral presentation and communication skills
Ability to draw business objectives and manage expectations of external and internal customers
Prior involvement with high-visibility projects and managing multiple projects concurrently
Self-motivated, decisive, with the ability to adapt to change
Demonstrate mature business judgment and ability to drive complex or difficult decisions within the organization
Experience in established software delivery methods
Strong functional and technical understanding for underlying functions being managed
Ability to balance strategic development with tactical execution
Personal drive and creativity to identify new opportunities to exploit internet based technology to foster awareness and knowledge of our products and services
Ability to thrive in a demanding environment, requiring high degree of deadline-driven productivity, commitment, adaptability, communication, initiative and follow-through
Knowledge of the Outdoor advertising business a plus
Must successfully pass background check
IT Project Manager Resume Examples & Samples
Provides schedule and costs forecasts including risk based provisions
Applies program decision framework (who does what; how to communicate) and contributes to its ongoing improvement
Successfully managed 2 to 3 related type 1 projects simultaneously
Knowledge of relevant technology
IT Project Manager Resume Examples & Samples
Mature project manager - at least 5 years experience in managing complex projects
Familiar with Contact Centre applications and technology
Knowledge of relevant technology within the Contact Centres
General knowledge of factors affecting Contact Centres
Trends in the marketplace/ technology for Contact Centres
LI-TS2
IT Project Manager Resume Examples & Samples
3 - 5 years' experience with financial service industry
Capable of managing 1 - 2 complex projects simultaneously, concurrently with providing production support tasks
Bachelor's Degree and Project Management basics
Technology background, some programming experience
Excellent written/communication skills in English and Spanish (preferable)
O&t-it Project Manager Resume Examples & Samples
Primarily, the individual needs strong skills in relationship building and management, program management/planning, presentations and communication
PM Industry knowledge or experience mandatory, PMP (Project Management Professional) certification is preferred
Bachelor's Degree or equivalent experience in business
5 years experience in project management during which s/he applied a structured approach (methodology) to project planning, estimating, monitoring and reporting through the full project lifecycle, from initiation through closure
Strong influencing and partnering skills
Experience and ease in interfacing with senior management in CTI and O&T Financial Services experience preferred, but not mandatory
It-eq IT, Project Manager Resume Examples & Samples
1) Accountable for the overall system delivery on assigned projets
2) Stakeholder management, including status reporting and expectation management
3) Ensuring all system changes conform to regulatory requirements as well as internal rules and standards
4) Project planning and tracking in the full project life cycle
Project initiation / scoping
Business analysis and functional specification
Development plan coordination and progress tracking
F2B test planning and progress tracking
UAT coordination / user training
Release planning
IT Project Manager Resume Examples & Samples
Reports on variances to the approved project baseline
Manage external contracts and suppliers where required
Monitors and manages project baseline to ensure activities are occurring as planned - scope, budget and schedule – manages variances
Proactively identify risks and issues on projects - leading team to develop risk management and issues management plans
Senior project manager is expected to act independently to deliver project to schedule, budget and scope; support provided as required and requested, and is self-driven and motivated
Extensive experience of delivery that includes the use of supplier and off-shore resources
Leader in the use of IT methodologies, processes and standards for project management
Significant work experience leading infrastructure, network, security, and/or software development projects
IT Project Manager Resume Examples & Samples
Facilitate, coordinate, and arbitrate cross-functional macro level topics, often including key business stakeholders and senior management
Communicate to all stakeholders on a timely basis, often including Senior or Executive Level Management
Supports project negotiations by providing subject matter expertise around retail banking and project lifecycle methodologies (waterfall and Agile)
Manages all projects, tracks time allocations and resource usage using the Planview application
Minimum of 8-12 years managing software development projects in a matrix environment, preferably within the banking industry or comparable large company/consulting organization
Previous track record that demonstrates the successful implementation of 3-5 large scale, cross functional, strategic initiatives
Experience applying standard Waterfall and Agile software lifecycle development methodologies
Expert knowledge and hands-on experience in application and execution of PMBOK-based project management methodologies and processes
Strong leadership, interpersonal, influence, negotiation, organization & communication skills
Strong Office skills, advanced to expert
IT Project Manager Resume Examples & Samples
Will have project managed multiple technology projects with a proven track record of delivery
Solid understanding of technology infrastructure
Interest in hardware, voice and network technology
Experience in data center relocation, server infrastructure delivery, technology refresh due to end of life etc. would be beneficial, but not essential
In depth knowledge of project management methodology
Financial and risk management experience is beneficial
Experience of working in virtual teams, working remotely or for a remote manager
Experience of working in a medium to large-scale corporation is an advantage
Strong workload management skills
Strong financial management skills within the Project context
Strong influencing skills
Strong negotiation and conflict management skills
Working knowledge of project tools is an advantage
Language skills in addition to English are an advantage
IT Project Manager Resume Examples & Samples
Project resource management, including mentoring and coaching, performance management and project financial management and project management for companies in the entertainment media domain
UML Modeling, Data Modeling, JAD Sessions, OOML, DAM, MAM, CMS, SOA, Web Services, REST and API, Logical data models, Solution Design, Enterprise Architecture and Custom Software Development, Media Software applications (Xytech/Media Beacon)
Large databases: Oracle, SQL Server and MySQL
Infrastructure Experience: LINUX, RHEL and Windows Server, BI reporting tools (Microstrategy, Informatica and Cognos)
UI Design, Middleware Design (Weblogic, JBOSS, Apache and Websphere)
IT Project Manager Resume Examples & Samples
Accountable for accurately estimating the resources and participants needed to achieve project goals. Identify appropriate resources needs in a cost efficient manner, and assign individual responsibilities
Drive estimation, planning and prioritization of requirements backlog across multiple business areas
Position will initially focus on data security projects across all business areas
Facilitates team and client meetings effectively, holds regular status meetings with project team
Builds, develops, and grows any business relationships vital to the success of the project
Reports project status and issues to business partners and IT management
IT Project Manager Resume Examples & Samples
Experience in the full spectrum of delivery activities on projects and demonstrates proven track record of on-time, on-budget and to-specification delivery of projects
In depth understanding of Portfolio, Programme and Project management business processes
Extensive experience in professional communications and stakeholder management at various levels
Ability to juggle priorities, multi - task and flawlessly execute at speed
Influencing / networking skills – ability to develop internal and external business relationships and use own knowledge, skills and experience to influence others opinions and actions in order to obtain the right business decisions
Fluent English is essential
Am-it Project Manager Resume Examples & Samples
Minimum ten years of combined business, project management, team leadership and IT experience required
End-to-end understanding of voice systems- from the handset to the carrier
Prior experience in Voice deployment projects as, a technical project manager, project coordinator or key technical resource (desktop engineer, desktop PM, etc.)
Experience with IPC's EHI or Purple Voice, IPC Pulse, or it's equivalent
Experience with projects in multiple technologies, functions (e.g. Cisco Unified Communications, NICE Voice Recording, Avaya Call Center Technology, IPC Trader Voice Systems- Hoot and holler systems, intercoms, Genesys Routing, and Video Conferencing)
Must understand SIP, VOIP, and Voice redirect plans
Must be able to create voice based solutions to fit a business's needs using the above mentioned technologies
Excellent written and verbal communication skills. Must be comfortable with presenting to business leaders
Partnering with diverse groups and directing them toward your project goals
Working with geographically distributed and culturally diverse work-groups
IT Project Manager Resume Examples & Samples
Delivery and execution of all assigned minor and major projects
Coordination and matrix management of CTI streams and delivery partners to achieve migrations and project activity in a coordinated and controlled manner
The position will involve a considerable amount of interaction with colleagues, business groups, TI and external vendors
Customer interaction managing project priorities, financial tracking and reporting, and risk management
Responsible for managing their assigned projects to deliver infrastructure technology by working with multiple technology streams. Client interaction, effective stakeholder management, reporting and escalating risks and issues to their IT Project Group Manager are also part of this role
Complete all tasks in connection with the organization's activity but not detailed in the current job description, charged by the direct manager, supervisor, or the functional head
Will have been involved as a team member on multiple technology projects with a proven track record of delivery
The candidate will ideally have previous experience as a professional project manager, but candidates who have worked as a project team member or technical coordinator will be considered
Knowledge of project management methodology
An understanding of technology infrastructure
An understanding of application development would be beneficial, but not essential
Working knowledge Project Tools is an advantage
A Project Management Institute (PMI) certification (PMP or CAPM) is preferred
Other industry standard project management certifications such as Prince-2 or PMA will be considered as an alternative
IT Project Manager Resume Examples & Samples
Gather and analyze business requirements, manage design, implementation and testing of vendor applications
Create project plans, functional and technical specifications for other team members and conduct application reviews with tech team and the vendor
Manage day to day activities of team members
Oversee L1-L2 production support personnel. Facilitate project communication and meetings with business and tech partners
Hands on Project Leader able to jump in to help out to resolve issues and assist in the installation, configuration of vendor applications
Manage competing priorities to keep the team on track to deliver high quality releases
Provide technical leadership to ensure best practices, standards, and security implementation strategies are followed. Lead continuous improvements activities to enhance team productivity, as well as to improve the quality, reliability and performance of the systems
Bachelor's Degree in Computer Science or related technical discipline
5-10 years of solid experience in a Technical Project Leader role
Experience with managing internally developed applications and vendor applications
Experience with complex requirements and technical and business workflows Solid experience in implementing projects following SDLC
Strong Technical skills in .Net, web services, IIS, Windows environment, SQL Server
Knowledge of MQ a plus
Experience with Automation tools and Performance Tools are highly desired Solid experience wit MS Projects, PowerPoint. Experience with DMM a plus
Demonstrated success leading small to medium sized technical team (onshore & offshore), working independently and managing multiple tasks simultaneously Ability to effectively communicate, motivate and influence vendors, business and tech partners
Experience in business requirements gathering and developing simple technical solutions to complex business problems Experience working on global applications
Experience and knowledge of application design and architectural best practices
Ability to manage/juggle competing priorities without loss of efficiency Ability to understand and learn new technologies and apply them in the project
IT Project Manager Resume Examples & Samples
Successfully managed 1 to 2 related type 3 projects simultaneously
Knowledge of Mobile/Wallet Applications
Cloud & Payments ( MasterCard, Visa, Interact)
Knowledge of Mobile/Wallet Applications an asset
IT Project Manager Resume Examples & Samples
Provide feedback of established Project Management methodologies and input to improve best practices. Use established project management tools to report project statuses for IT dashboards and reports. Work directly with Parks Technology management and participate in regular resource planning meetings to secure project resources
Work closely with all Parks Technology teams, business partners, and Vendors to plan, organize, secure, and manage resources for assigned project efforts following software development lifecycle and project implementation policies and procedures as applicable
Work with the Parks Technology teams and management to identify solutions that enable the organization to achieve its project goals
Independently research, analyze, identify, and document the tasks to achieve the project goals. Coordinate, facilitate, and lead project team meetings to accomplish project deliverables
Responsible for the management of the project including; work statements, work breakdown structures, developing and tracking budget and schedule, tracking individual project tasks, providing risk analysis, tracking and resolving issues and action items, planning and oversight of requirements gathering, coordination of quality assurance, providing various project management visibility and control measures and reports as needed and communicating to project team and stakeholders. Perform requirements and quality assurance as needed
Bachelor's degree from a four-year college or university is required; major in MIS, Technology or Business or related field preferred
Minimum 3 years of related work experience in IT project management, business analysis or equivalent combination of education and experience
Ability to effectively use MS Project, Visio, Office (i.e. Outlook, Excel, PowerPoint, and Word)
Knowledge of project management concepts and processes, requirements gathering, or business analysis
Ability to read, analyze and interpret business periodicals, professional journals, technical manuals and procedures, or governmental regulations
Ability to write reports, business correspondence, and procedure manuals
Ability to effectively present information and respond to questions from groups of managers, clients, and customers
Ability to compute rate, ratio, and percent and to draw graphs, and interpret spreadsheets
Ability to build and lead a team in completing a project
Minimal travel possible to support Parks Technology division and client locations
Sound business judgment in coordinating the requirements of the user group(s) for a project
Conflict resolution and problem solving techniques
Excellent presentation, facilitation, communication and negotiation skills
Self-motivated, well organized and strong innovation skills
Effectively handle sensitive and confidential matters
IT Project Manager Resume Examples & Samples
Working with the central programme business team to deliver IT requirements, build, test and release across multiple work streams
Ensuring individual programme streams have a deliverable plan and holding them accountable through the delivery
Briefing management on progress against the F2B delivery plans
Exposing Dependencies, Risks and Issues associated with plans, leading efforts to resolve these and holding individuals accountable for resolutions
Partnering with the wider organisation to ensure transparency in the delivery
Store Systems IT Project Manager Resume Examples & Samples
Manage an IT operations services technician in UK to provide store system support for UK Uniqlo stores
Proven logical technical problem solving skills
Ability to explain benefit & cost trade off to control business requirements
Strong oral and written communication skills (Second European language desired)
Experience in collaboration with global team
Business level communication in English and French
Behavior: Flexible, open minded, diplomat, rigorous, responsible, autonomous with good reporting skills
IT Project Manager Resume Examples & Samples
Assist your PM team with defining purpose, clear roles, tasks, milestones, budgets and measures of success for their projects
Manage the workload of the resources on your team and assure their project assignments align with the needs of the organization and each PM's development goals
Work as a Release Lead for Enterprise Releases to ensure all project teams build an integrated implementation plan. Facilitate the Central Command Center and provide critical support to all team command centers
Ensure that all project team members have the tools and training required to perform effectively
Serve as an escalation point for critical project issues and interact with senior management to solve issues and provide timely communications
Ensure your team is compliant with our Project Delivery Process and completing phase exit checklists for every project
Focus on performance management, giving objective, constructive feedback to team members. Promote effective teamwork and manage the resolution of interpersonal issues
Minimum seven years of IT experience with at least five years of IT Project Management experience required
Knowledge and experience using project management software such as Clarity, Microsoft Project, Project Workbench, PMI, etc
Resource management experience
It-project Manager Resume Examples & Samples
Reviews all user documentation. Monitors testing
5+ years' experience with one or more of the following processes in a retail environment: Payment Processing, Sales and Inventory data collection and distribution, Pricing systems, Refunding systems, Register and Mobile POS applications
Strong interpersonal skills, ability to coordinate and work effectively with other specialists
Ability to demonstrate strong leadership and to manage and resolve conflicts
IT Project Manager Resume Examples & Samples
Facilitate the definition of project scope, goals and deliverables and be responsible for the prioritization of tasks
Develop and maintain project plans using MS Project or similar tools, and track and report key project metrics
Define project tasks and resource requirements and coordinate with 3rd parties
Coordinate development and creation of necessary formal requirements and functional documents
Meet regularly with product managers to assess product needs and coordinate with development staff to formulate solutions
Implement new policies and procedures for change control, software and hardware deployments, and workflow management
Periodic travel to Hauppauge, NY operations center required
Bachelor's degree in Computer Science, Information Technology, or relevant related field
PMI/PMP certification a plus
Proficient in use of Jira and Confluence for project communications and tracking, and in various other project management documentation and tracking software programs
Deep understanding of digital video products, technology, operations and media industry
In depth knowledge of project management techniques and tools
3-5 years' experience in software application development as an Agile Project Manager
Must be experienced with Agile and Waterfall methodologies and highly proficient with the software development lifecycle
Self-directed, get-it-done personality with the ability to work independently and manage communications up and down
Must be fluent in technical documentation and diagramming
IT Project Manager Resume Examples & Samples
Lead team to resolve cross-sell support issues and pro-actively make improvements for issue prevention, increased efficiency and operability and clear documentation
Lead project teams to design, develop, and deploy quality solutions that meet client requirements and project objectives
Work with business and technology partners to identify, schedule and prioritize project and support activities to ensure the delivery of project and support solutions within budget constraints
Provide detailed project/support planning, execution, tracking, reporting, and cost / risk management
Assist with research and design for highly complex requirements or issues
Proactively communicate resourcing requirements for development projects and support items, highlighting issues, and recommending alternate courses of action
Collaborate with management team to manage the overall portfolio
Manage project/support financials relating to budgets
IT Project Manager Resume Examples & Samples
Project Plan (Weekly) - Maintain detailed work tasks in a Project Plan in MS project
Project Reporting - (Weekly) - Create and Maintain Work Schedule Productivity and Progress Reports(Actuals to ETC, Budget Variance Reports, etc). Create Exception reports to focus on variance and other out of normal conditions
Maintain weekly status report in PM Toolkit
Managing the project through the methodology lifecycle by establishing and maintaining agreements between the customer and the project team
Accountable for ensuring that all methodology related artifacts and documents are completed and updated throughout the life of the project by the project team member responsible for delivering those documents
Responsible for ensuring that the project budget is updated in both ACT and PM Toolkit and that any scope changes affecting budget are identified and managed appropriately
Responsible for monitoring project financials in a weekly Project Tracker spreadsheet that includes Project Actual Costs
Playing a critical communications role by interacting between stakeholder(s) and BA's, developers and testing personnel (technical domain)
Work with BA's Developers, QA to determine hours estimations as required to support project business cases, plans, etc
Understanding the software development approach being used and defining how the requirements development will be conducted (i.e. elicitation, analysis, specification and validation)
Responsible for ensuring change control and change management procedures are followed within the project team as they relate to requirements
Understanding the business case and project scope
Ensuring that quality project management standards are met as prescribed by IT Services through the effective implementation or use of approved processes, methodologies and deliverables
Adhere to Project Gate Reviews as required by the IMT Project Governance Process
Selecting the appropriate methodology to successfully deliver the project
Collaborate with others to pro-actively address project issues
Direct supervision provided by program manager; frequency on a weekly or as needed basis
Project Manager is expected to act independently to deliver and manage projects to schedule, budget and scope; support provided as required and requested, and is self-driven and motivated
Project manager expected to support value of, growth and expansion of PM role within the IMT organization as required
Project Manager leads Project teams consisting of cross functional, global, and virtual groups; directly supervises staff; assigns responsibility to members; monitors progress
Project Manager role with personal accountability for delivering and managing requirements to time and cost for projects typically up to $500k in value and 6 months in duration
Project Manager expected to exhibit a high level of thought leadership skills thus contributing to the success of assigned projects and overall FO&P organization goals
Comfortable dealing with difficult stakeholders and opinionated developers and architects during the development lifecycle
Adept at getting sign off of key deliverables (Charter, requirements, change items, etc) from business stakeholders
Experience of relationships with senior customer staff
5 to 10 year's experience in Project Management or related technical field (application development, deployment/implementation and infrastructure)
IT Project Manager Resume Examples & Samples
Have accountability for the delivery of one or more concurrent projects on time, within budget expectations, to deliver results with the desired impact
Possesses experience in the overall responsibility for structuring a project, performing the detailed planning, and managing project execution and completion of moderate or large projects throughout the entire lifecycle
Defines the phase deliverables, tracks milestones and incurred expenses versus planned expenses, schedules roles and resources, evaluates risks and recommends contingency plans
Manages changes in project scope, identifies potential risks and devises contingency plans
Partner with leadership teams and key stakeholders to set strategic and project priorities using strong influential skills to ensure delivery of strategic priorities
Works with the technology team to help provide structure to manage the development of the technical strategy. Works with the technology team to assigns resources and tasks, and manages quality assurance, resolution of issues, status reviews and reporting, development of standards, change control, customer support, and compliance with all policies and procedures
Possesses a high degree of communication skills, both written and verbal. Familiarity with Microsoft Office tools (Word, Excel, Project, etc.). Can provide clear, concise status reports that can be used for executive reporting
Collaborate with senior leaders and key stakeholders in the formulation of plans and activities to support project implementation
Positively and effectively, influence results in a matrix organization. Build alliances, quickly find common ground and identify potential solutions, and build consensus for outcomes
Manage cross-functional stakeholders throughout project lifecycles to balance perspectives while gaining support for recommended solutions. Coordinate with other project managers and initiatives to ensure mutual understanding of timelines, overlaps and competing priorities
High level of interpersonal and human relations skills in dealings with colleagues, clients, direct reports
Strong management skills: analytical, time management, collaboration, decision making, organization, planning, problem-solving, presentation and negotiating
IT Project Manager Resume Examples & Samples
Employs strong problem solving skills to deal with internal and external problems in a professional and expedient manner
Builds and manages high-performing project manager team to meet commitments in schedule, effort, cost, and quality. Influences, motivates, and negotiates appropriately
Demonstrated professional project management skills using a variety of recognized methodologies including multiple full life-cycle delivery experience in a complex technology environment. Agile experience preferred
Strong interpersonal skills at all levels of management and ability to motivate teams to apply skills and techniques to solve dynamic problems
Self-motivated, drives to closure
IT Project Manager Resume Examples & Samples
At least 5 years of IT project planning and management experience
Bachelor's degree in IT, business, or a related field
Experience in managing infrastructure projects from conception to production, managing all aspects of solution delivery including requirements gathering, scope definition, resource planning, budget management, status reporting, risk management and change control
The ability to communicate effectively at all levels and to all functional groups, and to translate technical requirements and issues into the appropriate context
IT Project Manager Resume Examples & Samples
Develop and maintain close working relationships with key business stakeholders through written, verbal and face to face communications
Propagate better understanding of IT capabilities, vision and processes to the business community
Define solutions that leverage the existing systems, while positioning these solutions to align with the future business and IT direction of the organisation
Responsible for Programme / Project delivery focusing on Back office systems development
S/he works across multiple internal business and technology groups on local/regional projects, and is involved from initial strategy/planning and scope definition through to process design, requirements development, testing, training and implementing of the solution
The qualified candidate will have a B.A. / B.S. in Business or equivalent experience; M.B.A. preferred
Strong technical acumen, preferable having development background from C#, Dot NET etc
8 or more years in Corporate/ Institutional/ or Investment Banking industry with 1 or 2 years of management/ supervisory experience (direct or project based)
Minimum of 5 - 7 years in Project Management role in Technology particularly within Development Projects (middle office systems and back office systems in particular)
S/he demonstrates a good understanding of end-to-end operation flows across multiple system applications and experience with Software Development Life Cycle (SDLC) processes
S/he must be able to analyze client requirements, monitor project progress, manage issues and risks, identify potential roadblocks and keep projects on track
PMP, ITIL or Prince certification preferred
Strong background in managing, implementing and deploying technology solutions
Management of IT consulting initiatives
Effective cost management and control
Knowledge of current IT industry trends and solutions
CRT IT Project Manager Resume Examples & Samples
Project Management of multiple projects from conception to delivery within CRT Technology
Engage and participate in departmental strategy discussions
Build key relationships across infrastructure, application support and development groups
Work with the technical team leads on platform re-engineering tasks and growth of the system, providing expertise in finance as well as contributing in business analyst and project management efforts
Effectively communicate and build rapport with team members and stakeholders using a variety of techniques and collaboration from initiation to close
Investment banking environment experience
Strong Project/Programme Management experience - within RTB/Service Delivery Projects
Exposure to global markets businesses
Experience dealing with front office traders and senior fixed income management covering risk and P&L
IT Project Manager Retail Solutions Resume Examples & Samples
Adopt a structured approach to rolling out all new software or hardware, which is efficient and effective
Plan, manage and stabilise project releases using an agile or waterfall approach where appropriate
Ensure version control and central storage of software is applied and that correct versions are installed at all times, in all environments
Understand the technical landscape across different delivery work streams, anticipating where there is likely to be interdependencies across systems or work streams
Obtain appropriate relevant business and technical approval, documented for audit purposes
Collaborate with Project Managers, Technical Architects, Test Managers and Developers in the definition and breakdown of releases, ensuring fully understood by all and smoothly transitioned
Focus on the stabilisation of releases, conducting post- release reviews to ensure any release issues are minimised/ eliminated for upcoming releases
Able to meet demand and plan own capacity accordingly to ensure releases are not compromised
Communication of release plans are fundamental in this role, ensure all parties are aligned and in agreement
Ensure that projects are prioritized in the stream pipeline
Ability to coordinate development and plan releases with offshore, near shore and onshore teams
Manage the expectations of all stakeholders including Corporate & Operational Finance, Creative Media, Customer Services, Service and Productivity, and Retail Shared Services
Manage projects end to end with various technical components across different platforms
Support the Change Request process including analysis of possible solutions, resource, cost and schedule planning against projects already in flight or prioritized
Clear articulation of risks, issues & confidence levels to the wider IT and Business teams
Ensure projects flow seamlessly into the development team based on the Project Pipeline
Work within the Project Management Team to develop the growth the Project Management competency across the organistion
Provide direction and structure for each project, establishing clear and precise goals and objectives for the teams
Experience in managing medium to large projects in a retail environment within IT
POS deployment into retail stores- Luxury fashion would be ideal
Line Management
Experience in managing projects end to end across multiple technical systems and platforms
Experience and understanding of the Agile Methodology and able to apply where relevant
Expert planning and estimation techniques
Strong financial & project costing skills
Familiarity and exposure to Retail hardware, for example: Scanners, POS tills, CRM and receipt printers
IT Project Manager Resume Examples & Samples
Leads and manages IT implementation on key business projects of the company
Is responsible towards business project manager for IT implementation of requested solution to deliver agreed business goals
Sets-up project team; plans, coordinates and manages the work of project team to assure delivery of project goals within agreed paramateres
Assures integrity of IT implementation with other projects in the company, communicates and coordinates with other running projects
Manages vendor delivery in areas where external vendors are involved
Supervises and is responsible for efficient usage of allocated human and financial resources
Leads project team members, assures motivatation, develops capabilities of team members, provides feedback on performance
Coordinates the project according to internal and general accepted standards of project management
Communicates within PMO, with project team, with related activities and representatives of key stakeholders
University degree
4+ years of practice, at least 3 in project management
Active knowledge of Czech
Very good communication and presentation skills
Strong focus on delivery, solution focus
Knowledge and practical experience within IT sector * Knowledge of financial service sector * PM certification Would you like to know more? https://www.gemoney.cz/en/about-us
IT Project Manager Resume Examples & Samples
Own the planning and associated project management activities for the delivery of complex technology risk reduction and remediation activities
Ensure effective stakeholder engagement both locally and globally
Develop with peers in other regions solutions that support successful delivery of the Bank's program
Establish and lead steering and working groups with all the key parties establish relationships and ensure on-time delivery in order that the programs remain on target throughout the planning and execution phases
Ensure execution aligned to existing frameworks, standards and policies and in accordance with the methodology
Keep senior management and stakeholders informed of progress against the agreed timescales escalating and resolving issues as required
Develop and maintain the required documentation and templates to ensure consistent data capture and analysis, including PIDs, project plans, milestones and reports
Identify and report risks and issues associated with programs and challenge senior management on quality of mitigation and remediation plans and actions
Maintenance of project progression in tools and systems
Providing accurate, timely MI to stakeholders
Building and maintaining knowledge bases
Creation of issue mitigation closure evidence packs and presentation of same to risk steering committees and boards
Have an understanding of business continuity management (BCM) in large scale and complex financial organizations
Have formal project and program management skills backed with practical experience of delivering in complex environments
Have excellent stakeholder management as this role will be liaising closely with GT (global technology) staff across the global organization
Have experience of operating at all levels of the organization
Be an excellent communicator able to build, direct and lead virtual teams operating in different locations; fluency in English
Have knowledge of IT disaster recovery testing and data center physical infrastructure
Be highly organized, a motivated self-starter and able to quickly take ownership of the role,
Formal project management qualifications (i.e. PMP)
Be able to demonstrate expert knowledge of project management including
IT Project Manager Resume Examples & Samples
5+ years of experience with IT systems project management
Experience with managing software development projects through multiple software development life cycles
Experience with Agile application development methodology and implementing or executing the Agile methodology on an IT project
BA or BS Degree
Project Management Professional Certification (PMP) required
Experience with project management in a federal consulting environment
Experience with working in diverse client environments
Ability to work in a team environment or independently with minimum supervision
Possession of excellent oral, written, and interpersonal communication skills
IT Project Manager Resume Examples & Samples
Manage all stages of IT projects from initiation to closure
Work with Project Sponsor and Stakeholders to complete project charter outlining scope, goals, deliverables, required resources, budget and timing
Complete work breakdown structure to estimate effort required for each task. Provide a schedule to identify when each task will be completed and estimate effort required for each task
Act as a mediator between stakeholders and team members; communicate differences to Management/Project Sponsor as appropriate
Effectively manage project scope by ensuring any changes to scope are documented and approved
Determine if external consultants or contractors will be required to complete project plan
Track and report on project milestones and provide status reports to management/sponsor
Excellent management and communication skills
Solid foundation in Development/Testing/Implementation life cycle
PMI certification a major plus
Good negotiator
Ability to effectively liaison between business users and technical staff
Ability to translate customer requirements into product features and create functional specifications
Technical background with level of proficiency in some/all of the following a plus: SQL scripting, Crystal Reports, Relational DB theory, Electronic Data Exchange (XML, FTP)
IT Project Manager Resume Examples & Samples
Knowledge of the PeopleSoft HCM platform and HR applications a definite asset
3-5 years of IT Project Management experience
Experience in Vendor Management would be an asset
Experience with Banking environment is preferred but not required
Relevant work experience in technology with a broad understanding across multiple IT disciplines
Knowledgeable of Bank and technology standards (e.g., infrastructure, architecture, processes, applications) and managing people/projects
Good understanding of businesses and/or organizational practices/ disciplines
Business process acumen: understanding user requirements and software development processes
Experience within systems development and understanding of the SDLC, the physical and logical environments used to deliver systems projects, and the technology platforms upon which key systems are hosted
Basic knowledge of external competition, industry and/or market trends in relation to own business
Good program, project management, and leadership skills
Works independently and often autonomously
Strong oral communication, facilitation, and negotiation skills
IT Project Manager Resume Examples & Samples
Lead or supervisory experience managing a small team
Experience managing Infrastructure & Network related projects (specifically around Data Centers)
Proficient with Microsoft Office suite tools and with project scheduling software tool (MS Project preferred)
Strong analytical skills, solid communication and facilitation skills are required
IT Project Manager Resume Examples & Samples
Provide overall project/program leadership
Manage the estimating and scoping process
Develop and facilitate the communications plan
Perform scope and change control management functions
IT Project Manager Resume Examples & Samples
Previous Wealth Management experience/knowledge including: business and operational processing, marketplace trends and technologies & Securities Trading and Settlement course
Previous success managing multiple projects simultaneously (up to $500M, 3 to 12 months in duration) OR one larger project ($1M+, 12+ months in duration)
5+ years of STRUCTURED Project Management experience: project plan development and management, work breakdown structures, task based plans, assumption and risk based plans, base-lining and scheduling, scheduling methodology (CPM, GERT, PERT), metrics creation, gathering, reporting, analysis, education and meta model creation
Waterfall, Agile, Iterative, risk assessment and quantification methodologies
Change management ability
Excellent communication skills both written and verbal including, presentation and facilitation, Communication management
Manages project communications including status reports to all stakeholders
Recommends external vendors and third parties and manages the relationships at the project level
50% Project Planning and Execution
20% Relationship and Communication
20% Managerial Excellence
5% Creating Solutions
IT Project Manager Resume Examples & Samples
Data Centers set up, access policies, maintenance knowledge
Application installation knowledge
Implementation of monitoring tools
Virtualization (Concepts and Tools as VMware and Citrix)
Active Directory implementation
Midrange (Including Server build process)
Storage
Mainframe
Service Desk
Cloud
ITIL
English: Intermediate
IT Project Manager Resume Examples & Samples
Manage full life cycle web solutions and software development projects for a wide variety of high profile clients
Manage multiple small to medium teams of developers creating and maintaining web applications using the latest technologies
Lead an integrated consulting team delivering interactive and creative solutions to clients
Ensure that all project goals are accomplished according to specifications and business objectives
6+ years of relevant work experience
Client focused experience in the Federal Education, Human Services, and/or Vulnerable Communities verticals
Demonstrated ability to develop comprehensive project plans, experience managing to budgets, profit targets, and timelines, and experience managing Agile Scrum projects
Dedication to client satisfaction
Experience with CMMI Level 3 (or higher) processes
Experience with child and youth focused programs for Federal clients
IT Project Manager Resume Examples & Samples
The ability to plan and prioritize effectively taking into account deadlines, resources and budget
Good knowledge of SAP (back bone system)
Technical understand of IT issues and a curiosity for new IT technologies
Experience in FMCG sector
IT Project Manager Resume Examples & Samples
Understand success criteria – set quality standards
Continually evaluate project performance
Take pro-active steps to mitigate potential quality issues
Manage teams (Indirect)
Establish work standards
Estimate resource costs
Time phase the estimated budget
Track actual project costs against budget
Control, communicate and gain approval for changes to the project budget
Define project scope and obtain approval
Create a project scope statement in predefined format
Understand project scope and determine executable components
Collect requested scope changes, analyze, provide recommendation and obtain agreement
Comply with standard ePMO governance policies
Work toward proficient use of automated project management tool sets as adopted by RETS
Bachelor's degree in related field preferred
PMP/PRINCE II or equivalent preferred
5-10 years related work experience
IT Project Manager Resume Examples & Samples
Develop dashboards and reporting tools to compile data for evaluation of sales, inventory and other operational metrics
Create and facilitate business requirements for LNM business use cases
Familiarity with Agile/Scrum and Waterfall project management styles
Professional certification or training and/or experience, 5+ years of technical project management experience
Knowledge and familiarity with software project management, general knowledge of merchandise and licensing industry
Ability to effectively manage change, and prioritize multiple tasks and deadlines
IT Project Manager Resume Examples & Samples
Deliver IT projects within scope, schedule and budget and with high quality
Deliver projects with focus on customer satisfaction
Coordinate and manage the scope, timing, and budget of multiple concurrent projects
Assist in project strategy design, project role staffing, issue resolution and recovery of troubled projects
Establish and maintain balance among project team, sponsors, resource managers and stakeholders
Work with the customer to establish project priorities appropriately to achieve desired organizational goals and benefits
Effectively mitigate project risks through risk identification and proactive planning
Manage resource utilization and allocation to ensure all projects have the correct resources assigned with the appropriate skill sets and capacity to deliver a quality product
Effectively communicate project status and key project metrics (KPIs) to stakeholders and customers and across enterprise as necessary
Financial management and P&L responsibility
Team management
First Level University degree and at least 5 years experience in project management
PM certifications would be highly appreciated
Agile experience and/or certification would be a plus
BI/DW knowledge would be a plus
Very good command of English and fluent Polish, German language will be an advantage
Strong leadership and ownership
Excellent communication skills and teamwork abilities
Experience in working with remote teams
Ability to work under pressure and meet project timetables
Ability to juggle multiple tasks and assignments
Collaborative approach to people, flexibility and responsiveness
Travel availability
Services IT Project Manager Resume Examples & Samples
Understands managed deployment service offerings so that they can identify and articulate new business opportunities and provide sales support
Scope and Schedule is planned, defined, approved, developed, managed and controlled; ensuring completed deliverables are accepted by the customer
Resources are assigned and managed effectively and efficiently to reduce and mitigate any risks and issues once operational deployment commences
Communications are planned and conducted during the project to ensure stakeholders are involved, expectations are accurately set, managed, and key stakeholders receive adequate communications throughout the project lifecycle and this includes customer and Dell stakeholders
Deep specialized and technical knowledge of managed deployment services ( Logistics, Planning, Customs, Taxation, Duties, Invoicing, etc.)
Broad knowledge and experience within an end-user computing (desktop/thin client) services environment
Strong Service Delivery and Project Management experience (Prince2; PMI; PMBOK certifications)
Hands-on problem solver with a can-do and pro-active approach to day-to-day operational challenges
Extensive project planning experience
8 – 10 years of relevant experience or equivalent combination of education and work experience
"LIEMEA13"
IT Project Manager Resume Examples & Samples
10+ years IT project/program management experience with 3 — 4 years experience in data-warehousing area
2-3 years Agile methodology experience
Intermediate MS Project skills
Excellent PC Software skills in Microsoft Excel, Word, and PowerPoint as well as experience with reporting tools
Knowledge of SQL and database query tools,
Excellent written and verbal communication skills; strong attention to detail
Excellent numerical and analytic skills
Ability to analyze and interpret statistical data ·
Ability to derive insight from large amounts of data from diverse sources ·
Ability to work under tight time deadlines, with frequently changing priorities ·
Excellent communication skills both verbal and written are necessary to be effective in this role
IT Project Manager Resume Examples & Samples
Ensures consistency and adherence to Dell standards, processes, and policies for all projects
Manages all aspects of the project execution including: chartering, scope definition, requirements gathering, project planning, change control, risk management and reporting
Facilitates and manages resource planning, cost estimation, budget development, and cost control
Manages critical projects, customer engagements or business processes. May be responsible for multiple Project Managers dedicated to a common project or fewer large/highly complex customer
Works on abstract and complex problems requiring evaluation of intangible variables. Integrates trends, data and information into plans, deliverables and recommendations
Develops innovative and creative output based on interpretation and analysis that improve business performance and contribute to corporate goals and strategic intent
Anticipates operational, program, and implementation issues and develops preventative measures
Presents facts and information to negotiate mutually acceptable solutions. Adapts communication techniques for audiences at multiple internal and external levels
Works across the organization to effectively obtain and allocate resources to complete programs and projects on time
Contributes to the area through delivery of end results and contribution to planning for the area
Provides input on processes, procedures, or new approaches
10+ years of relevant experience in project management or equivalent combination of education and work experience
Computer Science, System Analysis or similar technical degree
Strong analytical and complex problem solving skills
Ability to work independently and/or as part of a team
Ability to coach, motivate and guide less experience team members
Leadership and team development
Excellent organization and prioritization skills
IVR IT Project Manager Resume Examples & Samples
Lead teams of developers in the delivery of high-quality software solutions that meet business needs
Create detailed project design documents and task-level project plans to organize cross-functional teams
Bachelor's Degree in Information Technology or Computer Science or 5 years of equivalent experience related to the role
Prior experience in Project Management
Listens and communicates with respect, and builds trusting relationships
IT background
Working knowledge of Office Products including Visio, Project, and SharePoint
IVR experience very nice to have; or strong desire to learn IVR
Knowledge of Agile Methodologies
IT Project Manager Resume Examples & Samples
Create and execute project plans, revise as appropriate to meet changing requirements and priorities
Coordinate, track and manage the day-to-day activities of teammates without limiting himself to get the advancement but also by identifying potential issues, understand them, identify & follow an action plan to fix them
Manage and implement processes and procedures that ensure a consistent, high quality and timely delivery of projects
Run meetings, record notes, and keep personnel focused on priorities
Communicate project status to management, peers and other project stakeholders
Coordinate changes with stakeholders, including proper communication and approval for all changes
Coordinate relations with vendors and third parties
Suggests system improvements and offers alternative solutions to the different problems that may appear
Accompany teammates when they are facing a difficulty to understand and/or to apply properly a given process
IT Project Manager Resume Examples & Samples
Managing the project and the team, i.e. planning allocated resources, shaping priorities, coordinating interactions with customers and users
Managing relationship with all project stakeholders and coordinating regularly concerning requirements, project plan and reporting
Ensuring an efficient project governance – roles and responsibilities
Providing the project plan and updating it as needed (deadlines, milestones, delivery, requested and planned resources etc.) as well as other program/project governance related documentation
Supporting the adoption of both the program and the project lifecycle and deliverables
Providing efficient and effective reporting to the program manager
Establishing a set of best practices that ensure the integrity and quality of project work products
Delivering the project on time, in the expected quality and within budget according to defined project contracts
IT Project Manager Resume Examples & Samples
10+ years of experience with systems engineering and integration, software development, or information technology
1+ years of experience with supporting intelligence community client and operations
1+ years of experience with program support and project management support
Experience with preparing software development documentation
Ability to communicate and coordinate with a diverse team in a fast-paced environment
Experience with supporting IT projects and clients within the intelligence community
Experience with Document and Media Exploitation (DOMEX) data standards
Ability to quickly analyze progress and data to make recommendations for improvement
Experience with creating and giving formal high-level briefings and developing high-level whitepapers
Ability to work independently as a broad logical thinker and planner
Possession of excellent leadership and analytical skills
IT Project Manager Resume Examples & Samples
4+ years of IT project planning and management experience
Experience utilizing a structured project management methodology and tools
Experience project management tools including MS Project
IT Project Manager, Wcs Resume Examples & Samples
Utilizes quality discipline to manage new application development projects through complete project lifecycles, ensuring solutions and deliverables are compliant with controllership audit standards
Coordinate and monitor development efforts for all projects
Determine and implement alternative approaches and optimal solutions to business issues
Assess all projects after completion for positive and negative factors, develop improvement plans to implement on future projects
Bachelor degree in in Business Studies, Information Technology, Management Systems or similar analytical field by experience
3 years' experience with systems implementations and/or IT project execution
3 years' experience managing cross functional projects with various stakeholders
Operational knowledge of the financial/AR modules of ERP systems such as Oracle or SAP
Experience within a Financial Services company, ideally within an AR Management or shared services environment
Proven project management, analytical and process oriented skills with a clear sense of urgency and initiative, especially familiarity with Agile methodologies
Intense attention to details, while maintaining an accurate, results-oriented mentality
An ability to work in a high pressure and fast paced environment
Proven ability to leverage support within a Matrix environment
IT Project Manager Shared Services Resume Examples & Samples
Responsible for assembling project plans and teamwork assignments, directing and monitoring work efforts of the project team on a daily basis. This includes providing feedback on the performance of all internal resources to their respective Mgr. and/or Director; and providing feedback on the performance of all external resources to the appropriate IT leadership member (at Mgr. or Director Levels)
Interact with the business (users) to understand their needs and to anticipate ways in which technological solutions can enhance the business processes. Responsible for communicating and/or reporting the status of all projects to senior IT leadership, as well as the business. The communication with the business (users) will include helping them understand the impact of the solution, the project's timeline and expected functionality
Tracks and reports key project milestones and adjust project plans and/or resources to meet the needs of the customers/business (users)
Coordinates the communication to all project stakeholders with regards to the scope, budget, risk and resources of the work effort s/he manages
Ensures that all functional deployment deliverables are within accepted department standards and procedures
Responsible for the communications of critical issue tracking and assembling impacted teams for resolution
Responsible for the overseeing technical support in areas of middleware products
Bachelor's degree in Computer Science, Information Systems, Business Administration, or other related field, OR, equivalent work experience
5 to 7 years of related IT project applications experience, including technical project lead experience
Experienced professional in developing and leading execution of Project Plans in a fast-paced, technical environment
Must be able to take high-level directives and lead the effort of developing start-to-finish project plans based on internal project management framework & lifecycle processes
Experience gathering technical requirements and change management
Experience working on and leading cross-functional projects
Experience working with and leading project resources not under direct control (both external and internal)
Experience in leading the delivery of products from design & development teams to internal or external production teams
Strong communication skills, verbal and written
Strong project management experience and skill set inclusive of the following areas scope management, schedule development and management, risk management, issue management, change management, communication management, cost management and quality management
Experience in leading technical infrastructure projects and technical teams inclusive of middleware products
Knowledge and project management experience in the areas of Middleware products such as: JBoss/Websphere, EDI, Secure File Transfer, Webseal, Microsoft Office 2013/2010, Project 2007, SharePoint Online 2013, Project Management Frameworks and Single Sign-On
Junior IT Project Manager Resume Examples & Samples
Managing scope, schedule, resources, dependencies and budget for the projects
Identifying and managing stakeholders, evaluating their interests and establishing effective communication channels
Driving delivery of plan by clearly communicating expectations to team members
Delivering status reporting to stakeholders covering progress to plan, risks and issues
Managing project issues/actions log and ensuring project documentation is appropriately completed and posted in required tools and document repositories
Supporting management of project governance (Steering Committees, Working Groups, etc.) through coordination/ preparation of content, facilitation of meetings, and documentation of outcomes
IT Project Manager Resume Examples & Samples
This IT Project Manager will interface with IT and Business Leadership to ensure initiatives align with overall IT objectives/requirements and meet Synchrony Financial quality standards
Responsible for managing IT conversion and currency projects and/or application tasks within a business project; acts as single-point of accountability and escalation for overall support activities, including problem, change, incident management, and project issues
Manage a geographically dispersed team of onshore and offshore IT resources to complete all aspects of the project, including, but not limited to, estimation, planning, requirements, design, build, test, and migration
Responsible for following standard Synchrony Financial PMO/SDLC processes and budgetary
Responsible for defining project approach, effort, scope, schedule, team member roles and expectations to ensure that resources are used efficiently and meet project plan objectives
Ensure high degree of customer satisfaction and resolution on issues that present operational risk and impact to customers
Coordinate efforts of users, vendors and other team leads to determine root cause of issues and lead the escalation process for resolution
Drives all phases of IT Project Development cycle across business, technology and professional services teams providing operating rhythm that will meet Synchrony Financial and regulatory expectations
Work with business and IT teams to develop test strategy and plan test scripts and cases and end use acceptance testing
Bachelor's degree and minimum of 2 years of IT experience or 2) In lieu of degree, HS diploma and minimum of 4 years of IT or Finance experience
Minimum of 3 years of project management experience working with businesses on complex application based projects acting as a liaison between developers and the business stakeholders/management in financial services industry
Experience working with onshore/offshore resources in multiple locations
Hands-on experience managing projects supporting finance, tax or treasury functions
Working knowledge of programming languages, database systems, system architecture, custom or packaged business systems
Demonstrated decision making and problem solving skills
Strong oral and written communication skills, as well as the ability to manage expectations of the business, team members, management and external groups
Proven ability to apply technology to solve business problems
Desire to work in a dynamic, fast paced environment
Self-motivated and able to work independently or in a team
Intermediate to advanced MS Project, PowerPoint and Excel
Wmla Ahs IT Project Manager Resume Examples & Samples
3 - 5 years' experience with Financial service industry (preferably using BI Tools)
Ability to successfully manage relationships with business/technology representatives and vendors
Technology background, experience using Datawarehouse Tools: Business Objects, SAS, Cognos and SQL Server
Strong SQL programming knowledge
IT Project Manager Resume Examples & Samples
5+ years of experience as an IT Project Manager leading project teams on complex software development and implementation projects in a web based environment
Proficient in using Microsoft Office applications to include including MS Outlook, MS Word, MS Excel, MS PowerPoint and Adobe Acrobat
Training within a development environment following government guidelines for Web Accessibility & Usability or Section 508 Compliance
Previous experience supporting software development efforts and federal agencies
IT Project Manager Resume Examples & Samples
Promotes a mindset for sustained success, growth and diversity
Spearheads and guides people through changes
Develops self
Emeia Finance IT Project Manager Resume Examples & Samples
Work closely with multiple work-stream leads and SMEs in identifying and managing interdependencies – in meeting or workshop mode
Plan, execute, monitor & control initiatives or projects and take it to successful closure
Manage project finance and report using various productivity tools like MS Excel
Coordinate and setup meetings within and across work-streams, prepare and distribute meeting minutes, and track and report on action items
Perform project resourcing – including booking, levelling, reporting and release
Identify, Manage and Report risks and issues in the project
Analyse and effectively manage stakeholder expectations
Analyse and redefine client's business processes from project delivery perspective
Accountable for project deliverables and managing the project team
Manage customer relationship and expectations
Develop and present proposals in response to RFPs for new opportunities
Identify best practices and suggest improvements in the defined project management processes
IT Project Manager Resume Examples & Samples
Provide day to day project management duties (including but not limited to: present reports defining project progress, issues and solutions; track project deliverables; coordinating project staff including on site resources and outsourced resources)
Plan and manage projects using standard project management process and Agile principles
Brings experts together; drives executive decisions and achieves results across a diverse set of stakeholders
Coordinate and facilitate meetings with international participants
Suggest process improvements
Group IT Project Manager Resume Examples & Samples
You provide in-depth technical expertise in IT for the purpose of corporate / Business Units IT architecture optimization and consolidation (IT architecture, networks, configurations, e-mails and communication applications, storage, cloud solutions)
You recommend group wide solutions based on current baseline, technical opportunities, business requirements
You assist Business Units in the design and set-up of strategic migration programs
You lead projects from the pre-study phase through to delivery, meeting time, quality and budget targets. You assess risks, assure reports to the steering committees, and manage the internal / external resources allocated to the related projects
IT Project Manager Resume Examples & Samples
Bachelor's Degree in Information Technology or Computer Science, or equivalent experience
Working knowledge of IT systems, relational databases, and the system development life cycle
Preventive Maintenance Program and/or Six Sigma certification
Prior experience in the health solutions industry, especially billing, enrollment or financial systems
Principal IT Project Manager Resume Examples & Samples
Release Planning including the creation and maintenance of a rolling 12month release schedule and associated milestones
Plan of Record Reporting which includes Budget responsibilities and communicating status to project teams and wider stakeholders
Release Preparation Communication with Customers
Coordination of Pre-CVT Release Testing (JIRA Issues)
Coordination of Customer Validation Testing (CVT)
Coordination and readiness of Deployment / Activation
Process Improvement Initiatives (Lessons Learned)
Post Release Support (Emergency Fix, Freeze, Patch) and retrospective
IT Project Manager Resume Examples & Samples
Drives completion of all required deliverables and maintains audit trails and project documentation
Creates and maintains project management artifacts such as schedule, resource and cost forecast
Actively identifies and manages project risks, mitigation, issues and actions through resolution
Provides project status updates as required, for different audiences
Manages all stakeholder communications
Collaborates with core teams and execution teams to identify areas that require special attention or escalations to identify corrective actions
Promotes good project management practices through leading by example, and maintains a constant learning state for continual growth of individual competencies
8-15 years of progressive experience with managing projects or operational delivery
Recent and deep experience in a technical or engineering industry
Excellent communication skills (verbal and written) with the ability to communicate complex topics across a wide variety of audiences
Action and results-orientation with the ability to make decisions quickly
Experience managing projects using waterfall, iterative or agile approach
High level of proficiency in MS office (Word, Excel, PowerPoint, Visio and Project) and SharePoint
Infrastructure, information security and/or ITIL certified is a plus
Experience with a PPM tool such as CA Clarity is a plus
PMP highly desirable
IT Project Manager Resume Examples & Samples
Be responsible for managing and executing project or program delivery for technology. The objective of this role is to ensure that all assigned projects (TRs) are managed within budget, scope and timelines
Delivery and execution of all assigned projects and programs, which will include major activities of complexity and criticality to our business partners forming a large-sized portfolio (i.e. relative to size of Peers' portfolios)
Coordination and matrix management of delivery partners to achieve migrations and project activity in a coordinated and controlled manner
Leading initiatives re process development in the areas of quality control, standards, working practices and continuous improvement with adherence to and compliance standards
Proficiency with multiple technologies and delivery of projects/programs that encompass these technologies
Extensive exposure to and interaction with senior business partners within the franchise
Close relationships with colleagues and businesses
Exposure to a vast range of technology
Flexcube and other regional applications know-how is preferred
Will have managed multiple technology programs with a proven track record of delivery
Exceptional proven Financial and Risk Management experience
Solid understanding of technology
Solid understanding of business process and operations
Solid understanding of application development would be beneficial, but not essential
Strong leadership, planning and financial management skills within the project context
Strong influencing, communication (verbal and written) and presentation skills
Strong MS Office skills are essential
Working knowledge of Project Tools an advantage
Project Management Institute (PMI) certification (PMP or CAPM) is preferred
IT Project Manager Resume Examples & Samples
5-7 years experience in Consulting or other Project Management role
Excellent financial product knowledge
Proficient with MS PowerPoint, Project, and Visio
Excellent Financial Product knowledge
Strong documentation and workflow charting skills
Experience with Equities Technology
IT Project Manager Resume Examples & Samples
Successfully contributed to projects as a work package leader
RBC Project Management Excellence Program in progress
Project Plan development & management (D)
Work breakdown structure (P)
Task based plans (P)
Assumption & risk based plans (D)
Base-lining & scheduling (P)
Scheduling methodology (CPM, GERT, PERT) (P)
Waterfall and iterative methodologies (D)
Project metrics gathering (D)
Project metrics reporting (D)
Project metrics analysis (D)
Project metrics trend analysis & education (B)
Project metrics creation (B)
Program Plan and metrics (B)
Program governance (B)
Meta Model creation (B)
Risk Assessment & quantification methodologies (D)
Issues escalation & resolution (D)
Facilitation Skills (D)
Scope change management (D)
Cost/benefit Analysis & alternatives identification (D)
Budgeting, project costs management (D)
Quality Controls (D)
Procurement (D)
Communication management & Plans (D)
Knowledge of relevant technology (D)
Knowledge of IT Standards, Methodologies, CMM, & audit requirements (P)
General knowledge of factors affecting business (D)
BU Specific Strategies & critical success factors (D)
Trends in the marketplace/technology (D)
RBC HR philosophy, principles, direction, policies & guidelines (D)
Talent Management process (recruitment/selection, performance management, performance development/coaching, reward/recognition) (P)
Workforce planning (D)
Job Design (D)
Organizational Design (B)
IT Project Manager Resume Examples & Samples
Work in collaboration with HR to design, build and deliver strategic IT solutions, Have overall responsibility for the delivery of an HR business process modelling (BPM) tool, Gain exposure and contribute to the transition to the GTEC "Target Operating Model" (TOM) model
Contribution to business case formulation (costs, business benefits, NPV, payback)
Generation and management of project plans (inc. of issue, risk, dependency and assumption mgt.)
Providing guidance, direction and leadership to the project team, getting involved in the detail where required as well as Project reporting (status reports and key KPIs)
Budget and resource management
Experience with implementing custom development and/or 3rd party vendor IT packaged solutions across analysis, design, build/UT, testing, training and post production support and Hands-on experience with analysis, design and development of business critical applications as well as working knowledge of relational databases (e.g. SQL scripts), web development (e.g..Net), reporting (e.g. Business Objects), security, IT infrastructure (e.g. knowledge of concepts for backup, disaster recovery, reliability, scalability, availability, performance) and understanding of n-tier architectures and their components
Knowledge and utilisation of standard IT development methodologies, e.g. waterfall, RAD, Agile etc as well as experience with maintenance and support of IT applications in a production environment
IT Project Manager Resume Examples & Samples
Work in collaboration with HR to design, build and deliver strategic IT solutions
Have overall responsibility for the delivery of a new Global Learning Management System
Gain exposure and contribute to the transition to the GTEC "Target Operating Model" (TOM) model
Providing guidance, direction and leadership to the project team, getting involved in the detail where required
Project reporting (status reports and key KPIs)
Experience with implementing custom development and/or 3rd party vendor IT packaged solutions across analysis, design, build/UT, testing, training and post production support
Hands-on experience with analysis, design and development of business critical applications
Working knowledge of relational databases (e.g. SQL scripts), web development (e.g..Net), reporting (e.g. Business Objects), security, IT infrastructure (e.g. knowledge of concepts for backup, disaster recovery, reliability, scalability, availability, performance) and understanding of n-tier architectures and their components
Knowledge and utilisation of standard IT development methodologies, e.g. waterfall, RAD, Agile etc
Experience with maintenance and support of IT applications in a production environment
Knowledge of working with HR clients ideally in the financial services sector, specifically in the area of operations
Knowledge and experience working on HR systems, but specifically SaaS Learning Management Solutions, e.g. SABA, Cornerstone, Taleo Learn etc
Taking the above knowledge and applying it to F-2-B business processes to document and drive out automated solutions, which deliver efficiencies and cost reductions
IT Project Manager Resume Examples & Samples
Oversee full life cycle web solutions and software development projects for a wide variety of high profile clients, including DoD and Child and Youth Programs existing customers
Oversee each projects' entire development cycle, which includes planning, construction, testing, and deployment activities. This includes establishing and controlling fixed back-to-back iterations in which system-level concepts, requirements, and design are translated into detailed requirements, design elements, and code, and which are subject to multiple levels of testing, integration, and acceptance prior to release and deployment
Identify system needs, forecast system requirements, and provide recommendations and priorities for improvements and alternatives
Provide technical guidance to client mangers and staff to ensure appropriate resources, communication and processes are in place
Assist clients and staff in performing Hybrid Agile Product Owner and Agile Scrum Master duties, stepping in when needed to ensure delivery
Oversee user acceptance testing and production support issue resolution
Participate in the Change Management Board (CMB) and monitor program/system owner compliance with the Change Management Plan and Charter
Review and analyze key performance indicators (e.g., network performance, server performance, site capacity, authentication failures, errors, page load times, outages, and trends), identifying potential concerns, providing recommendations for resolution, and coordinating with contractors and hosting center personnel to oversee implementation of recommended strategies
At least three years client-focused experience in the Federal Child Care, Youth Programs, and/or Human Services verticals
Experience with DoD Certification and Accreditation processes
IT Project Manager, End User Computing Resume Examples & Samples
Develop and deliver end-user computing solutions to transform, migrate, remediate and deploy workplace technologies, such as desktops, laptops, tablets, smart phones, point-of-sale (POS) and other devices
Assist in vendor relationship management, including contract and budget analysis, resource management and augmentation, SOP definition, and SLA and metrics review
Ensure that service expectations are properly met, effectively communicate to IT managers on business needs and assist End User Services planning initiatives to support projects
Develop and maintain value driven business relationships through effective needs analysis, project management, customer service and problem resolution
Assist with defining client hardware and software standards and implementing new technology initiatives to enhance the end user experience and optimize enterprise collaboration and sharing
Manage communications between the End User Services team & the business consumers
Bachelor's degree and a minimum 2 years of IT experience OR High School Diploma/GED and minimum 4 years of IT experience
Minimum 2 years of Project Management experience delivering complex initiatives and processes
Minimum 2 years technical experience and proficiency in one or more of end user services & tools to include eMail (MS Exchange), Sharepoint, Mobility (iOS, Android, MS EAS), Directory Services (eg., LDAP and/or MS AD), Instant Messaging, Web Conferencing, Voice & Video technologies
Minimum 1 year of experience in one or more network & networking technologies related to Collaboration tools & services including local & wide area networks, wireless networks, Internet cloud based services, authentication & security related mechanisms, network routing concepts
Broad understanding of IT infrastructure design, improvement and support
Proven management experience within a dynamic and challenging IT environment
Organizational and analytical skills and ability to navigate complex issues, and align with department strategic goals
Strong business acumen & successful track record in aligning IT capabilities to business objectives
Self-motivated, flexible and highly resourceful
Strong verbal & written communication skills, with demonstrated experience in addressing all levels of the organization
Ability to prioritize and meet multiple aggressive project deadlines
IT Project Manager Resume Examples & Samples
Process improvement and updates to project process documentation
Develop and maintain an effort driven, resource balanced project schedule
Ability to communicate and work effectively with business and IT teams
Superior written and verbal communication skills are essential
Excellent time management and priority management skills
IT Project Manager Resume Examples & Samples
Working in small project teams
Working directly with developers
End to end delivery of projects
Agile delivery
Broad experience across IT projects
ERP / CRM / Online / Cloud
Implementation and integration experience
Jira/Confluence
Resource leadership
Build internal and external relationships quickly
IT Project Manager Resume Examples & Samples
Responsible, to the Programme Manager, for all project deliveries to plan, on budget and quality agreed whilst ensuring effective change control against such
Responsible for ensuring with the Programme Manager that a realistic plan is maintained that enables delivery of the expected business benefits
Responsible for project progress and initiates corrective action where necessary
Monitors and reports progress against plan and budget to the Programme Manager
Responsible for ensuring regular project progress and reporting meetings with project staff
Responsible for ensuring that implementation and operations plans are produced and available
Manage multi-stream projects through full SDLC
Effectively applies WATERFALL, Iteration or AGILE methodology as appropriate and enforces project standards
Prepares for engagement reviews and quality assurance procedures
Minimizes exposure and risk on project, acting proactively to address potential issues
Improving processes to optimize performance and value over time
IT Project Manager Resume Examples & Samples
Organize, lead, and manage business application projects including planning, budget and resource management, requirements gathering, process design, solution design, development, and implementation
Develop peer, cross-functional and divisional business relationships to leverage best practices, maximize solution quality, and ensure successful implementations
Work closely with IT leadership to develop system solutions to meet business integration and scalability requirements
Develop communication plan for project timelines and change management activities related to ALC Factory projects
Support ongoing operations to ensure helpdesk metrics are within acceptable tolerances
ERP applications experience a must. (Fourth Shift, MSD SL, Lawson, SAP)
Facilities
IT Project Manager Resume Examples & Samples
ERP applications knowledge. (Fourth Shift, MSD SL, Lawson, SAP)
Familiarity with field service organizations and business process flow
Familiarity with technical devices within a field service organization
IT Project Manager Resume Examples & Samples
Assessing the gaps between the current IT Application Architecture and the agreed vision
Identifying a high level road map to bridge the identified gaps
Liaising with numerous stakeholders externally and internally to coordinate requirements gathering
Document requirements on a Request for Tender in conjunction with subject matter experts
Ensure all appropriate documentation is in place
Develop project plan
Work with external stakeholders to develop interfaces and collect data
Manage project governance, communications and reporting
Management of the project end to end
Management of key stakeholders required for the success of the project
Manage budget, risks and issues timely and effectively
Third level qualification, preferably a business/IT focused qualification
Project Management Professional Certification is advantageous
ITIL/ COBIT or similar certification to manager level is advantageous
Business and systems integration experience
Minimum ten years experience in an IT project management role
Deep understanding of the IT project delivery disciplines, processes, concepts and best practices
Proven track record in developing successful business cases with emphasis on benefit realisation and tracking
Extensive problem solving skills developed in a complex multi-site environment
Proven track record in identifying potential benefits and business value in the adoption of new and emerging technologies
Customer-focused approach to delivering projects and programme to internal customers
IT Project Manager Resume Examples & Samples
Must have experience working in an Agile Environment (3+ years)
Extensive knowledge of Project and Software Development Lifecycle Methodologies, including Waterfall and Agile
Good understanding of IT infrastructure technologies
Good understanding of application development technologies using Client/Server, web-enabled and distributed applications
Proficient in IT structured analysis methodologies, including process flow definition
Entertainment industry experience preferred
IT Project Manager Resume Examples & Samples
Understanding and experience operating within Agile/ Scrum mythologies
Demonstrates commitment to quality through knowledge of its precepts, skillful workplace applications and continuous organizational improvement
Actively participates in and encourages others to utilize creative and innovative approaches to accomplish tasks
Develops and maintains complex project burn ups and sprint velocity reports
Motivates and drives accountability from all project team members
Identifies interdependencies in programs and serves as the go to person for project management
Leads project management process improvement efforts
Demonstrates broad understanding of Garmin's business model including Engineering, Operations, Finance, Sales & Marketing
Serves as a mentor to less experienced Project Analysts (Project Analyst 1 & 2)
Consistently looks at the opportunity in all change
Gives and receives feedback in a constructive manner
Resolves conflicts with little assistance
Demonstrated experience in successful implementation of technology solutions
MUST have experience with Web/Internet related projects
Experience working with at least 3 projects at one time; ideally up to 5
Solid understanding of Web Services
Experience working in an agile experience
Managing global projects
Working with enterprise level solutions
Ability to drive issues and resolutions
It-project Manager, Data Center Resume Examples & Samples
Experience managing multiple cross-functional projects concurrently
Ability to lead people as project manager
High level understanding of virtual server technologies, SAN, Networks, Unix and windows
Knowledge of Microsoft Office, Project 2007, SharePoint, Project Management Frameworks
Good working skills with MS Excel and MS PowerPoint
IT Project Manager Resume Examples & Samples
DAIC Project Management Framework - Manages end-to-end network infrastructure delivery life-cycle including the collection and translation of business requirements to enable technical execution of network programs and projects
Rigorously manages scope to ensure agreed/approved/appropriate value is delivered and commitments are achieved within time, cost, and quality parameters
Manages financial estimates, forecasts, monitoring, reporting for network programs and projects
Responsible for communicating project status across delivery teams, senior leaders, and cross-functional stakeholder
ITSM, Clarity NEXUS, full Microsoft suite of applications
IT Project Manager Resume Examples & Samples
Execute and deliver infrastructure projects and programs in a matrix environment
Coordinate with CTI work streams and business partners to achieve project objectives
Define project or program schedules and plans and socialize with project stakeholders
Juggle and prioritize multiple deliverables across multiple projects simultaneously
Maintain and track project financials against budget, and occasionally coordinate funding approval
Lead project meetings via agendas, publish meeting notes and track action items
Manage Stakeholder communications including status reporting
Issue management and escalation
Team building
5+ years' experience in project management during which a structured approach (methodology) was applied to project planning, estimating, monitoring and reporting through the full project lifecycle, from initiation through closure
Management of multiple technology projects simultaneously with a proven track record of delivery and implementing change
8+ years of overall experience in IT infrastructure / data center
Program management experience desired, but not required
Experience in managing large globally distributed project teams who are not reporting directly and are associated with the PM for the purpose of the project only
Experience with enterprise program and project management tools preferred
Proven project financial and risk management experience
Understanding of Application development beneficial, but not essential
Experience working remotely or for a remote manager
Experience working in a medium to large-scale corporation
Ability to multi-task and manage multiple projects simultaneously
Strong influencing, facilitation and partnering skills
Negotiation and conflict management skills
Ability to mange virtual teams
Bachelor's degree or equivalent experience in IT or business
IT Project Manager Resume Examples & Samples
Lead teams of game partners, system administrators and architects on concurrent projects
Identify and plan long and short term GNS Online Projects priorities, objectives and requirements for the Americas Region
Responsible for management of project activities to meet project scope, budget and schedule success criteria
Identify, challenge, and consolidate the needs of game partners and validate project deliverables
Contribute in the elaboration of departmental budget forecasts
Track project KPI's, escalate variances as necessary and own project management deliverables (e.g. schedule, budget, project documentation archive, purchase plans)
Define project communication plans and execute accordingly (e.g. steering committees, project status reports)
Maintain positive, trusting relationships with game partners to understand and plan for future projects
Collaborate effectively with GNS resources in other regions and domains
Solid, practical knowledge of project management techniques including Waterfall, Scrum and Kanban
Excellent management and leadership skills
Demonstrated understanding of budgeting, scheduling and change management processes
Excellent written and verbal communication skills; ability to clearly and concisely deliver messages via presentations to both junior and executive level staff
Self-motivated problem-solver
Strong personal time-management skills and attention to detail; capable of tracking, managing, and resolving many issues efficiently
Project Management training/certification (i.e. PMP, CSM, Prince2) is preferred
Minimum of 5 years of experience in a project management position
Ability to demonstrate a track record of managing increasingly complex projects throughout career
Solid knowledge of common project management and collaboration tools (e.g. MS Office, MS Project, Jira, Confluence)
Bachelor's Degree in Computer Information Systems, Computer Science, Mathematics or a related field is an asset
IT Project Manager Resume Examples & Samples
Direct and manage complete life-cycle of projects including the planning, design, programming, testing, and implementation of business solutions designed to meet requirements of various departments in the company
Ensure delivery of project objectives within prescribed timeframe and budget
Identify and manage project dependencies and critical path items
Develop and deliver progress reports
Facilitate status meetings with project stakeholders
Manage resource capacity to align with on-going project initiatives
Help develop training materials as needed for the rollout of new business processes
Be responsible for overall coordination of user acceptance testing and training
IT Project Manager, BB Applications Resume Examples & Samples
Responsible for leading the implementation and roll-out of Oracle B2B solution in US in Q3 2015 and subsequently to other regions
Overall project management including defining and managing project plan, coordination and driving the execution of project tasks, communication to project team, key business stakeholders as well as Steering board members on regular basis
Perform account management with key business owners for Business/IT strategy alignment
Manage Demand management for his/her area
Capture business requirements and address support needs
Responsible for the sourcing and integration of 3rd party applications
Works in teams consisting of business, IT, and contract resources on projects delivering web applications
Maintains relationships with IT counterparts at business partners and third party providers as required to support and maintain TMaG systems and integration with partner systems
Collects requests for new technologies, formulates solutions, estimates effort and budget, and develops business cases to support change
Stays abreast of latest web technologies in area of expertise, makes recommendations on future direction, and disseminates relevant information to others in the department
Assists in developing applications architecture and strategy for TMaG and its relation to the overall company business plan IT strategy
Manages contractors, consultants, and outsourced teams in the delivery of information technology support and change
Assists in negotiating contracts, support agreements, and other arrangements as it relates to IT applications he/she supports
Designs technology solutions to address business needs and balances trade-offs in cost and quality
Adheres to and leverages IT processes and methodologies in completing work and designing IT solutions
Participate and validate quality of documentation for business requirements, test plans, and support procedures
Works with manager to prioritize activities and reports progress and status of work as it relates to ongoing support and project related activities
Supports compilation of key metric data related to the systems he/she supports
Works on personal development through training, seeking out mentors, and works to strengthen and gain new skills
Minimum education: 4 year college degree (preferably in a technical field such as computer science, mathematics, or engineering)
Minimum 4 years of progressive work experience preferred in a related field (3 to 4 if post graduate work completed)
Ecommerce systems design and implementation
Software design and development
IT business application consulting
IT business applications support, maintenance, testing
4-5 years of project management experience
Implementation experience with one or more global ecommerce applications supporting med-large business
Strong comprehension of the systems development life cycle and data modeling
Experience with the following IT technologies preferred
IT Project Manager Resume Examples & Samples
Managing all aspects of an IT project, which includes project planning, execution, timing, quality, cost and early identification of potential issues
Ensuring requirements are effectively analyzed, assigned and efficiently delivered
Identify and manage stakeholders and clients, evaluate their interests and establish communication channels and collaboration
Ensuring compliance with principles and standards
Act as Subject Matter Expert for the assigned applications and projects
Minimum of a Bachelor's degree educated in a business or IT related field
Minimum 5 year experience as a IT Project or Program Manager for large scale and medium complex projects (approx. > 2-3 Mio CHF investment) with end-to-end project scope, preferably in global companies within the financial industry
Profound IT knowledge in financial service institutions with expertise in application development. Hands-on experience in multiple project roles is a plus
Sound financial services knowledge with deep understanding of business end-to-end processes
Experience in international organizations, fluent in English
PMI PMP certification
Dedication, agility, drive and commitment
IT Project Manager Financing & Clearing Resume Examples & Samples
Review Funding & Balance sheet & Collateral portfolios with business stakeholders and agree on priority
Manage project status, risks & dependencies across multiple IT platforms and systems and communicate the same to senior stakeholders and IT system teams
Project analysis & functional requirement capture across specific Funding & Balance sheet projects
Review and maintain financials reporting across portfolio
IT Project Manager, BB Applications Resume Examples & Samples
B2B, B2C ecommerce applications (Oracle i-Store and Endeca modules would be a plus)
Oracle ebs R12
Web Hosting
Digital media asset management
Legacy systems integration with web applications
Web publishing technologies
EMail Management
Experience or training in ITIL preferred
Ability to translate business needs into IT requirements and designs for IT solutions
Ideal candidate will demonstrate the following attributes
Strong leadership
Exceptional verbal/written communication skills
Excellent teamwork and team oriented spirit
Great Organizer
Determined to deliver as per agreed plan and budget
IT Project Manager Resume Examples & Samples
Support the acquisition and receivable system parameter build for new client implementations, rebranding and terminations for Payment Solutions and Care Credit revolving and installment credit card programs
Perform QA/validation of each system parameter builds as well as client terminations setups. Ensure all internal functional controls are followed, managed and documented
Lead all IT NCI wing to wing and testing procedures and execute in accordance with business compliance, regulatory guidelines and meet and/or exceed CTQ's
Provide cardholder plastic build design support to all Payment Solutions and Care Credit Plastic Product request including leading all issue monitoring and issue resolutions
Partner closely with cross functional business NCI Team to complete Client Requirements Documents (CRD) and other business requirements gathering, solution design, development, testing and implementation
Be able to take ownership, prioritize, meet deadlines and follow through on completion of assigned NCI project
Proactively manages and communicates project risks and issues
Provide support for internal and external SOX audit related to new client startups
This position can be based in a remote office
Bachelor's degree with 2 years of Financial Services experience OR in lieu of a degree, a High School Diploma/GED and 4 years of relevant Financial Services working experience
Minimum of 2 years Information Technology and project management experience
Minimum of 2 years of experience supporting Sales, Client Development and Marketing functional areas
Minimum 1 year of First Data PCF and DMM experience
Strong working knowledge of revolving and installment receivables and originations systems (Surveyor, Vision+)
Six Sigma or Lean Quality Certification
Financial Services or Retail Card Industry experience
Demonstrated experience working in a global, matrix corporate environment
Demonstrated leadership skills, detailed and results oriented
Entry Level IT Project Manager Resume Examples & Samples
Bachelor's degree in IT, MIS, CS, Project Management or General Management
2+ years IT infrastructure experience
3+ years experience with Microsoft office tools (Word, Excel) and good typing skills
Eagerness to learn the Ford ITO processes and have a continuous improvement mindset i.e. an open mind to change
Ability to effectively manage customer expectations
Ensure customer request are implemented with quality and use sound business judgment to accomplish the goal
Ability to communicate effectively with business users, management and IT professionals including globally distributed teams
Experience with quality assurance and quality control processes
Ability to utilize desktop tools to communicate (Instant Messaging, WebEx, Audio Conference etc.)
IT Project Manager Resume Examples & Samples
Ensuring changes and projects are aligned to our global str