SAP MM Consultant Resume Samples
SAP MM Consultant Resume Samples
4.5
(
58
votes) for
SAP MM Consultant Resume Samples
The Guide To Resume Tailoring
Guide the recruiter to the conclusion that you are the best candidate for the sap mm consultant job. It's actually very simple. Tailor your resume by picking relevant responsibilities from the examples below and then add your accomplishments. This way, you can position yourself in the best way to get hired.
Craft your perfect resume by picking job responsibilities written by professional recruiters
Tailor your resume & cover letter with wording that best fits for each job you apply
Resume Builder
Create a Resume in Minutes with Professional Resume Templates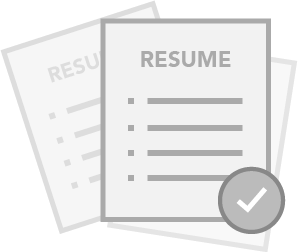 CHOOSE THE BEST TEMPLATE - Choose from 15 Leading Templates. No need to think about design details.
USE PRE-WRITTEN BULLET POINTS - Select from thousands of pre-written bullet points.
SAVE YOUR DOCUMENTS IN PDF FILES - Instantly download in PDF format or share a custom link.
662 Moore Mission
Chicago
IL
662 Moore Mission
Chicago
IL
Phone
p
+1 (555) 675 8893
SAP MM Consultant
Reichert Group
SAP MM Consultant
Configuring and testing the software
Designing robust business processes considering accepted industry practices
Supervising business architecture and process design activities
Analysing and assuring quality of the data collected
Preparing the client for deployment (communications, training)
Assisting in formulating the specific solutions to address prioritised gaps
Driving the development of functional and systems specifications
SAP MM Consultant
Koepp, Boyle and Huels
SAP MM Consultant
Supporting testing, training and change management work streams
Assisting in the development of capabilities and performance measurements/KPIs
Conducting Fit/Gap analysis and business /process modeling
Supervising business diagnosis and planning activities
Writing and maintaining necessary documentation
Defining testing and implementation activities for architectures, capabilities and processes
Developing and testing business processes, capabilities, and architectures
Senior SAP MM Consultant
Beier, Carter and Mills
present
Senior SAP MM Consultant
present
Provide leadership to junior systems analysts and client personnel assigned to projects
Develop and test (Unit Testing) based on design specifications
Assist users in UAT
Conduct knowledge transfer and training of end-users, including sharing best practices
Willingness to travel 100% on a weekly basis to client locations
Interact with customer business SME's and Users at different stages of engagement
Prepare module-wise activities in-line with the overall project plan
Bachelor's Degree in Information Technology
Bachelor's Degree in Information Technology
University of California, San Diego
Bachelor's Degree in Information Technology
Strong follow-through focused and detailed oriented
Professional approach and strong communication written and oral skills
Strong communication skills with the ability to communicate to all levels of the business
Strong in service operations; ability to interface and manage internal and external stakeholders
Knowledge of EDI (asset)
Knowledge of WM and IM
Knowledge of "best practices" built into the SAP software
Strong MM/SCM configuration skills in SAP versions 4.6C and above
Experience with other tools such as Remedy, HP Quality Center, HP Service Desk, SAP Solution Manager or similar is also
Strong interpersonal and negotiation skills; confident and credible working with VP level clients (senior positions)
Create a Resume

in Minutes
15 SAP MM Consultant resume templates
Read our complete resume writing guides
---
SAP MM Consultant Resume Examples & Samples
At least 2 years experience in SAP MM-IM,MM-WM and LE-TRA
At least 2 years experience in Experience with HUM in outbound process
At least 2 years experience in Experience in Interfaces with automatic warehouse system
At least 2 years experience in Experience in wholesale trading and pharma
Bulgarian: Fluent
SAP MM Consultant Resume Examples & Samples
Provides knowledge of technical products or families of technologies on small to medium-sized projects typically involving single product or single computer environments, where design is non-complex, to ensure client business needs are met
Analyzes customer business requirements and product objectives to develop and ensure that product application designs meet customer specifications
Estimates time frames and quality and quantity of resources required to implement projects; develops plans incorporating project variables to ensure that projects are completed in timely and cost effective manners
Conducts and provides periodic status checks with customers and teams to assess projects against plans; performs re-forecasts of project variables as necessary to maintain final product quality
Identifies and recommends products, technologies and vendors that meet the budgetary constraints of the project/program. Identifies potential uses for product and technologies, investigates and resolves matters of significance and designs strategies to ensure that product meets business needs
Works closely with and provides subject matter expertise to functional architects to ensure that product design and deployment meet client and company guidelines. Recommends specific product configurations to assist with product design and integration
Acts as a liaison between clients and company; provides insight and advice to customers concerning applicability of specific products/technologies. Selects, coordinates and implements technical product components, ensuring that solutions address business concerns
Bachelor's degree in software engineering, information systems, computer science, or related field preferred
Two or more years of experience in software development, technical support, or consulting
Experience working with the product development life cycle and business processes as they impact overall product plans
Experience working with client business and technological requirements and company software and hardware products and services
Experience working with technology architecture, mainframes, scheduling software, and other related technologies
Experience working with programming design, programming concepts, coding languages, development tools, processes, approaches and/or techniques
Communication skills to communicate with customers, support personnel and management
SAP MM Consultant Resume Examples & Samples
Responsible primarily for successful implementation or maintenance of SAP installations at international customers, including providing functional expertise, guidance, presentation, and instruction on SAP products to clients
German- advantage
SAP MM Functional and Configuration skills. At least 2-6 years hands-on experience
Integration on FI, SD
Knowledge of WM and IM
PP-PI (Process Integration)
Experience with ITIL processes, project life-cycles
Experience with other tools such as Remedy, HP Quality Center, HP Service Desk, SAP Solution Manager or similar is also a plus
Senior SAP MM Consultant Resume Examples & Samples
Apply strong knowledge of the business processes for developing and testing SAP functions associated with purchasing, inventory, storage, and materials resource planning, primarily for Process Industry clients
Facilitate blueprinting and design sessions and create functional requirements
Configure SAP MM systems to meet client business requirements, including connection points with FI, WM, SD, PP and other modules and implementation of SAP best practices
A minimum of five (5) years prior SAP MM consulting or equivalent industry experience
At least two (2) full lifecycle implementations as an SAP MM functional consultant
Senior SAP MM Consultant Resume Examples & Samples
Coordinate with client team leaders and business process owners in obtaining sufficient business process and organizational data to enable Cognizant team to provide solutions
Prepare module-wise activities in-line with the overall project plan
Prepare functional specification documents, unit test scripts
Monitor and review process team( MMIM WM ) activities
Provide inputs to the training and documentation deliverables
Train Key User(s)
Expert knowledge of SAP WM solutions
Candidate should be an expert in SAP Logistics Execution processes and should have a minimum of 5 years' experience in this area with demonstrated understanding of key processes including: Warehouse Management, Shipping, Transportation, SAP Warehouse Management in SAP ECC, IDOC processing and monitoring, knowledge of integration with Sales and Distribution, Materials Management and Production Planning
Hands on experience in ECC 6.0 MM,IM,WM Module
Multiple SAP implementations
SAP MM Consultant Resume Examples & Samples
Various activities including: mapping, design, configuration, requirement gathering, functional specifications drafting, user training, documentation, on-going maintenance, and enhancements
Apply expert knowledge of the SAP ERP system, especially regarding materials management (procurement, inventory, warehouse, suppliers)
Develop functionalities needed for business processes, training, support, and to evaluate software usage effectiveness; develop strategic plans to improve software usage; and improve business processes
Five years of functional or configuration experience in all MM-related areas
Ability to define and draft specifications, namely: configuration, user exit, custom program, and SAP reports and scripts
Experience in a team management role with process improvement mandate
Ability to configure, present, and discuss SAP MM best practices and functionalities
Ability to assume responsibility for all phases of an SAP MM implementation: project preparation, requirements gathering and analysis, business blueprint, implementation/configuration, Go-Live, post-production support, and end-user documentation and training as per delivery calendar
Understanding of integration points with other SAP modules: SAP SD, FI, PS
Knowledge of EDI (asset)
Experience in a consulting environment
Extensive knowledge of SAP R/3 integration points
Ability to find opportunities bringing added value to SAP's MM module
SAP MM Consultant Resume Examples & Samples
At least 5 years experience in SAP MM
Excellent configuration experience within the SAP MM module
At least 7 years experience in SAP MM
SAP MM Consultant Resume Examples & Samples
Provide 3rd level support,
Be part of the minor template enhancements for Manufacturing and Logistics processes and supporting project activities such as impact analysis, creation of functional designs and process maps, doing the necessary documentation,
Perform SAP support on demanding Service Desk tickets, manage OSS notes and re-train SAP users,
Fulfill other tasks if assigned by the superior(s),
Good and deep knowledge of Manufacturing and Logistics processes,
Evaluate business requirements, tax and legal requirements, operating principles and key design decisions together with business representatives that are in line with the SAP,
Template and key design decisions,
Ensure PMX Manufacturing and Logistics solutions are designed and managed in line with the PMX methodology,
Provide technical expertise to functional designs for reports and developments written by other team-members where required,
Manage SAP configuration with focus on the legal requirements,
Develop and/or maintain solution documentation related to Manufacturing and Logistics,
Co-ordinate testing scenarios
Degree in information technology or business economic (or equivalent in knowledge/experience),
Strong experience in SAP MM/WM/PP (active customizing),
Fluency in English,
Open for new challenges ,
Flexible and solid person who always delivers based on his commitment,
Bringing new innovations,
Takes ownership,
Quality and cost driven; experience in six-sigma and lean,
SAP MM Consultant Resume Examples & Samples
Build SAP CoE Procurement group implementing the new process enhancements, stabilization and improving the solution
Resource must have extensive knowledge on SAP MM module and expertise on SAP MM and FIN integration
Responsible for meeting business groups and key stake holders, gathering information regarding FCA business processes and existing solutions, design solutions using SAP (w/ SAP Ian's template as base)
In addition to writing WRICEF's, testing the solution during assembly, acceptance, and integration test phase, position requires coordinating development w/ IDC and testing w/ legacy
Requires a Bachelor's degree in Computer Science or related area and 5+ years of experience with SAP
Demonstrate excellent understanding of SAP/ABAP technical design, development, testing and implementation
Experience in testing during various phases such as system testing and integration testing
Good communication skills.  
SAP MM Consultant Resume Examples & Samples
Manage process and functional design activities
Bachelor and/or Higher in Business, Computer Science, Software Engineering, Computer Engineering or related fields
At lese 3 years working experience in SAP MM
Proven functional consulting experience with at least 2 system implementation projects
SAP MM Consultant Resume Examples & Samples
Have minimum 2 years SAP/MM functional experience
Skilled in implementation, customization and maintenance of SAP/MM module and related sub modules (MM-CBP; MM-EDI; MM-FT; MM-IS; MM-IV; MM-PUR; MM-WM)
Have advanced architectural knowledge of SAP
SAP MM Consultant Resume Examples & Samples
Minimum 4 years experience in SAP MM (Materials Management)
Minimum 1 year in at least one of the following: SAP PP, SAP IM, SAP WM, SAP PM
Minimum 1 year in project management
SAP IMG configuration experience
Experience with SAP interfaces to third party systems design, test, troubleshoot
SAP MM Consultant Resume Examples & Samples
Implementation of SAP solutions,
Tight cooperation with functional consultants,
Communication with clients in order to determine their needs in detail,
Experience in SAP MM,
3 full implementation project lifecycles completed,
Experience in logistic execution,
Interfacing with terminals (MM),
Experience in IT consulting in international teams,
Confident in front of demanding group of decision makers and able to recommend and defend proposed solutions,
Excellent interpersonal skills, computer and organizational skills,
Proven ability to work both independently and in a team environment,
Fluent in English and Polish,
SAP MM Consultant Resume Examples & Samples
Lead projects in MM logistics area
Understand business process & needs in logistics area
Analyze requirements and investigate feasibility
Minimum 6-8 years functional
Business requirement gathering for MM/Logistics projects
Expert on Logistics execution processes
Extensive RICEF (Reports, Interfaces, Conversions, Enhancements and forms) experience
Strong analytical and Independent handling
SAP MM Consultant Resume Examples & Samples
Supervising business diagnosis and planning activities
Analysing and assuring quality of the data collected
Assisting in formulating the specific solutions to address prioritised gaps
Supervising business architecture and process design activities
Assisting in the development of capabilities and performance measurements/KPIs
Supervising business architecture implementation activities
Developing and testing business processes, capabilities, and architectures
SAP MM Consultant Resume Examples & Samples
MM Organisational structure
Company Code
Plant
Purchasing Organisation
Storage Location
Purchasing Group
Purchasing Master Data
Material Master
Service Master
Info Records
Source lists
Data Migration
Purchasing processes
Purchase Requisition Process
RFQ/Quotation Process
Outline Agreement Process
Purchase Order Process
Setting Up release procedures including Workflow
Material Requirements process
Inventory Management processes
Goods Receipt process
Goods Issue process
Material Document Management
Physical Inventory
Logistics Invoice Verification process
Invoice process
Credit Note process
Reporting
Training Material Development and training delivery
MM integration with other modules
SAP MM Consultant Resume Examples & Samples
Strong leadership qualifications and experience
Strong interpersonal and negotiation skills; confident and credible working with VP level clients (senior positions)
Minimum 3 years SAP implementation project experience
Strong MM/SCM configuration skills in SAP versions 4.6C and above
Experience with the integration points between MM and other modules
Experience in RF, middleware and WM systems would be an asset
Knowledge of "best practices" built into the SAP software
Experience using the ASAP implementation methodology
Strong MM/SCM configuration skills in SAP versions 4.6C and above preferred
SAP MM Consultant Resume Examples & Samples
Support the end users and resolve their issues
Provide training to on-site and off-shore teams
Architect, design, and implement complex configuration management solutions
Develop innovative solutions and refines processes to improve service delivery
Provide technical leadership to team members
Develop technical documentation for both technical and non-technical audiences
Interface with customer and account based teams on projects
Interact with senior leadership and executives regarding projects
Utilize configuration management principles and best practices to effectively support development / support or testing requirements for configuration management systems
5+ years of experience implementing and supporting SAP MM
As a functional consultant, participated in at least 3 full lifecycle SAP implementations where you helped to coordinate gap analysis, business process development, gathered functional requirements, conducted training, testing, cutover, and go live activity
5+ years of Cross-Functional Integration experience with any of the following SAP Modules; SRM, WM, FI, CO, SD
2+ years of experience designing interfaces from SAP to non-SAP external systems
SAP MM Consultant Resume Examples & Samples
Provides advice to customers on all aspects of MM, PP, PM, SD and WM SAP Modules and proposes appropriate solutions
Analyzes customer's requirements and business processes and shows creativity in solving functional and technical problems
Customizes business processes including creation/update of documentation
Interacts with customers: extracting requirements, work planning, effort estimating
Conducts workshops with client and project team
Creates training and instruction material for key-users
Provides service delivery leadership for SAP services/projects
Deals with project managers, solution architects, technical leaders or work requestors providing necessary information and deliverables
SAP MM Consultant Resume Examples & Samples
Facilitating client process walkthroughs to understand business processes and alignment with solution functionality
Identifying how the Material Management solution can be best utilised to meet client requirements
Supporting testing, training and change management work streams
Responsibilities for candidates with relevant team leadership experience may also include
SAP MM Consultant Resume Examples & Samples
Conducting Fit/Gap analysis and business /process modeling
Gathering requirements from functional business owners
Assessing the business and application requirements
Designing robust business processes considering accepted industry practices
Configuring and testing the software
Driving the development of functional and systems specifications
Writing and maintaining necessary documentation
Actively performing knowledge transfer to client team members
Communicate and work with people of all levels in a team environment
Provide support to deployment as necessary