JavaScript Developer Resume Samples
JavaScript Developer Resume Samples
4.6
(
69
votes) for
JavaScript Developer Resume Samples
The Guide To Resume Tailoring
Guide the recruiter to the conclusion that you are the best candidate for the javascript developer job. It's actually very simple. Tailor your resume by picking relevant responsibilities from the examples below and then add your accomplishments. This way, you can position yourself in the best way to get hired.
Craft your perfect resume by picking job responsibilities written by professional recruiters
Tailor your resume & cover letter with wording that best fits for each job you apply
Resume Builder
Create a Resume in Minutes with Professional Resume Templates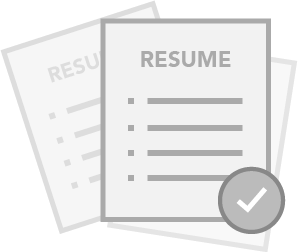 CHOOSE THE BEST TEMPLATE - Choose from 15 Leading Templates. No need to think about design details.
USE PRE-WRITTEN BULLET POINTS - Select from thousands of pre-written bullet points.
SAVE YOUR DOCUMENTS IN PDF FILES - Instantly download in PDF format or share a custom link.
23270 Goyette Rue
Houston
TX
23270 Goyette Rue
Houston
TX
Phone
p
+1 (555) 887 9954
JavaScript Developer
Bailey-Bernier
JavaScript Developer
Work with developers and designers to create a framework for the web-based mobile platform
Customizing IBM Case Manager solutions, developing widgets, external data services, or case manager API
Developing, documenting, and testing case management solutions using IBM Case Manager, IBM FileNet P8, and Java
Working with solution architects and other developers to design, develop, test, document and deploy applications and services as part of future projects
Contribute to business development and proposal work, developing client relationships at all levels
Responsible for people Management, including goal setting and providing performance feedback
Working in agile/scrum team and attending all the ceremonies and providing input into your work
Full Stack JavaScript Developer
Macejkovic Group
Full Stack JavaScript Developer
Work as part of a team as well as working autonomously
Contribute to improvements to the software development process
Deploying applications, monitoring their performance and maintaining them in production
Package Management – eg. Homebrew, dpkg-apt, NPM, Bower
Commitment to Test Driven Development in an agile environment
At least one Backend Server Framework – eg. Node.js, Express.js, Sails.js, Geddy.js
Create advanced use cases for more technical prospects that can be used for demos
Senior JavaScript Developer
Collins Group
present
Senior JavaScript Developer
present
Work closely with internal development, product management and design teams
Identifying ways to improve design and development processes
Work with the other members of the Web Team to design and develop exciting features for the Roambi product line
Work with micro-services teams on RESTful API designs - assist with future scripted API's and websocket investigations
To provide consultancy and be a sounding board for new ideas from the business and IT managers
Working within IG's Agile development environment, in a multi-disciplinary team with a product and feature based focus
Assisting in development of software technical documentation
Bachelor's Degree in Computer Science
Bachelor's Degree in Computer Science
The Ohio State University
Bachelor's Degree in Computer Science
Ability to understand and apply new knowledge quickly
Basic knowledge of image authoring tools, to be able to crop, resize, or perform small adjustments on an image
You are able to write great code from scratch using SOLID principles and are also competent in frameworks such as React, Express and Node
Good knowledge of XML/XSLT
Good communication skills: active listener, translates ideas effectively, works out mutually agreeable solution
Good to have working knowledge of JIRA too
Good to have knowledge of iOS Push notification behavior
Strong oral and written communication skills with the ability to communicate technical and non-technical concepts to peers
Good working knowledge of JavaScript toolkits such as JQuery, DOJO, Angular, ExtJS, YUI or KnockoutJS
Excellent knowledge of JavaScript and popular libraries and frameworks - eg. JQuery, Bootstrap, Highcharts, D3, Ember.js, React/Redux
Create a Resume

in Minutes
15 JavaScript Developer resume templates
Read our complete resume writing guides
---
Senior JavaScript Developer Resume Examples & Samples
Providing technical leadership and architectural guidance for design and implementation of software system enhancements
An understanding of the most common Object Oriented programming design patterns
Familiarity with JavaScript frameworks and experience with usage and implementation
Minimum 6 years of applications development work experience throughout the entire development lifecycle
Experience overseeing onshore junior team members (no direct management)
Client side JavaScript
CIB Technology Senior JavaScript Developer Resume Examples & Samples
Strong knowledge (3 years) of Object Oriented JavaScript (OOJS), JSON, HTML/HTML5 and CSS a MUST
Knowledge of cross-browser development, debugging and tuning
Experience building single page browser applications and how to performance tune/optimize them
Experience with charting, grid technologies and developing data intense Web 2.0 RIA systems
Ability for rapid prototyping and rapid application development (RAD)
Must be a self starter, team player and passionate about technology
Ability to multitask across various projects
Strong communications
JavaScript Developer Resume Examples & Samples
Extensive experience of responsive web application design for Internet Explorer version 8 (and higher), Google Chrome and Mozilla Firefox
Extensive experience with JavaScript and the use of libraries such as JQuery and angular.js to create data-driven web-based applications
Experience in the use of software versioning systems, such as GIT
Experience of using databases, the SQL language and the principles of data normalisation
Experience of web design within accessibility guidelines
Experience of server-side coding such as Node.js, PHP and ASP.Net
Experienced JavaScript Developer Resume Examples & Samples
Expert JavaScript skills including the ability to develop complex UI components
Experience in optimizing JavaScript code for performance
Object-oriented JavaScript
JavaScript testing frameworks such as Jasmine or Qunit
Desire to learn new technologies/concepts and find solutions
Excellent analytical, problem-solving, and communication skills
Ability to work in large groups and apply best software engineering practices throughout development life cycles
Familiarity with ecmascript6 features
Knowledge of Git
Knowledge of jQuery
Knowledge of V8
Senior JavaScript Developer Resume Examples & Samples
Writing great software adhering to agile software engineering practices (e.g., TDD, continuous integration, automated tests, etc.)
Collaborating with product owners, stakeholders and potentially globally distributed teams
Work with product owners / software architects on the high-level functional and technical designs
Design, development and unit testing of code
Peer review of team members code
This will involve interaction with other development teams around the world. Hours will generally be 9 to 5:30, but the applicant must be flexible in case the requirements of the project means they need to be available outside of these hours
Solid understanding of core computer science topics such as algorithms, data structures and computational complexity
Technical skills, knowledge and experience
Demonstrable ability to keep abreast of new technology and development practices
Capable of researching and diving into the unknown on your own as well as working through and discussing solutions with team members
Self-starter, can take direction and execute it effectively with a "can do" attitude
Ideally qualified to degree-level
Java / JavaScript Developer Resume Examples & Samples
Degree in computer science, computer/software engineering, or related discipline, or an equivalent combination of education and experience
Proven ability to write high quality readable code that is easily supportable and maintainable
Good experience with Java and the JDK
Solid web development skills with HTML, CSS, etc
Solid experience in Javascript, JSON, and Ajax, and knowledge of javascript framework such as JQuery, DOJO, etc
Experience with Java development frameworks such as Spring, Servlet and Hibernate, etc
Excellent knowledge of web-based technologies, XML processing, and modern application servers in a Java environment
Experience on mobile development such as iOS and Android is an asset
Knowledge and experience with Junit and other unit testing frameworks
Familiarity with build automation tool such as Maven
Familiarity with source control tool such as RTC
Understanding of software development methodologies and modern best practice
Proven ability to write technical design documents
Proven to be a good team player
Senior JavaScript Developer Resume Examples & Samples
Write thick client front-end code in Javascript, HTML, and CSS
Build new features and fix bugs
Write clean and maintainable code using engineering best practices (unit testing, source control, continuous integration, automation, design patterns, etc.)
Work with other software engineers, product managers, user experience designers, and operations engineers on a daily basis
Provide Fanatical support of all production software on which you currently work
BS in Computer Science or related field with 5+ years practical engineering experience in building large-scale web-based applications
Experience building applications with an object oriented Javascript framework (Google Closure, Backbone, Spine, etc)
Advanced knowledge of DOM manipulation (jQuery, Dojo, etc)
Ability to turn mocks from designers into the right HTML and CSS/LESS/SASS
Disciplined approach to testing and quality engineering (Jasmine, QUnit, YUITest, etc)
Experience with a server-side framework like Django, Node.js, or Rails
Experience with cross-browser compatibility and browser degradation strategies
Good sense of what is required for a great user interface and experience
Familiarity or experience with Service Oriented Architecture and RESTful web services
Familiarity or experience with Agile engineering practices (test driven development, continuous integration and pair programming, etc.)
Good understanding of web technologies (HTTP, Apache, MySQL, HTTP Proxies) and familiarity with UNIX/Linux
Senior JavaScript Developer Resume Examples & Samples
Solid understanding of the software development lifecycle and familiarity with modern Agile development methodologies (XP, Scrum, etc)
Excellent organization, communication and interpersonal skills
Excellent written and verbal English skills
A solid functional understanding of Coffeescript a huge plus
A love of Javascript unit testing and automation tools like Jasmine, Phantomjs, and Grunt
Javascript frameworks like Backbone, Angular, Ember, etc. are goto tools; but don't always need to replace native Javascript
Experience with Node.js a plus
Experience with Drupal a huge plus
Experience with MySQL a plus
Senior JavaScript Developer Resume Examples & Samples
Expert in JavaScript design pattern and structured JavaScript development
Expert in web standards based UI development using latest technologies e.g. HTML5, CSS3
Expert in popular MV*JavaScript libraries and frameworks e.g. Backbone, Knockout, Angular, Ember or similar
Expert in modular JavaScript development using require js (AMD)
Experience with GIT distributed version control
Experience with Node.js development and Node.js as a client build environment
Experience with JavaScript build environment eg. Grunt.js or Gulp
Experience developing reusable libraries in JavaScript
Familiarity with TypeScript and ES6 harmony
Experience using JavaScript test frameworks such as Mocha, Jasmine or jUnit
Experience using JavaScript data visualisation frameworks such as d3, Raphael or similar
Java / JavaScript Developer Resume Examples & Samples
At least 1-3 hands-on Java development experience
Experience with Web services technologies (XML, SOAP, XSD)
Relational database programming (JDBC, Hibernate)
UI development experience with at least one of the technologies (JS, GWT/GXT)
Detail-oriented and disciplined but with the ability to work on short deadlines on occasion
JavaScript Developer Resume Examples & Samples
Participate in the design of the web application
Implement various parts of the application using JavaScript and Perl/Python
Formulate and implement recommendations/solutions
Working knowledge HTML/Javascript/CSS
Experience developing with either Perl or Python
Junior Front End .NET & JavaScript Developer Resume Examples & Samples
Work in an agile environment using AngularJS and .NET frameworks
Build and maintain key web applications used by a global audience within Macquarie Capital
Ensure high quality of solutions
Ideally you'll have between 2-4 years' experience of developing web applications, although other applications will be considered - using .Net and JavaScript technologies
Experience with AngularJS and .NET frameworks are required
A tertiary education in technology preferable
Framework: AngularJS, Bootstrap, WebAPI (RESTful services)
Development methodologies and tools: JIRA, Stash, Confluence, TeamCity
Infrastructure: Windows Server
Html / JavaScript Developer Resume Examples & Samples
Excellent HTML/JavaScript skills
ExtJS or Dojo or similar JavaScript libraries
Application of OOP and other software engineering principles
Experience of node.js and HTML5 Canvas would be a distinct advantage
Ability to communicate clearly on technical matters in written reports as well as interpersonally with design groups and teams
Software test methods including unit testing and integration testing
Ability to stay positive under the pressure of changing priorities and task assignments
XML, XSLT, XSD
Embedded platforms (particularly serving web pages from them)
UX (user experience) design
Android and iOS development
Experience with digital television
CSS Theming and styling
Senior Full Stack JavaScript Developer Resume Examples & Samples
Guide development partners in conjunction with our engineering best practice standards to deliver projects
Day to day management of external (offshore) development teams
Initiate and manage Code Reviews
Work closely with the team to solve problems, transfer knowledge and develop overall product architecture, where required
Good knowledge of XML/XSLT
Good knowledge of process automation engineering such as GRUNT, YEOMAN or similar
Good knowledge of unit testing frameworks such as Testing JS, Jasmine, Mocha, Handlebar
Experience in e-Learning standards (e.g. SCORM, Common Cartridge, XAPI)
Experience in working with Learning Management Systems and integrating with platform-side APIs
Mobile development experience (iOS, Android and Windows)
JavaScript Developer Resume Examples & Samples
Advanced understanding of JavaScript
Experience with ExtJS development
Experience with Java development and databases
Web / JavaScript Developer Resume Examples & Samples
Undertake the delivery of software corrections, development, programming, maintenance and internal technical documentation according to the Advisory IT development, testing and support best practices
Assist business and support teams with data queries and ad hoc requests
Provide guidance and help to junior team members
Layout technical standards for the project including code standards, toolsets and quality
D3 or any other data visualisation frameworks (highly desirable)
Data Grids (highly desirable)
XML (desirable, not essential)
Experience of Apache/Tomcat (desirable, not essential)
JavaScript Developer Resume Examples & Samples
Have a personal interest in developing rich interactive web and mobile content to a sophisticated global client base
Demonstrate expertise in core Javascript frameworks such as JQuery, Angular, Node.js
Be constantly innovative and willing to learn new technology
Be a great team player
Be passionate about delivery
Demonstrate expertise in Javascript and OO programming
Proven expertise in some common Javascript frameworks such as Angular, JQuery and Bootstrap to demonstrate ability to adopt new frameworks as technologies evolve
Knowledge of JS unit testing frameworks
Knowledge of the HTML5 toolset and adapting to browser compatibility issues
Experience of IOS hybrid mobile development with HTML5
JavaScript Developer Resume Examples & Samples
Core JavaScript. You are seen as an expert developer in your current team
Experience with modern JavaScript frameworks (e.g., AngularJS, ReactJS, Ext JS)
Strong experience in designing scalable web architectures
Expert in Object Oriented design. You can easily create reusable GUI and server side components, and deliver robust APIs that other developers are happy to use
Thoroughly understand testing and documentation are integral to delivering high quality solutions
Good understanding of core computer science concepts, e.g., data-structures, algorithms, and you know how to practically apply them when necessary
Core Java. Experience with concurrency, Spring, CXF, and JPA/Hibernate
Experience and knowledge wider than the RIA space is a plus: Linux, dynamic languages, databases, networking, etc
No specific business knowledge is required, but a healthy interest in all of the Firm's lines of business is valuable in understanding and responding to the needs and priorities of the varied application development teams we work with
JavaScript Developer Resume Examples & Samples
Creation of python backend and javascript frontend components integrating with the firm's enterprise management systems
Assist with analysis of integrations with many firm systems and design effective replacements
Experience with developing in Javascript
Strong verbal and written English skills
Thorough knowledge of web/database applications
General understanding of Linux & Apache environments
Understanding and learning quickly, experience with problems
JavaScript Developer Resume Examples & Samples
5 years+ experience in Frontend development
Excellent JavaScript and HTML5 experience
Strong knowledge in AngularJS
Highly proficient in using REST APIs
JavaScript Developer Resume Examples & Samples
Development of our internal big data solutions as well as the related data visualization suite
Bespoke tools built off this platform, used by both traders and desk strategists to quickly mine and analyze large, complex datasets
Strong HTML5 and Javascript knowledge
Good communication skills. The role will involve cooperation with colleagues in other locations as well as daily interaction with desk strats and modelers
Good problem solving skills, ability to solve problems with abstraction
Ability and willingness to delve into systems to understand the interactions of different components
Experience with scala is an advantage
Experience with KDB is an advantage, as most of the tools developed by the team builds on top of KDB as a back-end
Experience of build / release process on multiple platforms is a plus (e.g. experience of electric commander)
JavaScript Developer Resume Examples & Samples
4+ years of experience in software development
Strong knowledge in Node.js-style JavaScript (C and/or C++ is a plus but not required)
Strong knowledge in efficient frontend development (Agile experience is a plus but not required)
JavaScript Developer Resume Examples & Samples
Good track record in software development, with evidence of delivering multi-component, scalable applications
Good track record in Front-end development using CSS and JavaScript including jQuery. You can code clean, semantic and very accessible code that is totally cross browser and standards compliant
Good knowledge and skills in HTML5 and CSS3
Good knowledge of UI and UX disciplines
Good knowledge of repositories such as SVN
Good working knowledge of JSON and XML essential
Good working knowledge of Flex and Flash
Good working knowledge of Frontend Technologies such as category AJAX
Good knowledge of working within a Continuous Integration or Continuous Deployment environment
Good knowledge of repositories
Good knowledge of process automation engineer such as GRUNT, YEOMAN or similar
Good knowledge of Testing/Unit such as Testing JS, Jasmine, Mocha, Handdlebars
JavaScript Developer Resume Examples & Samples
Experience with Linux Platforms
Full stack development skills, primarily front end web with JavaScript
Knowledge of module loaders
Task runners experience
Knowledge of package managers- NPM / Bower
Test frameworks experience
Experience creating new features in ES6
Experience writing server-side, object-oriented code
Lead JavaScript Developer Resume Examples & Samples
Latest web technologies and frameworks (e.g. Angular, React, Backbone, Polymer)
Skilled in delivering quality products using latest technologies such as HTML5 and JavaScript
Development of modular, configurable web components
POC and prototyping skills
Kanban and Scrum agile methodologies
JavaScript Developer Resume Examples & Samples
Design and develop back-end and user interface components for web apps
Design and develop processes for managing how applications access and use data in various formats
Design and develop processes for performing calculations on data
Follow best practices throughout a full project lifecycle
Participate in team-wide design and code reviews
Provide updates to the team on the latest technical trends
5+ years of experience with web development
Experience with Java, JavaScript, Ajax, HTML5 and CSS3
Experience with JS frameworks such as Bootstrap, JQuery, Angular, or Ext/JS
Experience working with Tomcat, WebLogic, WebSphere, Glassfish, or NodeJS
Knowledge of application frameworks such as Spring, Struts, Hibernate is a plus
Solid communication skills, motivated, ability to work in a global environment
JavaScript Developer Resume Examples & Samples
Develop highly detailed style guides, as well as next gen prototypes using a combination of HTML, CSS and JavaScript (AngularJS & jQuery)
Play an active part in the design of software
Participate in design workshops and provide technical leadership
Evangelise the possibilities of emerging technologies
Ability to translate visual designs/concepts into fully blown web and mobile applications
Work closely with server-side development team to ensure the integrity of the UI
Ensure cross-browser compatibility and resolve issues where required
Expert in HTML, CSS and JavaScript. AngularJS or Similar
Previous experience of working in an Agile design or development team is preferred
JavaScript Developer Resume Examples & Samples
Bachelor's degree or higher in Computer Science / Engineering is required
Must have experience dealing with large amount of data
Must have experience with SQL/RDBMS (Oracle or Sybase)
Must have robust problem solving skills and sense of ownership of development issues
Must have a good understanding of UI, cross-browser compatibility, general web functions and standards
Must have excellent web client side design and development skills, primarily JavaScript, ideally experience with AngularJS ( but alternatives like backbone / knockout also acceptable ) and/or exposure to JAVA
Experience working in fixed income risk is desirable
Position requires constant communication with BAs, Colleagues and stakeholders
Experience working in agile team environment following Agile practices
Senior JavaScript Developer Resume Examples & Samples
3 + years working as a JavaScript Developer
Experienced in HTML, CSS3, jQuery
Experienced in JavaScript Skills (Backbone.JS, Angular.JS etc)
Experience working on software application (not just web applications)
Worked previously with responsive websites
An understanding of Python (a bonus)
Strong interpersonal and communications skills
Senior JavaScript Developer Resume Examples & Samples
BS in Computer Science, or comparable experience
Experience building high performance and scalable web services (preferably using Node.js)
Experience with Javascript (both client side and server), HTML and CSS
Experience with one or more Javascript libraries and frameworks like React, AngularJS, Backbone.js, Ember.js or similar
Experience with one or more NoSQL databases like Cassandra, Couchbase, Redis, etc
Experience with version control systems (preferably Git)
Experience with backend development languages like Java, Golang, etc
Experience with build systems like Gulp, Grunt, Browserify, Webpack, Brunch, etc
Experience building cloud deployed applications
JavaScript Developer Resume Examples & Samples
R&D in emerging technologies
6+ years of web development experience
6+ years experience working on Windows and JavaScript platforms
Ember JavaScript Developer Resume Examples & Samples
1+ years of related work experience
Experience developing C-web applications, including Angular, Knockout, or Backbone and Ember
Solid understanding of RESTful API design and have developed clients to interact with a variety of APIs
Experience designing and implementing solutions to complex problems
Experience with Ruby on Rails, Ember, Backbone, PostgreSQL, RSpec, and/or SASS
Lead JavaScript Developer Resume Examples & Samples
5+ years of experience in Web UI development
5+ years of experience in Web UI development using JavaScript, JQuery, AJAX, JSON, HMTL, and CSS
Experience interpreting graphic designs into HTML, CSS, and JavaScript
Experience with agile development practices
Proficiency with java
JavaScript Developer Resume Examples & Samples
5+ years of experience in Web UI development (Javascript)
Extensive experience in the use of one or more modern JavaScript frameworks (such as Bootstrap, BackBone.js, Ember.js, Knockout.js, AngularJS, or React)
Experience with the D3.js visualization framework
Familiarity with Healthcare, Clinical or Financial industry
Familiarity with git
Knowledge of JIRA and Confluence
JavaScript Developer Resume Examples & Samples
Strong knowledge of JavaScript fundamentals
Experience with at least one MV* JavaScript library/framework (Backbone, Angular, Ember, etc.)
Prior participation with open source projects
Senior Web / JavaScript Developer Resume Examples & Samples
Develop Web based applications for Shudder and DocClub service using HTML/CSS/Javascript
Work in a Agile scrum team. Participate in all Agile ceremonies. Work closely with the scrum master to estimate effort of new features
And track progress
Produce low level technical designs for new features
Support QA team with isolating, and fixing defects
Work with Design and Product team to give feedback on feasibility on new app designs
Stays abreast of the latest technologies available in the world of Web Development. Is courageous and will try using new
Technologies that will be a source of competitive advantage for our products. Knows how to find the right balance between
3+ years experience with front end web development in HTML/CSS/JS. Strong Javascript knowledge and experience with one or
More JavaScript frameworks such as JQuery, AngularJS or React
Strong knowledge of modern web standards, accessibility, responsive and adaptive development along with understanding how
Browsers work under the hood
Expert knowledge of modern HTML and CSS frameworks and at least one framework such as SASS/SCSS/LESS
Experience working in enterprise or product architecture using tools such as NPM, NodeJS, bower and/or grunt
Experience developing consumer facing scalable websites and applications
Experience working with others in a cross-functional team such as designers, UX, QA and project managers
A talented problem solver who knows how to isolate, and debug complex software problems
Experience working with online collaboration tools such as Atlassian tools (Confluence, JIRA etc)
Experience working with testing frameworks such as Jasmine/QUnit/Chai/Mocha/Karma are a plus
Experience with developing apps that use REST API's
Has an Software/Computer Engineering or Computer Science degree
Has worked in a startup environment and is comfortable with ambiguity
Has a strong track record of academic success
JavaScript Developer Lead-client Side-digital Resume Examples & Samples
Overseeing onshore junior team members (no direct management)
Troubleshooting technical issues and resolving defects
Providing input (scope, level of difficulty, etc.) into estimates for features and enhancements
Identifying ways to improve design and development processes
Ability to communicate effectively and consistently share thoughts and opinions about work in production
Working knowledge of web standards from ECMA Inter, W3C, and WhatWG
An understanding of the most common programming design patterns
Ability to write well-abstracted, reusable JavaScript
Ability to create interfaces that are fast, consistent across browsers, and demonstrate an intimate knowledge of browser quirks and best practices
Extremely detail-oriented implementation
Experienced with prototypal inheritance and mixings
Experienced with object-oriented principles
Understanding of logical abstractions
Understanding of one or more server side programming languages
Understanding of asynchronous, reactive, and event driven programming
Demonstrated experience providing technical leadership and architectural guidance for design and implementation of software system enhancements
Expert level experience required with the following
JavaScript Developer Resume Examples & Samples
Must have experience in JavaScript, CSS, and HTML5
Knowledge of multiple MVC JavaScript Frameworks
Good amount of experience with Python development
Knowledge of XML and Regular Expressions
Experience with Unix/Linux Shell Scripting
Knowledge of Web Application Architecture
Experience creating visually appealing, highly performing websites
In-depth knowledge of innovative Data Structures and Algorithms
Must have the ability to work in a team
Must be able to help communicate ideas and best practices to the team members
Must be able to collaborate with wider groups on standards and best practices for Big Data / Monitoring Software related areas
Knowledge of Splunk App development
Experience with Node.js and Angular frameworks
Knowledge of Java / J2EE components (Servlets / JSPs / Spring 3.0)
Experience with Ant / Maven / Perforce
Senior JavaScript Developer Resume Examples & Samples
Excellent Design skills (Design Patterns, GOF)
Webservices (REST)
Agile Methodology (Scrum)
Proficient with a database (Oracle, Db2)
GIT, Teamcity
JavaScript Developer Resume Examples & Samples
Will need to have proven JavaScript Skills
Must understand how to write functions, understand callbacks, understand at a minimum one module system (such as require.js) used in JavaScript development when multiple files are composed into an application. In addition it would be beneficial to have skills or experience using Node.js
Should be comfortable working with a source control system and in particular Git (what are branches, tags, remotes, etc.)
One beneficial language is Java given one of our servers is written using it. An applicant should understand how to write Java code, understand how the Java Virtual Machine (JVM), Java files and .class files work with respect to running an application. Should also be comfortable with several packages in Java such as Files or Networking and also have a working knowledge of Object Oriented development
Should be able to describe real development scenarios where each language described above was leveraged, the scope of the project, difficulties, and debugging
Preferred if the applicant can point to public projects and examples showing their capabilities or experimentation with technology (for example their github, bitbucket, google code public page)
Ability to work with a group of peers and communication skills are also required. If your skills match what we are looking for, we'd love to have you join our driven and effective team!
JavaScript Developer Resume Examples & Samples
Strong JavaScript experience
PHP experience
Be familiar with and have used ReactJS (preffered) (experience with similar will be considered)
JavaScript Developer Resume Examples & Samples
3+ Years JavaScript Development Experience
HTML5, CSS
Good experience with NodeJS would be advantageous
JavaScript Developer Resume Examples & Samples
Experience in UI/front-end development - with JavaScript, Python, Linux, HTML and CSS
4+ years of JavaScript experience
Experience of JSCore, NodeJS and RequireJS
Experience of JS test frameworks (Chai and Mocha experience beneficial)
Strong knowledge and experience of UI design practices, patterns and architecture. Strong UI test experience, including knowledge of how to test common UI components and familiarity with common testing frameworks such as Selenium
Excellent design and analysis skills
Good knowledge of common JavaScript libraries such as JQuery, Backbone, Handlebars, Requires and Less
Knowledge or hands-on experience of HTML 5, HTTP, REST, JSON and XM
JavaScript Developer Resume Examples & Samples
Work closely with client stakeholders to establish technology strategy and to provide technical solutions that deliver to business needs
Provide leadership and technical direction for multidisciplinary teams
Accumulate market know-how, industry and technology trends, to enhance and manage knowledge on projects
Support vendor evaluation and decisions on technology investments
Contribute to the design, estimation, planning and implementation of IT system related business solutions
Contribute to business development and proposal work, developing client relationships at all levels
Building software applications - Following coding standards, building appropriate unit tests, integration tests and deployment scripts
Assisting in defining software architectures - Collaborating with leads to explore existing systems, determining areas of complexity, potential risks to successful implementation, learning the applications capabilities
Communicating continually with the client and project teams - Explaining progress on the development effort
Contributing to continual improvement by suggesting improvements to user interface, software architecture or new technologies
Java / JavaScript Developer Resume Examples & Samples
Develop software using Java, JavaScript, SQL and Web services
Analyze functional and system requirements and workflows, and provide associated documentation in support of the development and testing phases
Regularly interact with Operations users and Technology partners located both onsite and offshore
Provide build estimates, status reports and written feedback on progress made
Closely work with our third party partners for technology integration
Expertise of JavaScript frameworks & libraries – AngularJS and JQuery. Preference is for someone with stronger UI skills over Spring/Hibernate skills
Strong hands-on experience in Database/SQL/Hibernate
Expertise in Spring Framework, Hibernate/JDBC templates, Web Service concepts, REST service concepts,CXF, XML, JSON, HTML, CSS, Tomcat 6.0+
Expertise in writing & maintaining unix shell scripts
Senior JavaScript Developer Resume Examples & Samples
Experienced web front end developer responsible for development of risk and finance dashboard with primary focus on designing and implementing AngularJS, CSS, HTML5, AJAX, JSON, Spring MVC, JavaScript based web application
Main duties include creation of web pages and controller components, interfacing with RESTful web services
Expertise needed in animation, client-side scripting in advanced JavaScript, ability to deliver user interface changes in an agile environment
Expert knowledge and proven experience in high traffic, performance web applications using AngularJS
Creating custom, general use modules and components that extend AngularJS modules
Proficiency in JavaScript ,HTML5, AJAX, JSON
Extensive knowledge of CSS and JS methods providing visual effects and animations
Thorough understanding of server side integration, Restful, Spring MVC, web services
Should have experience of implementing enterprise level Java Development projects – at least two end to end cycles using a stack of related technologies. Should have at least 5+ years of experience
AngularJS, CSS, HTML5, AJAX, JSON, Spring MVC, JavaScript based web application, JavaScript ,HTML5, AJAX, JSON, AngularJS, RESTful Web services, design patterns and databases
Senior JavaScript Developer Mean Stack Resume Examples & Samples
High Visibility Risk and Finance dashboard application used by senior management needs a Front End developer with MEAN stack experience to build high quality web application
Experience needed in RESTful web services using NodeJS and MongoDB and building web applications using JavaScript, AngularJS
5+ years of experience developing Web applications using JavaScript MVC frameworks
Comprehensive knowledge of JavaScript and experience developing web applications using AngularJS
Good experience building web services using NodeJS/Express and MongoDB
Ability to achieve high performance in web applications using through understanding of all components in MEAN stack
Proficiency in JavaScript, HTML5, AJAX, JSON
JavaScript Developer Resume Examples & Samples
4+ years software development experience
Knowledge of software development methodologies (Agile/Scrum/Kanban/Test Driven Development)
Knowledge of front end development frameworks
Ability to advise other engineers on software deliveries from early conceptual stage through to completion
Skilled in delivering quality products using latest technologies such as HTML5, JavaScript, CSS3 *
Experience using popular JS utility libraries, especially JQuery, underscore.js, backbone, angular etc
Proven knowledge of Responsive Design principles
Ability to work under short deadlines and co-ordinate development schedules
Must be able to work with a team of developers (internal and external) on multiple projects simultaneously
JavaScript Developer Resume Examples & Samples
Oversee user interface development for all web and mobile applications
Interface with engineering and product teams to gather information on the requirements for a highly-functional User Interface
Provide daily and weekly updates to team managers, focusing on any current or unforeseen issues
Work with developers and designers to create a framework for the web-based mobile platform
3+ years of experience developing and integrating responsive web sites using HTML5 CSS3 & jQuery
Strong working knowledge of AJAX and JSON when using Web APIs
Proven leadership skills for development projects- working across multiple teams
Single page applications with a modern Javascript MVC framework (Backbone.js, Angular.js, Spine.js, Ember.js ...)
Experience with UX Design
REST design concepts
LESS/SCSS
Mobile web development
Visual Studio 2013
Windows or Mac power user
MeteorJS
Photoshop
JavaScript Developer Resume Examples & Samples
Create a new product offering that will display dashboards, data and analytical visualizations
Create new, complex feature sets that enhance the product
Develop browser extensions and injected JavaScript
Deliver complete, fully-tested software every sprint
Bachelor's degree in Computer Science or similar degree
Very strong understanding of and extensive expertise with the entire software development process
Extensive knowledge and development experience in JavaScript on both server and client environments
UI JavaScript Developer Resume Examples & Samples
7+ years' experience developing and implementing JavaScript applications
7+ years of UI Design/Development experience (HTML5, CSS3, JavaScript)
3+ years' experience with jQuery, JSON, AJAX
3+ years' Web Services Development (HTTP, etc.)
3+ years' experience with Maven
2+ years of JSP/Servlet experience
JavaScript Developer Resume Examples & Samples
Deliver complete front-end applications
Determine opportunities to create automation and efficiency to support the creative process using whichever tool is right for the job
Research and present cutting-edge ideas, methods, design patterns, etc. to the creative teams
Work with back-end engineers to develop RESTful APIs
Troubleshoot issues on the fly while creating solid comprehensive solutions
Work to advance product development and innovation as a contributor to an interdisciplinary team including creative, integration, product developers/managers, business/brand strategists and developers
Work across teams to continue to improve and push our creative process
Angular (or other JavaScript frameworks such as React, Ember, Backbone)
Familiar with the Adobe Creative Suite
CSS3 & HTML5
Knowledge of agile development methodology
Familiar with writing automated tests
Create self-contained, reusable and testable modules and components
Architect and automate the build process for production, using tasks runners or scripts
Thrive in a collaborative team environment
Able to stay ahead of and apply the newest technologies, as well as understand how and when to use them
Senior JavaScript Developer Resume Examples & Samples
10 years of software development experience
Minimum 5 years of experience working on front-end projects
Strong knowledge and experience with HTML, CSS, and JavaScript
Ability to author clean, standards-compliant code, using them where appropriate
Understand principles of design, user experience, and user interface
Comfortable working with templates in server-side technologies and client side apps
Understand the principles of object-oriented development
Use test-driven development to guide implementation
Be deeply skilled at React or AngularJS
Experience implementing Websocket with Socket-io or SockJS
Ability to navigate deep into Photoshop layers to export slices and make sprites
Bonus points for experience using: jQuery, mobile web, SproutCore, Sass, and other web-app frameworks
Extra bonus points for having knowledge of Ruby on Rails
JavaScript Developer Resume Examples & Samples
Data visualization and web mapping experience
Graphic design experience
Basic experience with an object-oriented language and database queries (i.e., MySQL or PostgreSQL)
Ability to manage code libraries and use repositories (git) for consistent management of work
API and web services experience (Google Earth KML, etc.)
Senior JavaScript Developer Resume Examples & Samples
This person would be responsible for working with leads on the design and development of single-page Javascript Applications in an Agile Scrum environment
Candidate should have experience building applications using Ext JS (4.x+ or later) or equivalent experience with other single-page application framework such as AngularJS, Backbone, Ember, JQuery with JQuery UI, etc. and have a good understanding good web UI design patterns/concepts (MVVM, MVC, MV*, etc)
Ideal candidate will also have experience building RESTful backend service with enterprise languages like Java/C#
Excellent communication skills both written and oral, good problem solving and analytical skills with the ability to self-start and adapt to changing business requirements/deadlines also desirable
UI / JavaScript Developer Resume Examples & Samples
Develop User interfaces for Modern Internet Applications utilizing the latest Front End Technologies
Participate in product analysis and development tasks of to find the best solutions to challenging problems
Work independently in the development, testing, implementation and maintenance of complex systems
Provide detailed analysis of problems. Review detailed design documents and offer recommendations
Apply innovation, creativity and improvement to development processes and implement process improvements
Stay current with technology and industry best practices to ensure best practices in software development
Work on multiple projects utilizing and directing teams
Provide proactive support for various applications
4 year degree in Computer Science, MIS or related experience
JavaScript Developer Resume Examples & Samples
Minimum of 3 years' experience building JavaScript applications with BackboneJS, as well as MarionetteJS and HandlebarsJS. Candidates with other framework experience (Angular, Ember, React) will also be considered
Minimum of 3 years' experience with basic HTML5/CSS3 and responsive design techniques
Experience with NodeJS based build frameworks/tools like Grunt/Gulp, SASS, Yeoman, NPM/JSPM
Familiarity with writing application tests using Karma/Mocha/Chai
Basic understanding accessibility standards (Section 508 / WCAG 2.0)
Contributions to OpenSource projects on GitHub a plus
Ability to manage multiple projects and to prioritize effectively
Develop JavaScript components and applications, based on wireframes, design prototypes and various project scope requirements
Write clean, semantic and modular code
Collaborate in an Agile environment to quickly prototype designs and functional requirements
Technical support for development standards and other development related issues of existing company web sites
Work as part of a team in a positive and engaging manner to deliver high-end solutions for the business and our partners
JavaScript Developer / Analyst Resume Examples & Samples
Gather reporting requirements from researchers and their clients
Create template reporting tool using Orchard framework
Customize or develop reporting widgets using Javascript, Jquery, HTML and CSS
Utilize multiple APIs to query and present data
Be responsible for contributing to multiple projects simultaneously
Adhere to strict procedures in quality assurance
Manage change on projects and estimate cost
Ensure reporting is delivered on time and within budget
Minimum 2+ years' experience in a relevant position
Bachelors Degree in a numerate subject or computer science with good academic qualifications
Attention to detail and high capability to work on different projects in parallel
Previous experience in data analysis with the ability to understand and interpret data
Experience in programming (Javascript, Jquery, HTML and CSS)
Desirable – experience in connecting / querying multiple APIs, MDX
JavaScript Developer / Front End Development Resume Examples & Samples
Lead the design and development of custom visualizations and solutions that directly support key business initiatives including lifecycle hygiene, capacity management, ticket analysis, change management and risk management
Lead the design and development of monitoring solutions via the integration of various toolsets within ENS into Splunk
Leverage previous experiences, share best practices and create innovative solutions to push user adoption and maximize the value of Splunk
Provide insights with respect to the availability and applicability of new products and features
Support the existing custom visualization applications through Splunk upgrades and enhancement requests
Working knowledge HTML/Javascript/CSS - Designing and building RESTful service applications and clients
Willingness to learn back-end and database development
Relational database (SQL) development experience
General understanding of linux & apache
Problem solving skills, and an eye for solving performance issues
AngularJS/ExtJS or other client-side JavaScript frameworks
Prior experience with SplunkJS or the Splunk Front End Design
JavaScript Developer Resume Examples & Samples
Object Oriented JavaScript application development
ReactJS (ES5/ES6)
Demonstrated experience with TDD and BDD using Jasmine, Selenium and/or similar
Experience of Git or similar
Redux/Redux middleware
Experience with media streaming e.g. web (HTML5 video), handheld device or console
Senior JavaScript Developer Resume Examples & Samples
Implement responsive Single Page Web Applications using Ember Framework and REST APIs
Implement and Adhere to UI standards and best practices
Ability to implement UI designs that are pixel perfect including using CSS, HTML5, JavaScript, Ember etc
Ability to work out engineering documentation when needed and perform unit testing on projects
Using, create consume Azure based RESTful api's outputting JSON or XML
5+ years of UI Development experience, mainly in Ember and/or other UI frameworks
Proven track record of building highly scalable, flexible cross-platform/device UI applications
2+ years of experience creating responsive websites using REST APIs
4+ years web development
Experience with Build and package management tools like nom, bower, grunt
Experience with Responsive design framework
Comfortable in an Agile Environment
Microsoft Azure Cloud experience is a plus point
JavaScript Developer Resume Examples & Samples
Build reusable code and libraries for future use
Help with code reviews
3+ years of UI Development experience, mainly in Ember and/or other UI frameworks
1+ years of experience creating responsive websites using REST APIs
Solid programming practices
3+ years web development
Experience with HTML5, CSS, Javascript
Experience with Legacy ASP Web forms is a plus point
Full-stack JavaScript Developer Resume Examples & Samples
Implement dynamic front ends, using AngularJS 1.x and supporting libraries
Develop effective UIs that are easy to interact with
Be involved with the deployment, maintenance, and optimization of applications on AWS platform
Understand and contribute to data model design and implementation using relational databases
Follow best practices around version control, unit tests, and automated build processes
A major in an analytical field is desired
Senior JavaScript Developer Resume Examples & Samples
Work with the other members of the Web Team to design and develop exciting features for the Roambi product line
Work with the product management team to fully understand scope, requirements and use-cases for features
Develop solutions to ensure optimal application performance and user experience
Senior JavaScript Developer for Sapui Web Framework Resume Examples & Samples
The UI integration and productivity services which are crucial for enabling end users to use multiple applications in an integrated way across technologies in the Fiori Launchpad
You work in a SCRUM development team utilizing Agile Methodologies like pair programming and continuous integration
Your responsibility is covering all stages and tasks within the entire software development cycle and quality assurance
You cooperate closely with other development teams
You closely follow the dynamic world of Web frameworks and help to incorporate new trends and innovation into the products we deliver
Strong development experience in JavaScript with Web frameworks and different browsers like Chrome, Internet Explorer, Safari or Firefox
Good analytical and communication skills and the ability to work in a team
Good English and German language skills
Programming skills in at least one common programming language like Java, C or ABAP
Knowledge about Git/Gerrit-based source code management or comparable systems
At least five years' experience in software development projects
Knowledge of Agile software development practices, Scrum and test automation is a plus
Junior JavaScript Developer Resume Examples & Samples
Strong University Degree or equivalent business experience in information technology, mathematics, engineering or related area
Very good analytical thinking and problem solving
Experience with HTML5/Javascript, ABAP, or C++
Open minded, problem-solving attitude and positive spirit even under challenging conditions
High quality orientation
Fluent or near-native German and English language skills
Expertise in Variant Configuration, Product Lifecycle Management, Sales Configuration or Sales & Distribution is an advantage, but not a must
Test automation experience can be an advantage
Profound knowledge in SQL is an advantage
JavaScript Developer for Finance Cloud Innovations Resume Examples & Samples
Developing and architecting frontend components in JavaScript for finance cloud applications
Supporting the development team in extending the Scala based backend
Supporting pilot customers during implementation projects
3+ years of experience with writing and structuring JavaScript applications
Proficiency with JavaScript design patterns, the latest frontend libraries and the accompanying ecosystem
Serverside JavaScript Developer Resume Examples & Samples
Develop "no UI" application
Server-side Javascript
Unix (or Linux) experience
Node.js (AngularJS or Handlebar.js are acceptable alternatives)
5-7 years of related experience
Server-side Apple experience
Airplane Industry Experience
Web JavaScript Developer Resume Examples & Samples
Software design, coding, and debugging the Computer Assisted Coding software product
Apply Service Oriented Architecture (SOA) concepts and principles in software design and development
Work with other software engineers, clinical analysts, quality engineers, and other team members to design and build required systems
Adhere to team design and coding procedures and standards
Full Stack JavaScript Developer Resume Examples & Samples
Producing highquality, clean and performant code
Proving your code works with automated unit, integration and UI tests
Pairing, code review and ticket verification
Deploying applications, monitoring their performance and maintaining them in production
Translating product requirements into technical software designs
Breaking software designs into manageable tickets/stories that deliver user value
Sharing your knowledge and contributing to team consensus on technical practices
Continuously improving our software infrastructure
Training and mentoring new/junior team members
DropWizard
MySQL
Elasticsearch
HBase
Full Stack JavaScript Developer Resume Examples & Samples
Build applications that will help the sales team to more effectively demonstrate HubSpot products
Create advanced use cases for more technical prospects that can be used for demos
Write scripts and build applications that serve to maintain demo assets in a clean state
Interface with product managers and tech leads where needed to execute on projects
B.A. or B.S. degree (An M.B.A. is a plus)
JavaScript Developer Resume Examples & Samples
Deep knowledge of libraries such as Bootstrap, Backbone and jQueryUI
Demonstrated ability with the following: REST APIs, Test Driven Development, writing Unit Tests, using Linux and Github
Python coding
Software Web JavaScript Developer Resume Examples & Samples
Primarily responsible for developing high quality, stable code for use in the product and its underlying frameworks
Implement new features & enhancements to Shotgun
Take ownership of different areas of the software by increasing code quality, augmenting test coverage, and improving documentation
Participate in technical design, code refactoring and code reviews of our new/current tools and application frameworks
Participate in iterative design, testing and development sprints to refine the overall product solution using the agile development process
Learn and understand the business, know how your work fits together with the product as a whole
Have fun!
Lead JavaScript Developer Resume Examples & Samples
Owns and leads large development projects and teams where a project comprises multiple components; oversees project teams as required
Leads the development of highly innovative, large, software solutions that meet specifications and significantly impact future developments
Conceives and leads the execution of major software development projects and major fixes using new or existing technologies
Leads the development of specifications for major software development projects
Leads programming and testing and debugging of major software development projects
Creates protocols, documentation and tools for the installation and maintenance of major software projects
Conceives and sets the design and direction for major software development projects
Leads the design of components of major software development projects, developing specifications for each
Designs, develops, manages, creates and maintains the technical components and templates for front end web pages for client sites
Strong understanding of the front-end technology stack; able to code against front-end and lead end-to-end troubleshooting
Participates in conceiving and setting the direction for development projects
Influences the work of team members, other teams, and assigned projects through decisions and actions
Serves as a high-level technical resource and "go-to" person for less experienced developers and leadership, providing technical guidance and oversight
Eight to twelve years of progressively related experience in design, development, and implementation of highly scalable, high-volume software systems and components, client-facing web applications, and major Internet-oriented applications and systems
Two to four years of project lead experience
MEAN Stack
JSON Messaging
HTTP Protocol
Software Performance Optimization (memory, CPU, scaling, etc...)
Senior JavaScript Developer Resume Examples & Samples
Min. 3 years of experience in developing Web applications
Experience in Version Control System (GIT)
Knowledge of Agile, Test-Driven Development techniques
Web UI JavaScript Developer Resume Examples & Samples
Writing clean, elegant code that is functional, maintainable, and scalable
Designing, improving, and updating customer-facing websites and applications to create a rich, innovative, and interactive user experience
Develop standards, best-practices, templates, styles and libraries to provide a consistent user experience
Staying up to date with the latest web technologies and UI design principles
Software Development Experience Required – 6 years
JavaScript Development Required – 4 years
HTML5 & CSS3 development Required – 4 years
Modern Web UI Engineering Experience (JavaScript/AJAX-based) Required – 3 years
Responsive Web Design Required – 3 years
JavaScript framework like AngularJs/jQuery plugins Required – 2 years
Bootstrap Required – 2 years
Experience in Agile environment Highly Desired
Experience with other front end technologies: 1) Node and build management using grunt/gulp, 2) Package management using npm and bower Highly Desired
Have design portfolio (preferred online portfolio) (NOTE: Please provide link on the resume if available) Highly Desired
JavaScript development experience is a must: JQuery, JavaScript functions, and AJAX/error handling/asynchronous services calls
HTML5, CSS3, jQuery, AJAX, and Web Applications experience
CSS preprocessors and compilation
Understanding of Responsive Web Design using BootStrap
Excellent taste in visual, layout, and user experience design
Problem solving and critical thinking
Can communicate effectively with multiple team members at a given time
JavaScript Developer Lead-digital Resume Examples & Samples
Developing features and functionality for JPMorgan Chase websites
Reviewing detailed designs and participating in code reviews
Working knowledge of the HTML5 specification
Experience crafting efficient, optimized, and speed-minded code
Understanding of asynchronous & event driven programming
Understanding of test driven design patterns
Solid understanding of architectural software principles
Three years of experience in complex business domain with transaction processing
Take ownership and responsibility for key deliverables
Should be able to work independently in multiple projects and juggle many priorities
Knowledge of version control practices and procedures
Knowledge and application of Design Patterns
JavaScript Developer Resume Examples & Samples
Design, develop and maintain micro-services of our cloud-based applications
Write great JavaScript code (easy to read, maintain and written for efficiency)
Improve performance & consistency of the current web-based applications in the cloud
Work with team on best UI/UX practices, code reviews and application improvements
Produce documentation (design, requirements spec etc.) as necessary
Good programming skills in JavaScript
Proficient in using Representational State Transfer (REST) / Extensible Markup Language (XML) / JavaScript Object Notation (JSON) web services
Nice to have familiarity with Node.js and React.js
Effectiveness in problem solving
Must be a great team player
A positive attitude and willingness to drive projects to completion in a fast moving environment
Nice to have: experience with DevOps tools: TRAVIS, Jenkins
Senior Full Stack JavaScript Developer Resume Examples & Samples
We are looking for a senior full stack JavaScript developer with extensive experience in Responsive Web Design and Node.js to assist as we transform our customer facing website to a responsive experience
Responsibilities include working closely with designers to turn their designs into a Global UI code base that will be the foundational layer for UI development across the Enterprise, supporting Application Development teams as they deliver experiences on top of this Global UI, and analyzing, and incorporating modern UI technologies as the Front End landscape evolves
The ideal candidate will be an expert in modern CSS approaches such as SASS and OOCSS, JavaScript frameworks/libraries such as React, Polymer, Angular, etc, and be able to contribute to a server-side build-driven JavaScript platform that utilizes Node.js
This is a unique opportunity to influence and redefine the customer facing website for a Fortune Top 25 Corporation
Expert Level Knowledge of HTML
Expert Level Knowledge of CSS
Expert Level Knowledge of Javascript
Knowledge of multiple MVC Javascript Frameworks
Expert Level Knowledge of Node.js
Expert Level of SCSS & OOCSS
Experience with 508 Compliance/Web Accessibility
Experience creating performance optimized websites Required Behavioral & Communication Skills
Must be able to help communicate ideas and best practices to more junior developers
Must be able to collaborate with wider groups on standards and best practices
Experience with React, Polymer, and Angular
Experience writing custom Grunt or Gulp Tasks Bonus Technical Skills
Knowledge of Javascript Testing Frameworks
Knowledge of GraphQL
Senior JavaScript Developer Resume Examples & Samples
Web services: Minimum of 4 years
Strong Knowledge of Javascript (Node JS would be a huge plus)
HTTP/HTTPS
JavaScript Developer Resume Examples & Samples
Strong experience with object oriented JavaScript and framework knowledge in Angular, Node or React
Identifying exciting opportunities for adopting new technologies to solve existing needs and predicting future challenges
Performing ongoing refactoring of code, utilizing visualization and other techniques to fast track concepts, and delivering continuous improvement
Working with product managers to prioritize features for ongoing sprints and managing a list of technical requirements based on industry trends, new technologies, known defects, and issues
Work closely with product managers, back-end and other front-end engineers to implement versatile solutions to tricky web development problems
Quickly generate and updating HTML prototypes from UI concepts for testing and team feedback
Finalizing HTML prototypes into Web Applications by integrating with back-end services and functionality
Embrace emerging standards while promoting best practices in order to push the limits of what a browser can do
JavaScript Developer / Architect Resume Examples & Samples
Contribute to requirements gathering and analysis activities such as storyboarding, developing use cases, and creating functional requirements specifications
Develop custom features based on specifications and technical designs
Create server-side functionality using asynchronous, highly-scalable design principles
JavaScript Developer Resume Examples & Samples
Developing and testing Sabre Red Workspace (SRW) platform
Knowledge of the standard front-end technologies like HTML 5, CSS 3, JavaScript (we use Backbone), REST, JSON
Knowledge of JavaScript testing (Jasmine, Karma)
Knowledge of Design Patterns, SOLID, KISS, DRY principles
Senior JavaScript Developer Resume Examples & Samples
Deliver product features for our UI and APIs
Write clean, maintainable code using engineering best practices
Collaborate with other engineers, product managers, and user experience designers on a daily basis to identify the right technical solutions that achieve product goals
Provide Fanatical Support for our production system by fixing bugs and triaging alerts
5+ years practical experience in one or more of the following domains
Building web applications with a modern JavaScript framework (React, Angular, Ember, or similar)
Building and consuming HTTP APIs in a service-oriented architecture
Operating cloud applications in production (handling deployment, monitoring, logging)
Demonstrated passion for independent learning
Full Stack JavaScript Developer Resume Examples & Samples
Consistently follow and continue to help improve our processes including source control, continuous deployment and issue tracking
Demonstrated professional development experience developing and consuming APIs and web services
Practical knowledge of software development methodologies
Build automation
Developing and deploying applications hosted in AWS or similar cloud environments
Hrvt Full Stack JavaScript Developer Resume Examples & Samples
Troubleshoot operations issues as required
Minimum 5 years web development and integration experience
Experience with client and server based JavaScript, Node.js, Angular.js and Express.js
JavaScript Developer Resume Examples & Samples
Develop and support standard GfK modules
Develop custom scripts on project base
Program online surveys
Support interactive data visualization as per clients' needs
You will work on international projects and liaise directly with international clients
JavaScript Developer for SAP Businessobjects Cloud Resume Examples & Samples
Very good German and English, both spoken and written
Good knowledge of software design and software architecture
Experience with databases and SQL
Experience in working with SAP products such as SAP HANA, XS Engine, HCP
Extended programming skills in Perl, Java or C++
We encourage young professionals and recent university graduates to apply for this position. Of course, some development-related work experience would be beneficial
JavaScript Developer for Modeling Resume Examples & Samples
University degree in business administration
Experience working with SAP products such as SAP HANA, XS Engine, HCP
Extensive programming skills in Java
JavaScript Developer for Planning Resume Examples & Samples
Domain knowledge in business planning
Experience working with SAP products such as SAP BPC, SAP BW IP, SAP EPM Office add-in, SAP Notes Management, SAP SEM
Extensive programming skills in Perl, Java or C++
JavaScript Developer for SAP Business Intelligence Resume Examples & Samples
University, technical college and BA degree in computer science or related technical discipline
Extended programming skills in Java
Experience with OLAP, Analytics or the Business Intelligence domain
We encourage professional with development-related work experience to apply for this position
Senior Java / JavaScript Developer Resume Examples & Samples
(2+ years) Agile methodologies (e.g. Scrum, Kanban, XP, etc.)
(3+ years) Externally-facing Web Application design/development using MVC frameworks (JSF, Struts, or similar)
(2+ years) JPA/Hibernate
(3+ years) Design patterns
(3+ years) Automation tools (jUnit, jMock, Selenium, Jasmine/Karma, Protractor)
(5+ years) SQL, RDBMS
(1+ years) Build tools (gradle, ant, npm, Bower, or similar)
Other JavaScript frameworks (Backbone.js, jQuery etc)
Twitter Bootstrap
Web Application Servers (JBoss, Tomcat, WebLogic, or similar)
Continuous Integration tools (Team City, Jenkins, etc.)
Lead Java / JavaScript Developer Resume Examples & Samples
Ability to demonstrate a solid understanding of the following concepts as well as practical experience applying these concepts in the real world
(4+ years) Agile methodologies (e.g. Scrum, Kanban, XP, etc.)
(5+ years) Externally-facing Web Application design/development using MVC frameworks (JSF, Struts, or similar)
(6+ years) Core Java and J2EE principles, syntax and best practices
(4+ years) Core Spring
(2+ years) Web Services (SOAP and/or REST)
(1+ years) AngularJS, HTML5, CSS3
(2+ years) Non-functional requirements such as Responsive Web Design, Accessibility, Security, I18N, Performance, and/or Scalability
(2+ years) Understand the philosophy of software architecture
Ideal but not all are required
Other JavaScript frameworks (Backbone.js, jQuery)
Spring Security, Spring Data, Spring Boot
Google Analytics
Cloud Development (AWS or similar)
Full Stack JavaScript Developer Resume Examples & Samples
Experience with AngularJS, writing directives and when to use a service vs a factory in node.js and Express, and building and consuming REST APIs
Experience with providing technical, engineering, or analytic support to US intelligence agencies and commercial firms targeting Cyber threat actions
Knowledge of JavaScript patterns and anti-patterns
Knowledge of HTML best practices and pitfalls
Full Stack JavaScript Developer, Senior Resume Examples & Samples
Experience with D3.js and integrating it into an Angular or React app
Experience with asynchronous programming in promises, generators, or callbacks
Experience with key programming languages and technologies, including JavaScript, React, AngularJS, MeteorJS, Node.JS, MongoDB, Redis, Python, Docker, AWS, Ansible, Puppet, Chef, Vagrent, Continuous Integration, or Linux
Experience with supporting HUMINT collection and targeting activities
Knowledge of JavaScript unit test frameworks
JavaScript Developer Resume Examples & Samples
Design and development of Web applications in JavaScript for building automation industry
Preparation of automatic unit and integration tests
Preparation of technical documentation
WebServer knowledge
Knowledge of SVG
JavaScript Developer Resume Examples & Samples
Write well-formed, tested, compatible, standards-based JavaScript, making use of third-party JavaScript libraries where appropriate
Experience with JavaScript Frameworks (ideally AngularJS, but other frameworks considered)
Experience in HTTP protocol and its specifics
Experience with testing frameworks (Jasmine, Karma, Mocha, Nightwatch, Protractor preferred, but other frameworks considered)
Have solid understanding of HTML, CSS, and CSS preprocessors like LESS or Sass
Passion to deliver high-quality working code frequently
Experience in Web Tracking area
Experience with e-commerce development
Open-minded – eager to learn JVM technologies
Send us code samples via Github or BitBucket
Bachelor's degree in a STEM discipline or equivalent vocational experience
Web / UI Developer / JavaScript Developer Resume Examples & Samples
Familiarity with standard development tools, preferably Eclipse IDE, Subversion and Continuous Integration concepts/tools
Experience with Webpack, Gulp, Grunt, Node.js, NPM, LESS, SASS, CSS transitions
Expert level experience with JavaScript Coding
Experience with JSON/ASYNC/ Single page App programming
Experience with modern client-side web application technologies, including HTML5, CSS3
Senior JavaScript Developer Resume Examples & Samples
Direct the visual appearance of all new features and enhancements in JavaScript
Drive innovation on new technology and industry standards as they pertain to multi-browser/device development and UX design in JavaScript
Create testable software components to insure module-level functionality and data structure consistency
Be prepared to review code and provide positive feedback with suggestions on how to improve performance, quality and delivery within the organizational standards and best practices
5+ years of experience with UI development, with an emphasis on JavaScript
Experience working with JavaScript and experience building UIs with modern frameworks like TypeSript, Bootstrap, Angular, HTML5, and CSS3
Experience with Javascript testing frameworks with frameworks like Jasmine, build tools like grunt or gulp, CSS preprocessors like SASS or LESS, Linting tools like CSSlint and jslint
Experience with .Net Technologies using Visual Studio (C#, MVC)
Experience with responsive design techniques
Firm understanding and adherence to support Section 508
Ability to develop quickly and with high quality via Sprints under the SCRUM methodology
Knowledge in programming and working with APIs and Restful Web Services
Demonstrate an interest and aptitude for learning new technologies and working as part of a team
Demonstrates an interest in sharing knowledge with team members
JavaScript Developer Resume Examples & Samples
Willingness to work occasionally abroad
Team work attitude
Positive, can-do attitude
JavaScript Developer Resume Examples & Samples
Designing, coding and testing software modules that meet design specifications
Creating, executing and documenting the tests necessary to ensure that an application or technical environment meets performance requirements (technical, functional and user interface)
Integrating technical and application components to meet business requirements
Technical Bachelor's degree (e.g. Computer Engineering, Computer Science)
Experience with architecting appropriate Git workflows for a project
Experience in any of the following languages or technologies: Java, Groovy, Ruby, PHP, Python
Experience with JavaScript in an Object-Oriented fashion
Experienced with Continuous Integration servers and in building up one
Experienced with modern DevOps tools and workflows (e.g. Chef)
Knowledge of: CSS/CSS3. Knowledge of what works in specific browsers; Responsive CSS (Mobile First, Bootstrap); Semantic HTML and HTML5
Experience with code quality tools like JSHINT/JSLINT
JavaScript Developer Resume Examples & Samples
University degree in the IT field (or comparable)
Good social skills
German knowledge is a plus
Proven ability to work creatively in a problem-solving environment
Hands on experience in JavaScript development
Knowledge about one of the JS frameworks (Angular JS, React JS, React Native)
Web Developer / JavaScript Developer Resume Examples & Samples
Participate in daily agile meetings along with the other software engineers
Coordinate a development team and also support other developers when required
Translate functional requirements into technical designs
Participate in all the development lifecycle from the analysis to testing
Support the client to do changes and implement improvements according to their best practices
More than 5 years of experience either as Full Stack, Front End or Backend Developer
Minimum 2 years of working experience in Javascript, CSS and HTML5
Experience with frontend frameworks like Angular.js
Working experience in big companies or projects is a plus
Proficiency in English (Spanish not mandatory)
IT or engineering degree
JavaScript Developer Internet & Mobile Resume Examples & Samples
Mobile apps development
Grunt/Gulp build tool
RequireJS
JavaScript Developer Resume Examples & Samples
Customizes software based on research and customer needs as appropriate
Provides the customer base with first level support
Experience with JavaScript required
Knowledge of databases a plus
JavaScript Developer Resume Examples & Samples
You will be responsible for creating classes
You will be able to pass callbacks to other functions
You will do String, Math APIs
Good to have working knowledge of MVC, Singleton design pattern
Good to have knowledge of Mercurial or GIT
Good to have working knowledge of JIRA too
Experience to create classes
Should know how to pass callbacks to other functions
Should know how to do String, Math APIs
Senior JavaScript Developer Resume Examples & Samples
Developing high quality interactive User Interfaces
Collaborate with team members to ensure the UI is implemented correctly
Understand client experience trends, web interfaces, standards and browser compatibility issues
Manage multiple priorities and offer accurate estimations of effort
Occasionally - may be involved in geographically distributed projects and will have to work for short periods of time at clients sites
Relevant experience of commercial web development
Confident at writing standards-compliant, efficient HTML, CSS and JavaScript
Experience working with CSS3, HTML5 and other next generation technologies
An excellent understanding of JavaScript, the DOM and popular frameworks (jQuery)
Experienced testing and resolving cross browser/platform issues
A good working knowledge of the Adobe Creative Suite (Photoshop in particular)
An understanding of usability considerations and how to implement them
An understanding of backend technologies (Java)
Knowledge of TDD and BDD practices
Experience with commercial applications, within the financial domain
A good understanding of version control systems
Developing for mobile devices
Node.js & JavaScript Developer Resume Examples & Samples
2 plus years in cloud application development (For example: JavaScript / Node.js web applications, REST web services, HTML/HTML5/CSS/CSS3, Java/J2EE, Familiar with the fundamentals of Linux scripting)
1 plus year in database development (such as SQL)
Understanding of cloud development platforms (for example: OpenStack, AWS, BlueMix)
API experience with transactional and back-end databases (for example: NoSQL, Relational)
Experience with large databases, coding, tuning and optimizing
DevOps experience with Agile methodology and test driven development
Exposure to open source Hyperledger or blockchain including distributed architecture
Exposure to blockchain, self-taught or on the job training
Exposure to game theory and cryptograhy
GITHUB code repository
A background in C++ or Python
Senior JavaScript Developer Resume Examples & Samples
3+ year of expert level JavaScript development
A proven track record of developing, web applications using JavaScript
Heavy AJAX-driven development experience
Solid knowledge of JavaScript quirks and workarounds, SQL, ORM technologies
Strong understanding of compatibility issues across browsers
Experience with performing QA tests alongside development
Ability to handle multiple projects in a fast-paced development environment
Ability to work with and mentor other developers
Senior JavaScript Developer Resume Examples & Samples
Test-driven development tools like NUnit/JUnit, NMock, TSQLUnit, JsUnit
A build scripting language like NAnt/Ant
Continuous-integration server like Jenkins
Scripting languages like Ruby, PowerScript, Python
Code-analysis tools like FxCop, NDepend
Object-database persistence tools like NHibernate/Hibernate
Acceptance testing using tools like FitNesse, FIT, FitLibrary
JavaScript Developer Resume Examples & Samples
Produce high quality, documented code on project and enhancement initiatives
Produce technical requirements and write code to develop and support new and existing functionalities
Programming and delivery of solutions for different work streams executed Wroclaw Business Delivery Center
Minimum 3 years of enterprise experience as JavaScript Developer
Familiar with Design Patterns, Multi-threading, Data Structures
A degree in Computer Science/Engineering/or a scientific or numerical discipline
Knowledge in banking area would be an advantage
An Expert in JavaScript including ES6 and ES Next, HTML, CSS
Solid foundation in REST API Development and Integration experience
Has an in depth understanding of OO principles
Experience of Agile practices and processes (e.g. SCRUM, KANBAN)
Ability to work under pressure in a fast paced environment is essential
Have a willingness to learn new skills and do whatever is necessary to "get the job done" attitude
Must have attention to detail; have the ability to work independently and also as part of a group
Fullstack JavaScript Developer Resume Examples & Samples
Expertise in JavaScript is a must (not just jQuery)
Strong HTML5 and CSS3 skills
Expertise in cross-platform and cross-browser development
Focus on details when necessary
Strong understanding of web page performance
Knowledge of web development best practices
Experience with Node.js (and some of the most used npm modules: express, lodash, async, request, moment, etc)
Understanding of REST APIs: consumption and development
Deep understanding of web protocols and technologies such as HTTP, JSON and XML
Experience with GIT SCM
Mobile web development and responsive web design experience (i.e. cordova, phonegap, bootstrap, ionic, etc)
Understanding and basic experience of at least one NoSQL database (MongoDB preferably)
Eager to learn new stuff/technologies all the time
Ability to take ownership of projects and multi-task
Good understanding of User Experience: Usability, Mobile First, What makes a good UI?, Good Sense of Design, etc
Experience with some of these technologies is a plus: ES6, SVG, Sass, React, Angular.js, Knockout.js, Gulp.js, Grunt.js, bower, Yeoman, D3.js, Web Sockets, IoT, etc
JavaScript Developer Resume Examples & Samples
Must understand how to write functions, understand callbacks, understand at a minimum one module system (such as require.js) used in JavaScript development when multiple files are composed into an application. In addition, it would be beneficial to have skills or experience using Node.js
Should be able to describe real development scenarios where each language described above was leveraged, the scope of the project, difficulties, and debugging. Preferred if the applicant can point to public projects and examples showing their capabilities or experimentation with technology (for example their github, bitbucket, google code public page)
Ability to work with a group of peers and communication skills are also required
Experience with various programming languages
JavaScript Developer Resume Examples & Samples
Work with stakeholders during the requirement gathering and acceptance testing process
Bachelor's degree expected in a technical discipline, but compensating experience may be considered
JIRA and Confluence
Automated test tools
Senior JavaScript Developer Resume Examples & Samples
Specialization in Javascript, HTML5, CSS, and ReactJS
Deep understanding of front-end architecture and data-driven development
Ability to work with designers to develop dynamic user experiences
Interest in Agile methodology and open-source technology
Full Stack JavaScript Developer Resume Examples & Samples
Triage incoming production support requests
Upgrade applications to on up-to-date versions of software
Write unit tests to avoid defect recurrence
Provide and implement ideas for improving quality of existing code and streamlining future maintenance
Size or estimate planned work such as enhancements or defects
Write unit tests and participate in functional, integration, and regression testing when needed
Partner with ITC Engineers to ensure successful deployment of solutions
Be a partner in improving all aspects of our team and organization as a whole
Experience designing and building distributed systems using modern technology stacks
Ability to quickly pick up new technologies/paradigms and to implement solutions across the full stack
Extensive client-side and server-side Javascript development experience (eg. node.js, ES6+, React, Redux, Flow, PostCSS)
Solid knowledge of Javascript and familiarity with other web technologies (eg. web service APIs, JSON-RPC, HTML5, CSS3, websockets, WebRTC)
Demonstrated analytical / troubleshooting skills, and solid written and verbal communication skills
Familiarity with Javascript unit testing frameworks (eg. mocha) and build utilities (eg. Babel, Webpack)
Familiarity with Git, test-driven development (TDD), and continuous integration / deployment
Familiarity with virtualization technologies (eg. QEMU/KVM, LXC, docker) and cloud provider technologies (eg. AWS EC2 / VPC)
Familiarity with OSI layers and common network protocols a plus
Familiarity with schemaless/NoSQL document-based database engines a plus
Bachelor's degree in Computer Science or a related field, or equivalent work experience
4-7 years of experience designing, developing, testing, and debugging software
5+ years developing in a team using version control and annotation-based code documentation
Comfortable in Linux/UNIX environments and familiar with open-source development methodologies/tools
Python & JavaScript Developer Resume Examples & Samples
Develop Apps people care about
Coach small distributed dev teams
Be responsible of what you develop
Framework and/or front-end
JavaScript Developer Resume Examples & Samples
Demonstrable experience of engineering projects that you�ve delivered (provide links where possible)
Strong object-oriented or functional programming skills
A team player who helps others to grow and improve
Front End JavaScript Developer Resume Examples & Samples
Five years of experience of web application front end development utilizing JavaScript, HTML5, and CSS
Two Years of experience with unit testing, integration testing and functional testing in JavaScript
One Year of experience with Continuous Integration pipelines, to include Jenkins and GIT
B.S. in Computer Science, Information Assurance, or equivalent technical degree
JavaScript Developer Resume Examples & Samples
Bachelor's Degree (Computer Science, Bio Engineering, Electronics and Electrical Engineering or any related field)
2+ years of experience in Web UI development in a Unix environment
Experience in the use of one or more modern JavaScript frameworks (such as AngularJS Bootstrap, BackBone.js, Ember.js, Knockout.js, or React)
2+ years of experience in Web UI development using JavaScript, AngularJS, JQuery, AJAX, JSON, HMTL, and CSS
Full Stack JavaScript Developer Resume Examples & Samples
3+ years of experience with software development in a commercial product development environment with JavaScript as a language independent of jQuery or browser
Experience with AngularJS, writing directives and when to use a service versus a factory in node.js and Express, and building and consuming REST APIs
Knowledge of JavaScript patterns and anti–patterns
Senior JavaScript Developer Resume Examples & Samples
Work with product teams on new ideas, help with designs and estimates
Continuously look for new technologies and approaches for the team - help us keep ahead
A commitment to excellence, best practices, and the continuous improvement of our products, code base, processes, and tools
5 plus years of experience with software development and/or web development
Experience with one or more modern JavaScript "frameworks" (React, Backbone/Marionette, Angular, Ember)
Ability to deliver excellent User Experiences (UX) and responsive User Interfaces (UI) across multiple browsers and multiple mobile devices (phone, tablet, laptop)
JS templating engines like Handlebars, Jade, EJS, Mustache
ECMAScript 2015 ("ES6")
Functional and/or Reactive Programming
JavaScript testing frameworks like Jasmine, Mocha and Karma
Webpack, Grunt, Gulp or Brunch
Video and/or audio streaming and playback
IOS and Android mobile development
UI / JavaScript Developer Resume Examples & Samples
Experience with Es6, Dart, TypeScript, CoffeeScript, Babel, Material Design
Experience with EXT JS, Angular JS, REACT JS, Web Components, D3 9(or Similar)
Experience with Web Services (RESTful services) for service later integration
Experience with databases Oracle, Nosql, Sybase is preferred
Experience with UI Design and UX concepts
Unix command skills is preferred
Financial experience is a plus
Senior JavaScript Developer Resume Examples & Samples
Contributing to the development and maintenance of our charting platform in a highly-collaborative agile team with short iterations and frequent releases
Ensuring technical feasibility of UX designs
Creating automated unit tests, liaising with QA and users for Acceptance Testing
Working within an agile development environment, in a multi-disciplinary team with a product and feature based focus
Keeping up-to-date with current and future technologies as they relate to own and team's areas of work
JavaScript Developer Resume Examples & Samples
Design and write code for web/mobile HTML5 service-driven applications that scale to high-volume production instances, which includes test-driven and quality centric solutions
Design, develop and contribute to features of a world-class platform with an eye towards rapid iteration and creative problem solving
Contribute and collaborate in creation and consumption of open, standards-based solutions, while working with existing J.P. Morgan technologies and infrastructure
Identify opportunities for process and tool improvements both within your team and across the broader organization, and drive those from concept to implementation
Background in Java/J2EE or .Net for implementing web technologies
4+ years experience with HTML5, CSS, AJAX, JSON, JavaScript and JavaScript modules and frameworks is required
5+ years of overall web development experience, which includes experience working on Windows and Java platforms
Have prior lead experience of a team of 4 to 5 application developers
Strong HTML5, CSS, JavaScript, AJAX, JSON skills
Solid understanding of multithreaded and thread-safe designs, and synchronous and asynchronous service-driven applications
Understanding (preferred experience) in JavaScript modules and frameworks such as JQuery, NodeJS, AngularJS, extJS, SenchaTouch, FlightJS, requireJS and wireJS
Strong knowledge of software design patterns and continuous delivery principles
Senior JavaScript Developer Resume Examples & Samples
JavaScript Development Experience (no specific modern framework required)
Experience working on Public Facing applications or website
Experience working with responsive frameworks (ex. Bootstrap)
Someone who enjoys being a lead - since this person will be the first hire on the new team, they will be helping build out the rest
Someone who enjoys creativity and the digital field. This person will be developing for one of the companies largest initiatives